Feed me more! Get my FREE e-cookbook: Recipes With Chocolate
Gluten Free Molten Chocolate Lava Cakes are a popular dessert to make for Valentine's Day. Don't worry, they're much easier to make than they sound! This is the ultimate dessert for chocolate lovers. Don't forget to serve with your favorite vanilla ice cream!
This post contains affiliate links for ingredients and/or equipment used to make this recipe. Thank you for supporting What The Fork Food Blog ♥
You guys, I can't even tell you how many questions I fielded this week on whether or not I had a recipe for Molten Chocolate Lava Cakes. It seems like you're all gearing up for Valentine's Day and gluten free molten chocolate lava cakes are your dessert of choice.
Unfortunately, I didn't have an answer for you as it's not a recipe that had been in my arsenal until NOW. Since you guys are looking for it, I knew I had to deliver. So I completely rearranged my editorial calendar to make that happen for you.
So here we are, with a gluten free molten chocolate lava cake recipe in hand! We are READY for Valentine's Day my friends! Or ready for dessert at the very least 😉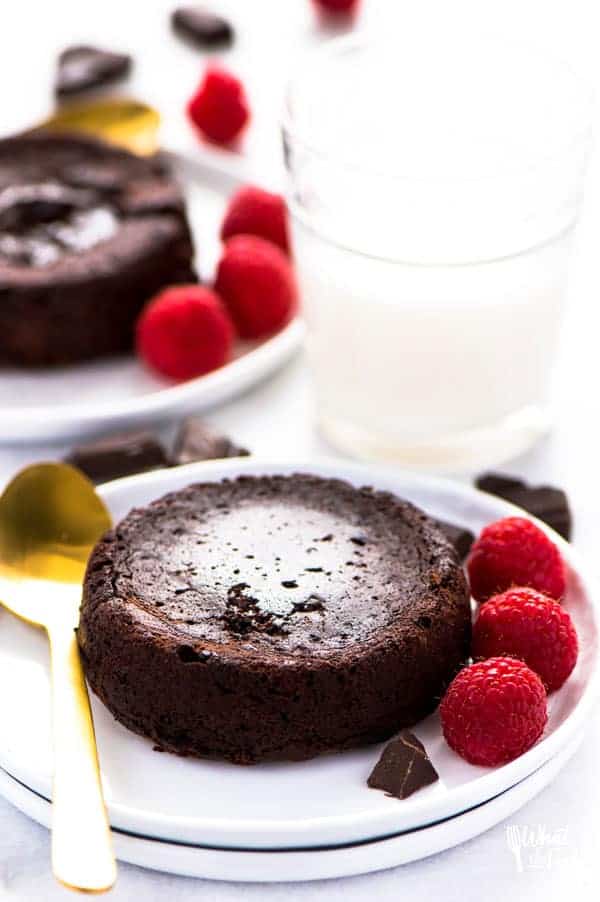 One important step here is really greasing and dusting your ramekins really well so your cakes don't stick. I like to dust my chocolate cake pans with cocoa powder instead of flour. It keeps that chocolate theme going strong and you don't get bits of white pasty flour stuck to your gorgeously dark chocolate cakes.
You can see how I do it with my Gluten Free Mini Chocolate Layer Cakes too, which are also baked in 4-inch ramekins just like these Gluten Free Molten Chocolate Lava Cakes.
These luscious lava cakes are best served hot with vanilla ice cream or with whipped cream but they'd be equally sensational with some white chocolate ganache whipped cream on top too.
If you want to change up the flavor a bit, serve with some Andes Mint Chip Ice Cream for that chocolate mint combo we all love. You could also serve it with a batch of homemade cherry vanilla ice cream because that chocolate cherry combo is also spectacular. Honestly, you really couldn't go wrong with anything here because this molten chocolate lava cake recipe are just so good. Enjoy!
be sure to follow me on instagram and hashtag or tag – I love seeing what you make!
if you love this Gluten Free Molten Chocolate Lava Cakes recipe, be sure to follow me on social media so you never miss a post:
| facebook | twitter | google+ | | instagram | youtube | snapchat – whattheforkblog |
sign up for my free newsletter subscription for new recipes and exclusive giveaways + my free ecookbook – recipes with chocolate
Gluten Free Molten Chocolate Lava Cakes
Prep Time 10 min Cook Time 12 min Total Time 25 min
Yields 2
Print
Print
Ingredients
3 oz. dark chocolate, chopped (I used 70%)
4 Tablespoons unsalted butter
1 large egg, room temperature
1 egg yolk, room temperature
1/4 cup granulated sugar
pinch of fine sea salt
2 Tablespoons Bob's Red Mill 1:1 Gluten Free Baking Flour
Directions
Preheat oven to 425 degrees. Spray 2 4-inch ramekins (that hold about 6-8 oz) with non-stick spray and lightly dust/coat with cocoa powder.
Add the chocolate and butter to a microwave safe bowl. Heat at 50% power for 1 minute. Stir well then heat at 50% power for 30 seconds then stir. Continue to heat at 50% power for 20 second intervals, stirring well each time, until the chocolate is melted. Set aside.
Add the egg, egg yolk, granulated sugar, and salt to a medium bowl. Use a hand mixer to beat on high speed until light in color and slightly thickened.
While the mixer is running on medium, pour in 1/2 of the melted chocolate and mix to combine. Turn off the mixer and add the remaining chocolate. Beat until smooth.
Add the gluten free flour and use a spatula to fold into the chocolate mixture until just combined.
Transfer the batter equally among the two prepared ramekins. Bake at 425 degrees for 12-14 minutes. When done, the edges will be set and the middle will be soft and jiggly.
When done, cool in the ramekins for 1 minute. Then invert onto a plate and let sit for 10-15 seconds before removing the ramekin.
Serve immediately with vanilla ice cream or whipped cream.
Recipe Notes
The flour mix I used in this recipe contains xanthan gum.
­
Gluten Free Molten Chocolate Lava Cakes
Reviewed by
Sup
on
February 12, 2018
Rating: