This post may contain affiliate links. Please see my full Disclosure Policy for details.
This Vanilla Latte Cake transforms a classic coffee beverage into a delicious dessert! Infused with espresso and vanilla, it is perfect for the coffee lover in your life.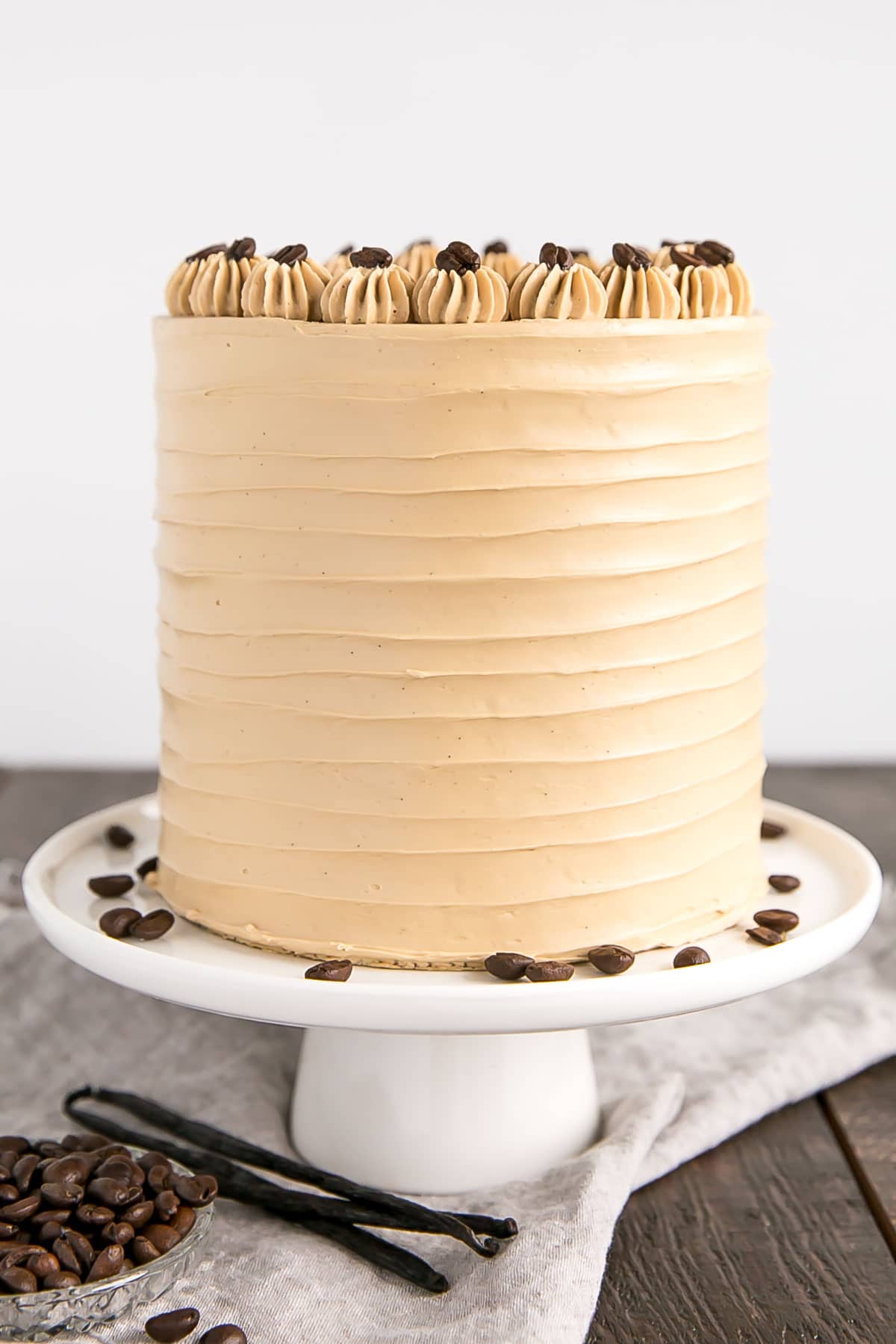 Man, I've had some serious baking fails over the past couple weeks. The other day I was baking cake layers for an upcoming post and checked on them too early. They weren't quite set yet when I moved them around in the oven, so they totally caved in. I could literally see them falling before my eyes. SO sad (they still tasted good though).
With this Vanilla Latte Cake it was quite the opposite. I overbaked the layers for fear of underbaking, and the cake came out dry. I didn't realize this until I cut into it though — there isn't really an easy way to tell a cake is overbaked unless it's burnt (lol). I had the foresight to douse the layers with some simple syrup before stacking, but even that didn't help much.
Learn from my mistakes, people. Don't check your cakes too early or too late. Baking is stressful, amirite?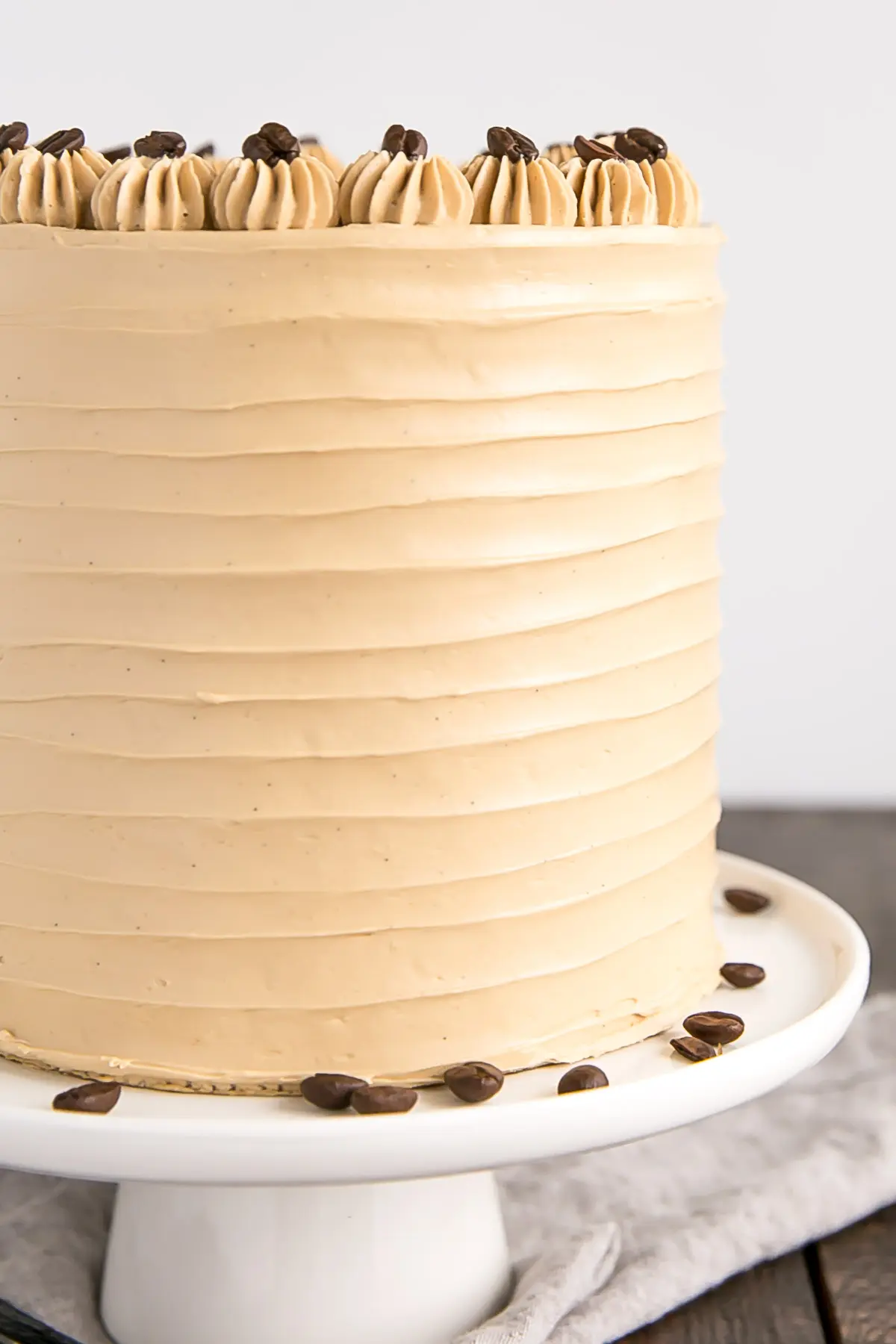 If you haven't noticed, I am a HUGE fan of coffee flavoured desserts. It's honestly one of my favourite flavours. I especially love coffee and chocolate together, but today I wanted to try something different with this Vanilla Latte Cake.
The key components in this cake are instant espresso powder and vanilla bean paste. My pantry is always stocked with these items because I love and use them so much.
If you don't have either of these, this recipe will still work with any instant espresso and regular vanilla. You won't have vanilla bean flecks in your cake or frosting, but the taste will be similar.
It's important to note that the espresso powder I use is very fine — almost the consistency of powdered sugar. It is not granules. You can use instant espresso granules, but you'll need to dissolve them first for use in the frosting (see recipe notes for details).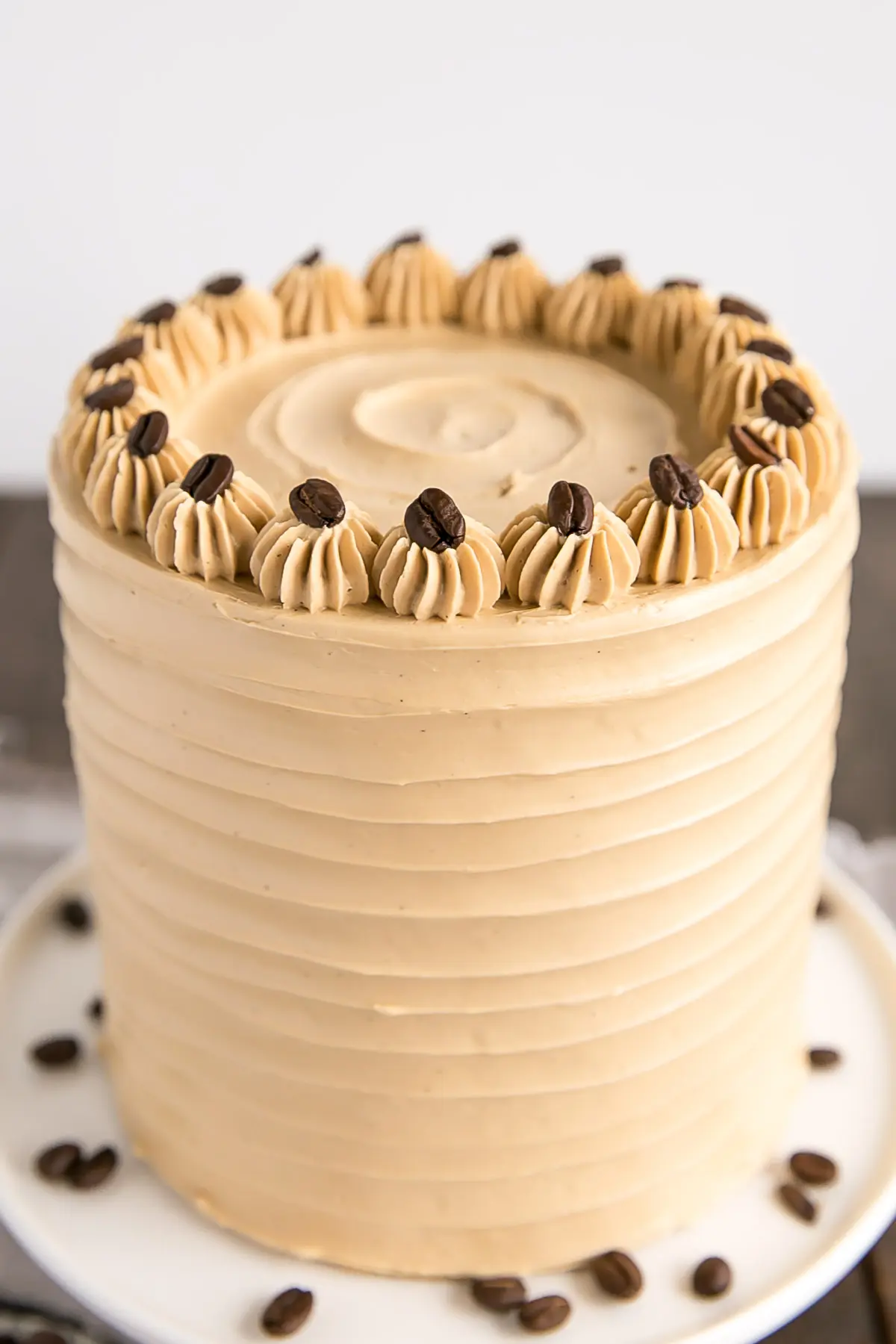 To infuse the coffee flavour into the cake layers, all I did was take my favourite Vanilla Cake recipe and dissolve some espresso powder right into the milk. You can add more if you like, for a more intense flavour.
The buttercream is a Swiss Meringue which I've made before, but I added more espresso powder this time to intensify the flavour and, of course, the vanilla bean paste.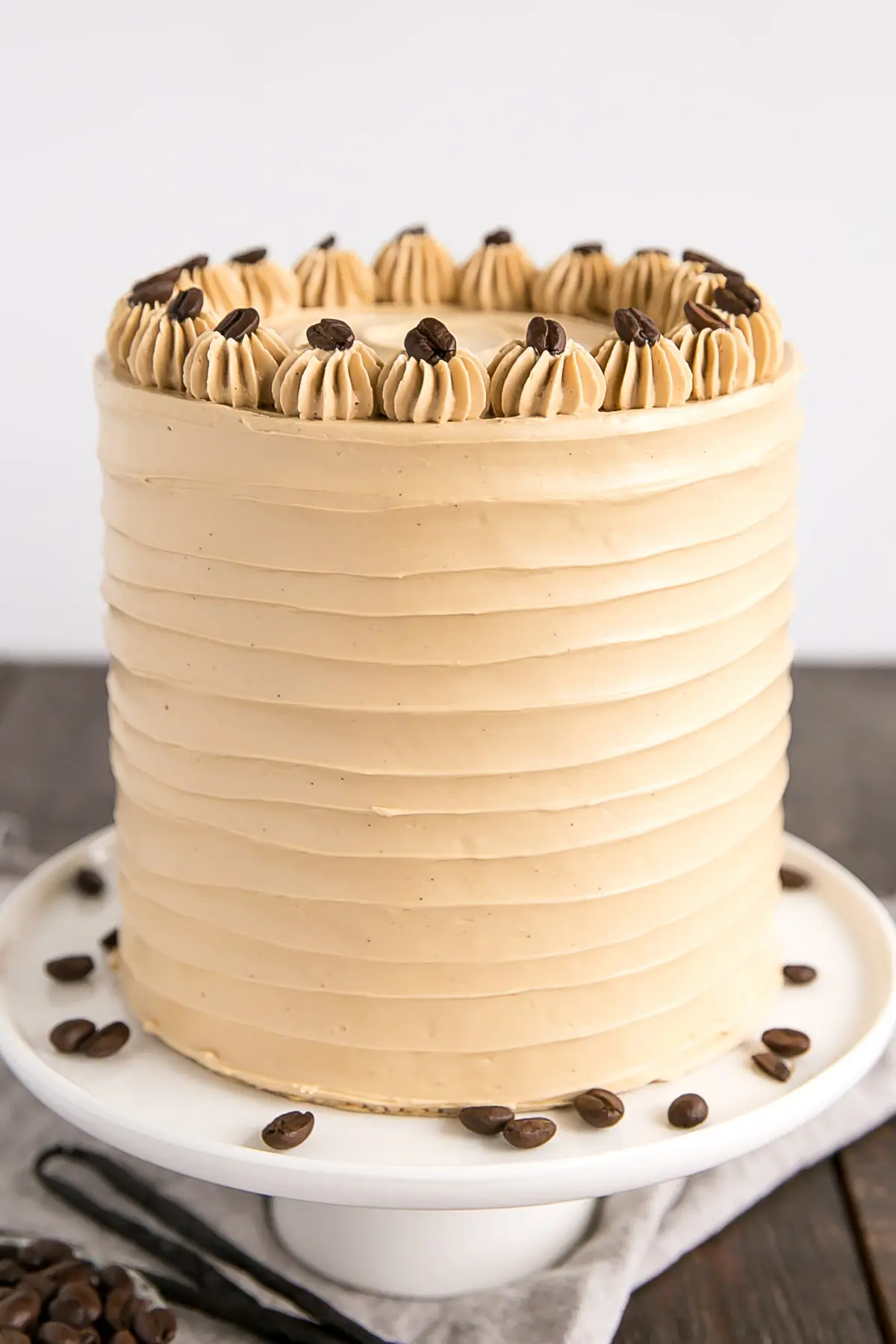 If you're a coffee lover like I am, or have one in your life, this cake is the perfect treat!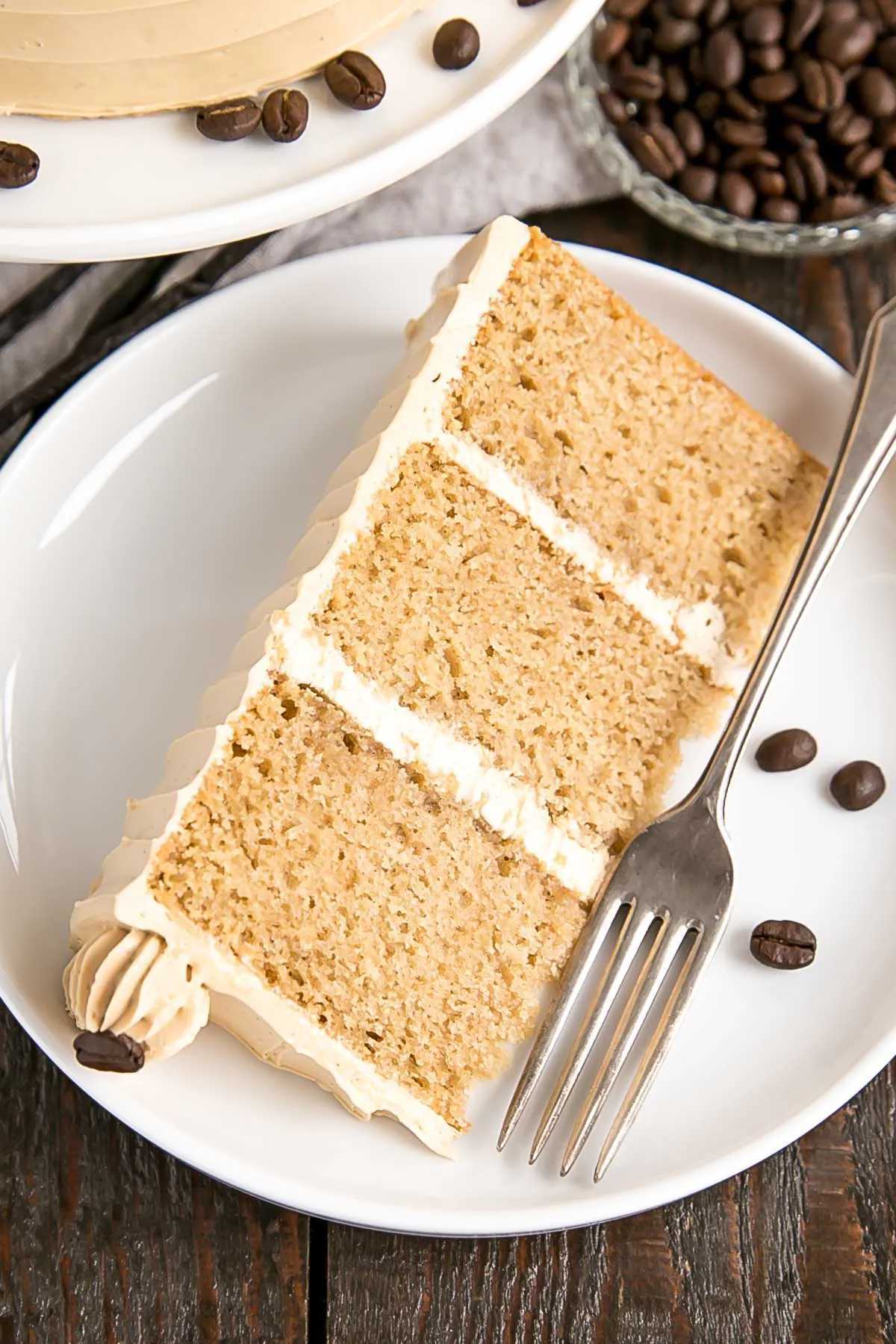 Looking for more coffee flavoured desserts??
Mocha Chocolate Cake
Kahlua Cake
Coffee & Baileys Cake
Tiramisu Cake
Flourless Chocolate Espresso Cake
Coffee & Baileys Macarons
Tips for making this Vanilla Latte Cake:
Be sure to use instant espresso powder, not granules, especially in the frosting. See recipe notes for modification if you can't find the powder.
You can use regular vanilla instead of vanilla bean paste. The flavour will be the same, you just won't have flecks of vanilla bean seeds throughout the frosting.
I used a small offset spatula to do the swirl on the top and sides of the cake and a 6B tip to pipe the dollops on top.
To help ensure your cake layers bake up nice and flat, see my Flat Top Cakes post.
Vanilla Latte Cake
Prep Time 2 hours
Cook Time 35 minutes
Total Time 2 hours 35 minutes
Servings 12
641 kcal
INGREDIENTS
Vanilla Latte Cake:
2 1/2 cups all-purpose flour
2 1/2 tsp baking powder
3/4 tsp salt
1 cup milk room temperature
1 Tbsp espresso powder
3/4 cup unsalted butter room temperature
1 1/2 cup granulated sugar
3 large eggs room temperature
1 tsp vanilla bean paste
Vanilla Latte Buttercream:
6 large egg whites
1 1/2 cups granulated sugar
1 1/2 cups unsalted butter room temperature
1 tsp vanilla bean paste
2 Tbsp espresso powder not granules*
Assembly:
INSTRUCTIONS
Vanilla Latte Cake:
Preheat oven to 350F. Grease and flour three 6" cake rounds and line with parchment.
In a medium bowl, whisk flour, baking powder, and salt until well combined. Set aside.
In a small measuring cup, combine room temperature milk & espresso powder. Stir until dissolved. Set aside.
Using a stand mixer fitted with a paddle attachment, cream butter and sugar on med-high until pale and fluffy (approx 3mins). Reduce speed and add eggs one at a time fully incorporating after each addition. Add vanilla vanilla bean paste.
Alternate adding flour mixture and espresso milk, beginning and ending with flour (3 additions of flour and 2 of milk). Fully incorporating after each addition.
Bake for 30-35mins or until a toothpick inserted into the center comes out mostly clean.
Place cakes on wire rack to cool for 10mins then turn out onto wire rack to cool completely.
Vanilla Latte Buttercream:
Place egg whites and sugar into the bowl of a stand mixer, whisk until combined.**
Place bowl over a double boiler on the stove and whisk constantly until the mixture is hot and no longer grainy to the touch (approx. 3mins). Or registers 160F on a candy thermometer.
Place bowl on your stand mixer and whisk on med-high until the meringue is stiff and cooled (the bowl is no longer warm to the touch (approx. 5-10mins)).
Switch to paddle attachment. Slowly add cubed butter and mix until smooth.***
Add vanilla bean paste and espresso powder. Whip until smooth.
Assembly:
Place one layer of cake on a cake stand or serving plate. Top with approximately 2/3 cup of buttercream. Repeat with remaining layers and crumb coat the cake. Chill for 20mins.
Frost the top and sides of the cake and smooth with an icing smoother.
Do a swirl pattern on the sides and top of the cake. Rotate the turntable while pressing a small offset spatula into the frosting. Start at the bottom and slowly move up to the top of the cake.
Pipe small dollops on top using a 6B tip with remainder of frosting. Decorate with whole coffee beans if desired.
NOTES
* If you can't find very fine espresso powder, you can dissolve the 2Tbsp in 1 Tbsp hot water. Cool completely before adding to the frosting.
** Ensure there is NO trace of egg yolks in your whites and that your mixer bowl and whisk is completely grease free or your meringue won't stiffen.
*** The buttercream may look like it's curdled at some point. Keep mixing until it is completely smooth.
The nutritional information and metric conversions are calculated automatically. I cannot guarantee the accuracy of this data. If this important to you, please verify with your favourite nutrition calculator and/or metric conversion tool.
­
Vanilla Latte Cake
Reviewed by
Cake Lover
on
February 11, 2018
Rating: