This post is sponsored by Challenge Dairy, but all opinions are my own. These Coconut Cream Pie Cupcakes are made with a moist coconut cupcake filled with coconut cream filling and topped with coconut frosting! They are full of texture and flavor and so fun!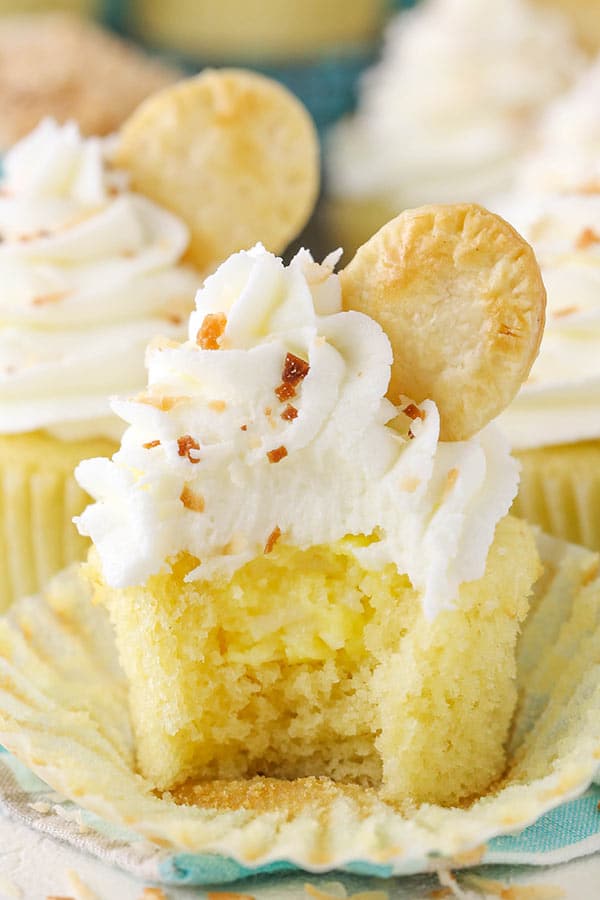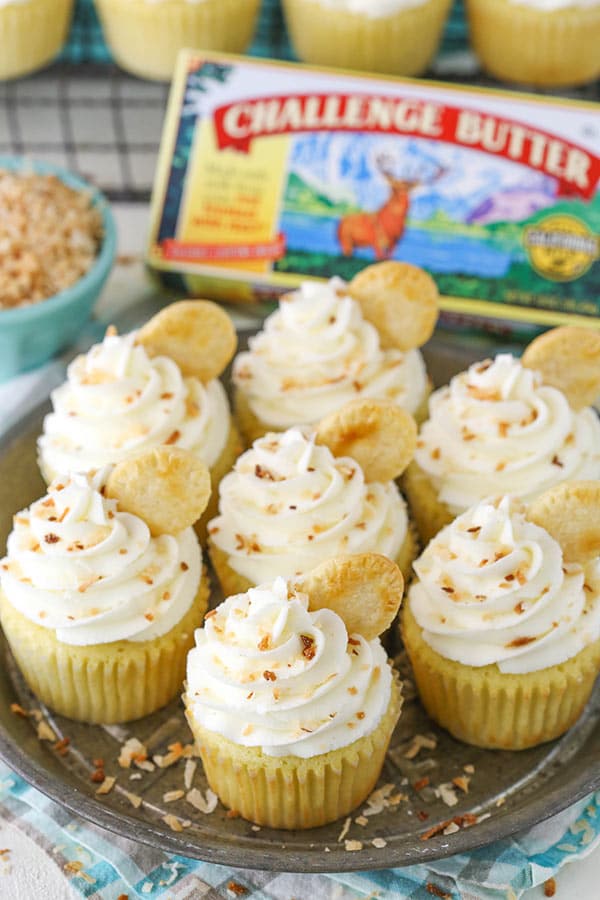 So taking care of twins is quite the adventure. When handling one at a time, it's all good. However when you've got both and they get upset, watch out! It can feel like pure chaos, especially if you're on your own.
Well the other day my mom and I were going back and forth trying to get the boys to sleep. At one point, she offered to go up and help with Brooks because I'd been back and forth several times and she wanted to give me a little break.
So there I was, watching her and the babies on the monitor. I saw her pick up Brooks to console him and the next thing you know, Ashton starts getting worked up. I waited a minute to see if he'd calm down or if I should go help and he didn't calm down. The next thing I see mom trying to put a pacifier in his mouth. In the dark. While holding Brooks. It didn't go well. So she put Brooks down to tend to Ashton. Then I hear Brooks start screaming again because he was put down.
Even though the cameras are only set on the babies, I could still see her running back and forth between them. I'm not going to lie, I was cracking up. I know the feeling of not knowing what to do when they both get going and it was hilarious to watch it play out on camera.
MY OTHER RECIPES
I managed to walk upstairs to try and help her – totally cracking up. As soon as I opened the bedroom door, she turned and looked at me and started cracking up too. We both had to take a moment to finish laughing before we could get to the babies.
We finally got to the babies, but that's a little bit of what twins are like. Slowly loosing your mind – and if you're lucky laughing about it.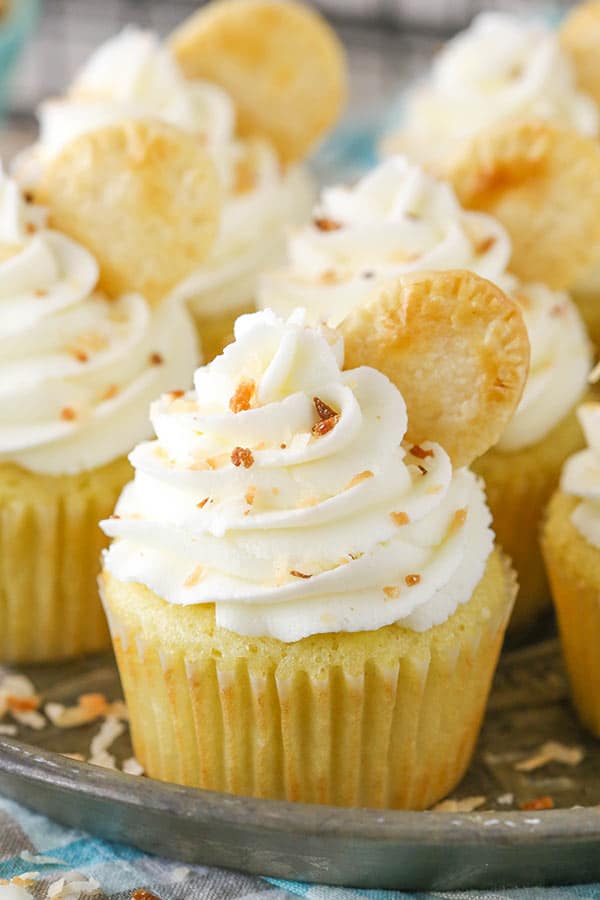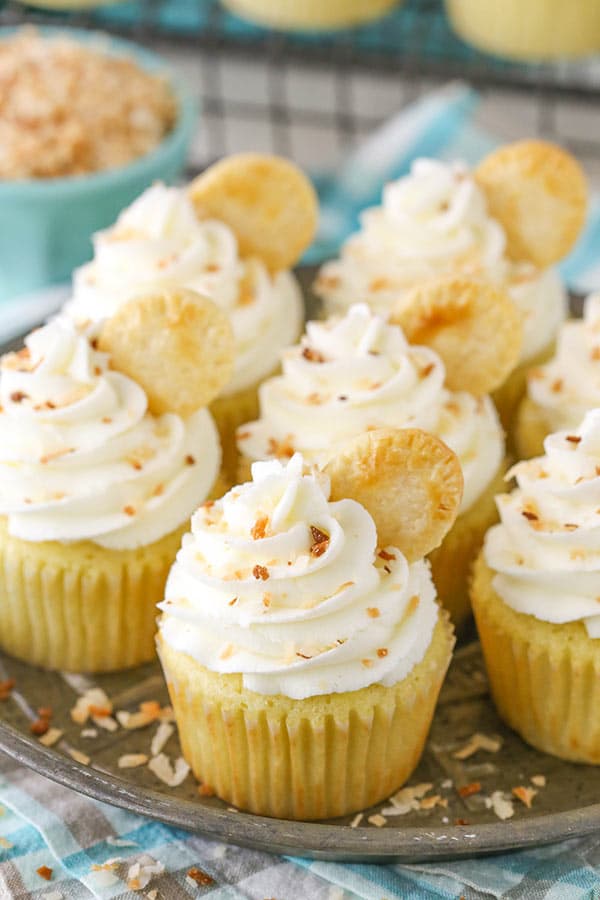 While these cupcakes are no laughing matter, they are so good you might just lose your mind.
To start, you've got the moist and fluffy coconut cupcakes. These cupcakes use the creaming method, so you'll start by creaming the butter, sugar, coconut extract and a bit of vegetable oil together. This step incorporates air into the batter, giving you a nice fluffy cupcake, so you don't want to skimp on the creaming.
Naturally I chose to use Challenge Butter, which is a wonderful quality butter. It's 100% real cream and farm to fridge in two days, so you know it's fresh. Gotta love that! Good quality ingredients mean good cupcakes.
Next up are the eggs and then alternating the dry ingredients and milk as they are added to the batter. When you're finished, bake up the cupcakes and set them aside.
The filling is made next (or could even be made ahead) and is one of my favorite parts. It's a delicious coconut cream pie filling scaled down to be enough for the cupcakes and it's delicious! It's made right on the stove and doesn't take long to make. It's the perfect cupcake filling with a little bit of added texture from the flaked coconut! So good!
The cupcakes are then topped with coconut frosting and finished off with some toasted coconut and little pie crust toppers. While the toppers would be totally optional, I have to say I love them! Not only do they make a cute decoration, they are actually a really tasty addition to the cupcake. When you dip it into the frosting – or even the filling after you bit into the cupcake – it makes it feel even more like you're eating pie in cupcake form. Love it!
The final cupcakes are a super fun way to eat a delicious pie in cupcake form. They are fairly light cupcakes that are full of flavor and so delicious! I'm in love with all the components and how they come together and can't wait to make them again already!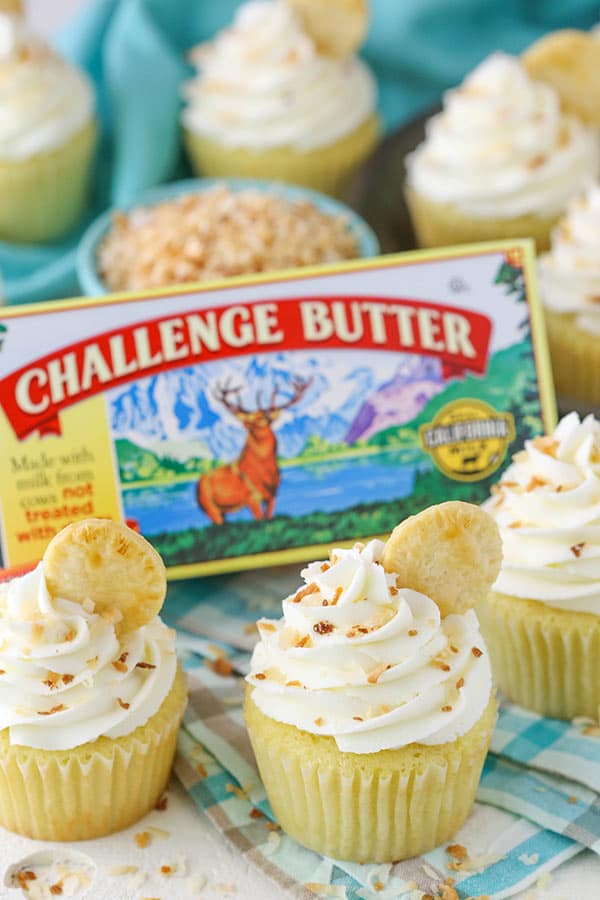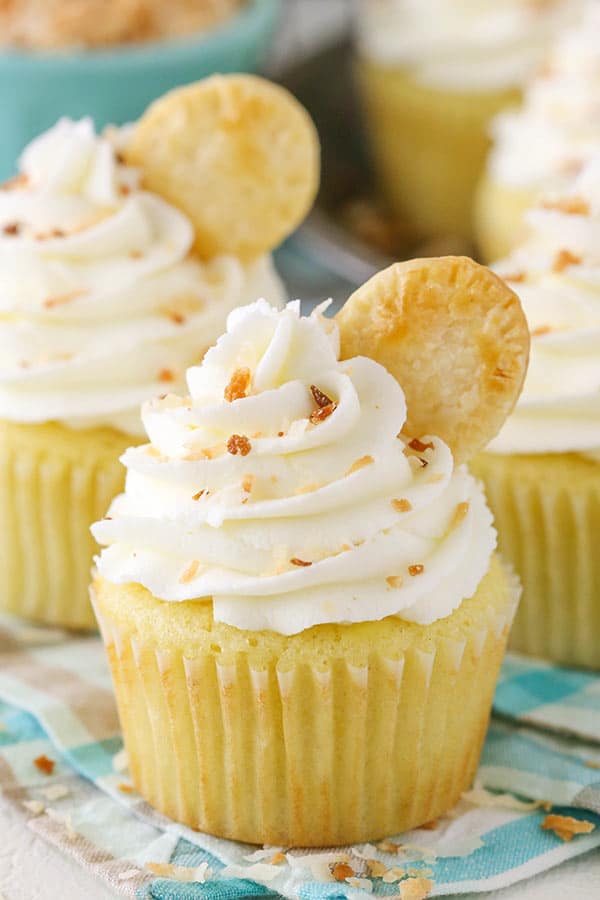 Coconut Cream Pie Cupcakes Yield: 12-14 cupcakes
Ingredients:
Coconut Cupcakes
1 1/4 cups (163g) all purpose flour
2 tsp baking powder
1/4 tsp salt
6 tbsp (84g) unsalted Challenge Butter, room temperature
3/4 cups (155g) sugar
1 1/2 tbsp vegetable oil
2 tsp coconut extract
2 large eggs
1/2 cup + 2 tbsp (150ml) milk
Filling
2 egg yolks
6 tbsp (78g) sugar
1 1/2 tbsp cornstarch
1 cup (240ml) milk
1 tbsp salted Challenge Butter
1 tsp coconut extract
1/2 cup (36g) sweetened flaked coconut
Coconut Frosting
1/2 cup (112g) salted Challenge Butter, room temperature
1/2 cup (95g) shortening
4 cups (460g) powdered sugar
1 tsp coconut extract
2-3 tbsp water or milk
Toasted coconut
Refrigerated pie crust, optional
Directions:
1. Preheat oven to 350°F (176°C) and prepare a cupcake pan with cupcake liners.
2. Combine the flour, baking powder and salt in a medium sized bowl and set aside.
3. Add the butter, sugar, oil and coconut extract to a large mixer bowl and beat together until light in color and fluffy, about 3-4 minutes. Do not skimp on the creaming time.
4. Add the eggs one at a time, mixing until mostly combined after each. Scrape down the sides of the bowl as needed to be sure all ingredients are well incorporated.
5. Add half of the dry ingredients to the batter and mix until mostly combined.
6. Slowly add the milk and mix until well combined. The batter will look curdled, but that's ok.
7. Add the remaining dry ingredients and mix until well combined and smooth. Scrape down the sides of the bowl as needed to be sure all ingredients are well incorporated. Do not over mix the batter.
8. Fill the cupcake liners about 3/4 full and bake for 13-15 minutes, or until a toothpick comes out with a few crumbs.
9. Remove the cupcakes from the oven and allow to cool for about 2-3 minutes, then remove to cooling racks to cool completely.
10. While the cupcakes cool, make the pastry cream. Put the egg yolks in a medium sized bowl and gently beat them together. Set aside.
11. Add the sugar, cornstarch and milk to a large saucepan and mix until smooth.
12. Cook, stirring continuously, over medium-high heat until mixture begins to thicken and bubble.
13. Reduce heat to medium and simmer for 2 minutes. Remove from heat.
14. Add a little bit of milk mixture to the egg yolks and whisk together, then add egg mixture to milk mixture. This process ensures that you don't cook the egg yolks.
15. Place the pan back on the heat and bring to a light boil. Allow to boil for 1-2 minutes, stirring continuously.
16. Remove from heat and add butter, coconut extract and flaked coconut. Stir until smooth, then set aside to cool to room temperature.
17. To make the frosting, combine the butter and shortening in a large mixer bowl and mix until smooth.
18. Add 2 cups of powdered sugar and mix until smooth.
19. Add the coconut extract and 1 tablespoon of water or milk and mix until smooth.
20. Add remaining powdered sugar and mix until smooth.
21. Add remaining water or milk as needed and mix until smooth. Set aside.
22. Using a cupcake corer or small knife, remove the centers from the cupcakes.
23. Fill the centers of the cupcakes with the filling.
24. Pipe the frosting onto the cupcakes and sprinkle with toasted coconut.
25. If you'd like to add the pie crust toppers, bring the refrigerated pie crust to room temperature.
26. Roll out the pie crust and use a mini cutter (shape of your choice) to cut out the toppers.
27. Place on a baking sheet covered with parchment paper and bake according to package instructions (roughly 450°F for about 5-7 minutes).
28. Top cupcakes with toppers and refrigerate until ready to serve. Cupcakes are best when stored in an airtight container. Best for 2-3 days. Enjoy!


Coconut Cream Pie Cupcakes
Reviewed by
Cake Lover
on
March 12, 2018
Rating: