These Orange Cream Cupcakes are made with orange cupcakes and frosting and a light vanilla cream filling! Such a delicious cupcake and fun flavor!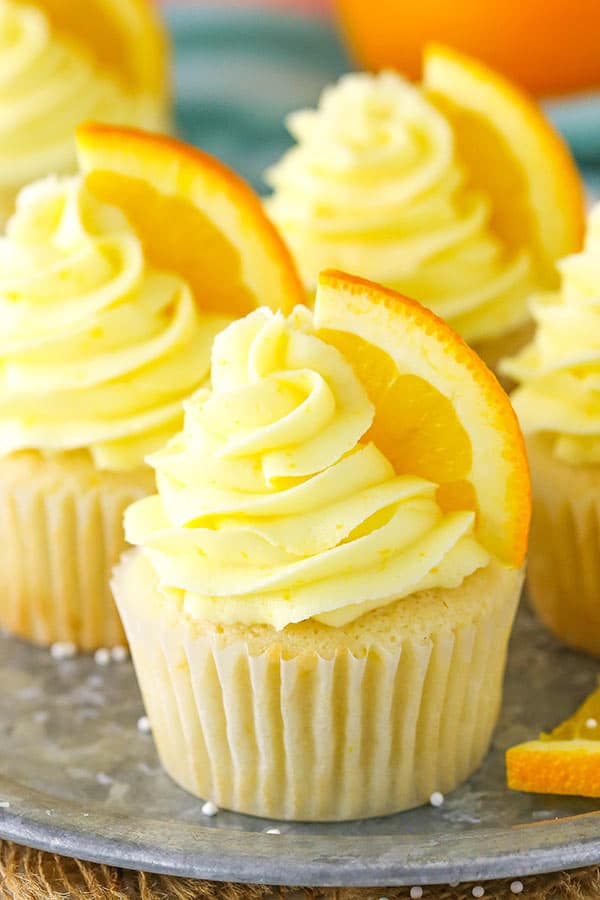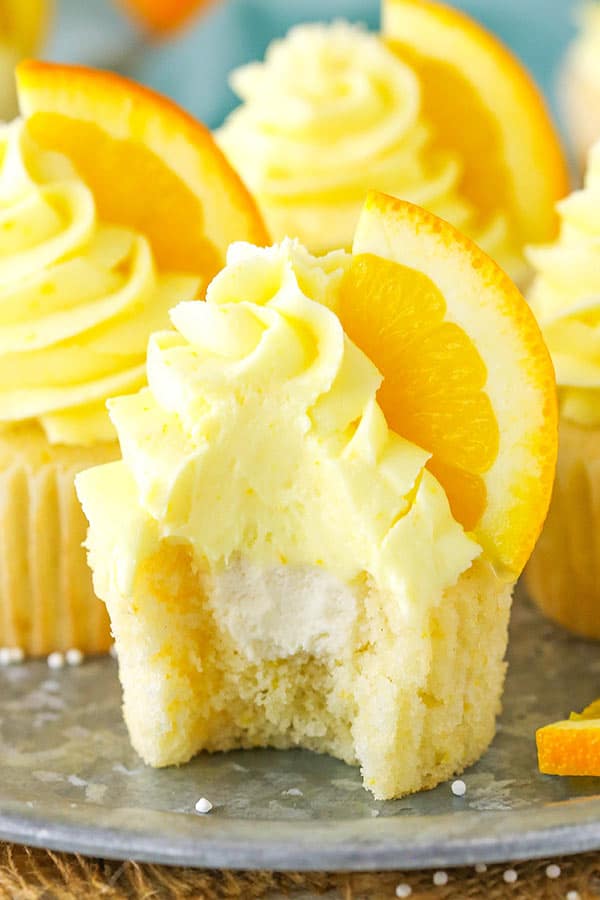 Orange is totally one of those flavors that gets overlooked, even by me, yet it's a flavor I love. I made an orange cream cake for my cookbook a couple years ago and was reminded of how awesome it is in cake form. Even during pregnancy, my number one craving was orange juice. I'm pretty sure I went through two or three cartons of it a week.
And yet, with the exception of this creamsicle poke cake and creamsicle ice cream cake, there aren't any orange flavored recipes on the site. Such a shame! Orange is the member of the citrus family that is often overlooked, but not anymore!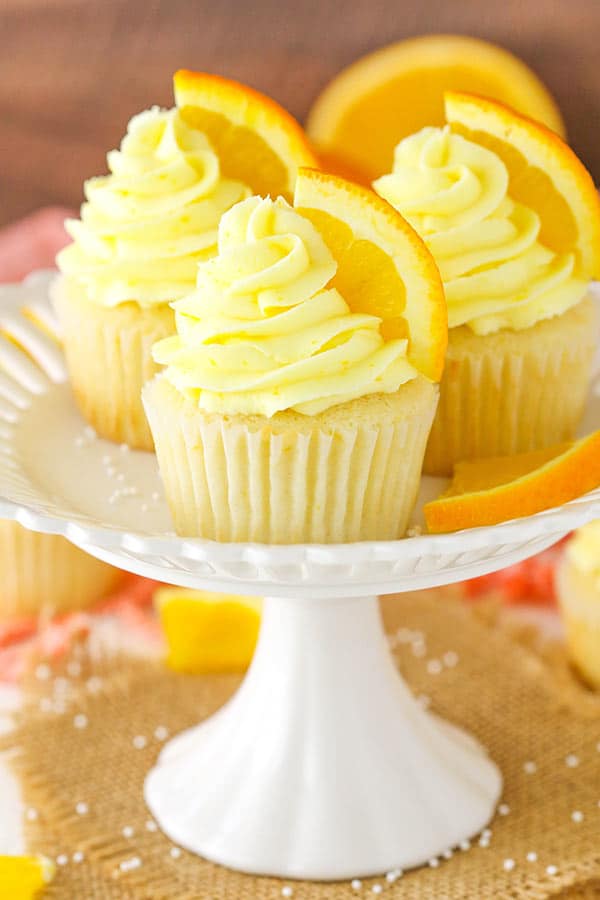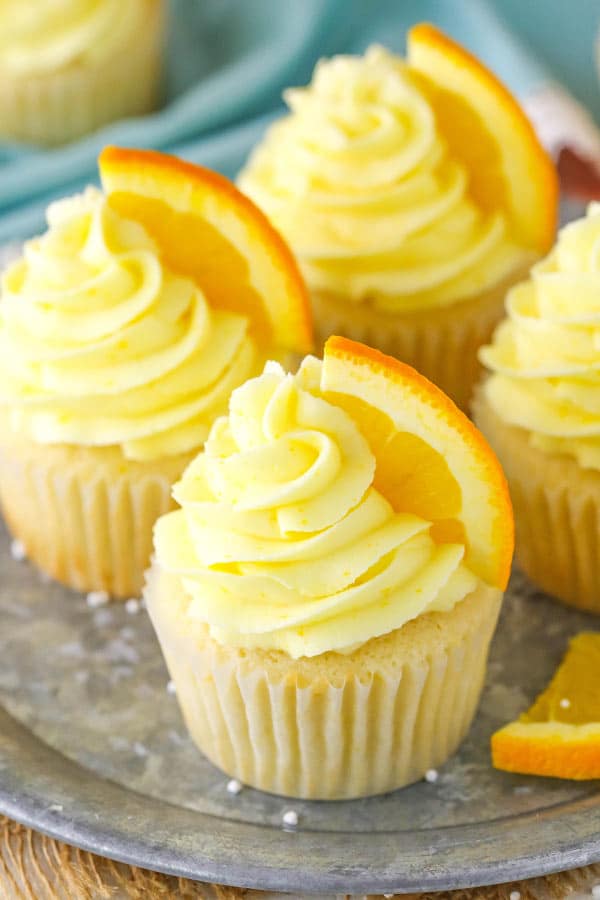 To get started, make the cupcakes. You'll want to cream the butter and sugar together and be sure to cream them fully. You'll notice an actual change in the color and texture of the mixture – light and fluffy – when it's done. Sour cream is added for flavor and moisture along with a little vanilla and orange zest.
Egg whites are used to give the cupcakes rise and structure (whole eggs will not work here) and then the dry ingredients are added, alternating with the wet ingredients which include freshly squeezed orange juice. I use actual oranges here rather than orange juice from a carton/bottle with added sugars and such.
Bake up the cupcakes and then it's time to make the filling and frosting!
The filling is a whipped cream cheese filling flavored with vanilla. It's light and easy to make and pairs perfectly with the cupcake. The frosting uses fresh orange juice and orange zest for flavor, plus a bit of gel coloring for color.
The final cupcake is light and delicious! I love a good filling in a cupcake and this one definitely has it! These are a great lightly citrus cupcake that would be great for any occasion – including Easter!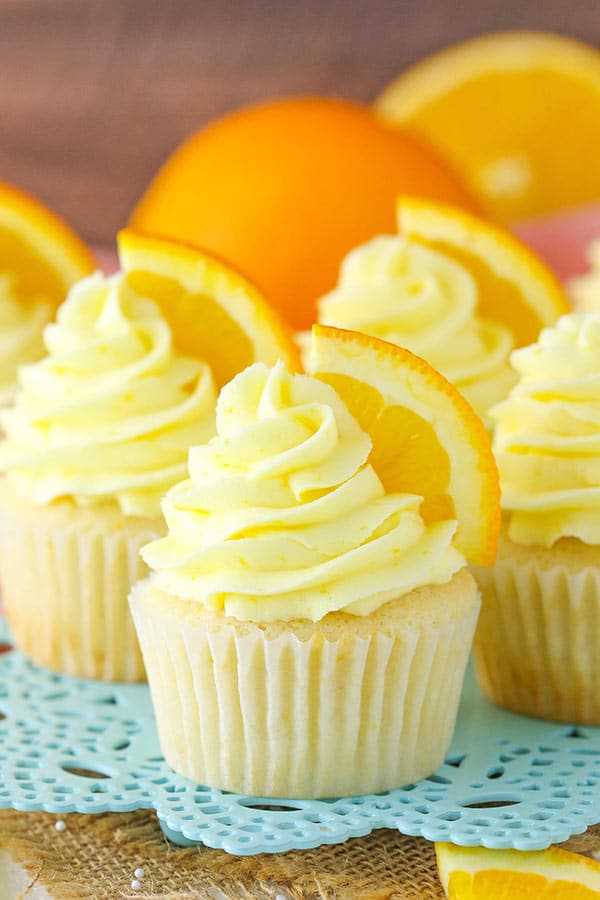 Orange Cream Cupcakes
Yield: 12-14 cupcakes
Ingredients:
Orange Cupcakes
6 tbsp (84g), unsalted butter, room temperature
3/4 cups (155g) sugar
1/4 cup (57g) sour cream
1/2 tsp vanilla extract
1/2 tbsp finely grated orange zest
3 large egg whites, room temperature
1 1/4 cups (163g) all purpose flour
2 tsp baking powder
¼ tsp salt
1/4 cup (60ml) milk
1 tbsp (15ml) water
3 tbsp (45ml) freshly squeezed orange juice
Cream Filling
1/2 cup (120ml) heavy whipping cream, cold
1/4 cup (29g) powdered sugar
1 tsp vanilla extract
3 oz cream cheese, room temperature
Orange Frosting
1 cup (224g) unsalted butter
4 cups (460g) powdered sugar
3-4 tbsp (45-60ml) freshly squeezed orange juice
1/2 tbsp finely grated orange zest
Orange gel icing color
Directions:
1. Preheat oven to 350°F (176°C) and prepare a cupcake pan with cupcake liners.
2. In a large mixing bowl, cream the butter and sugar together until light in color and fluffy, about 3-4 minutes. Do not skimp on the amount of creaming time.
3. Add sour cream, vanilla extract and orange zest and mix until well combined.
4. Add egg whites in two batches, mixing until well combined after each. Scrape down the sides of the bowl as needed to be sure all ingredients are well incorporated.
5. Combine dry ingredients in a separate bowl, then combine the milk, water and orange juice in a small measuring cup.
6. Add half of the dry ingredients to the batter and mix until well combined. Add the milk mixture and mix until well combined. Add remaining dry ingredients and mix until well combined. Scrape down the sides of the bowl as needed to be sure all ingredients are well incorporated. Do not over mix.
7. Fill the cupcake liners a little more than halfway. Bake for 15-17 minutes, or until a toothpick inserted comes out with a few crumbs.
8. Remove cupcakes from oven and allow to cool for 2-3 minutes, then remove to cooling rack to finish cooling.
9. When the cupcakes are cooled, make the filling. Add the heavy whipping cream, powdered sugar and vanilla extract to a large mixer bowl and whip on high speed until soft peaks begin to form.
10. Add the cream cheese and continue whipping until stiff peaks form.
11. Remove the centers of the cupcakes using a cupcake corer or sharp knife, then fill with the cream filling.
To make the frosting, beat the butter in a large mixer bowl until smooth.
11. Add 2 cups of powdered sugar and mix until smooth.
12. Add the orange zest and 1 tablespoon of orange juice and mix until smooth.
13. Add the remaining powdered sugar and mix until smooth.
14. Add the remaining orange juice as needed for the right consistency of frosting and mix until smooth.
15. Color the frosting as desired, then pipe the frosting onto the cupcakes. I used Ateco tip 844.
16. Decorate the cupcakes with orange slices, or your preferred decorations.
Enjoy!


Orange Cream Cupcakes
Reviewed by
Cake Lover
on
March 26, 2018
Rating: