Sloppy Joes are a delicious meat loaded sandwich that comes together quickly. These are perfect for feeding the family or a large crowd and are great for lunch OR dinner.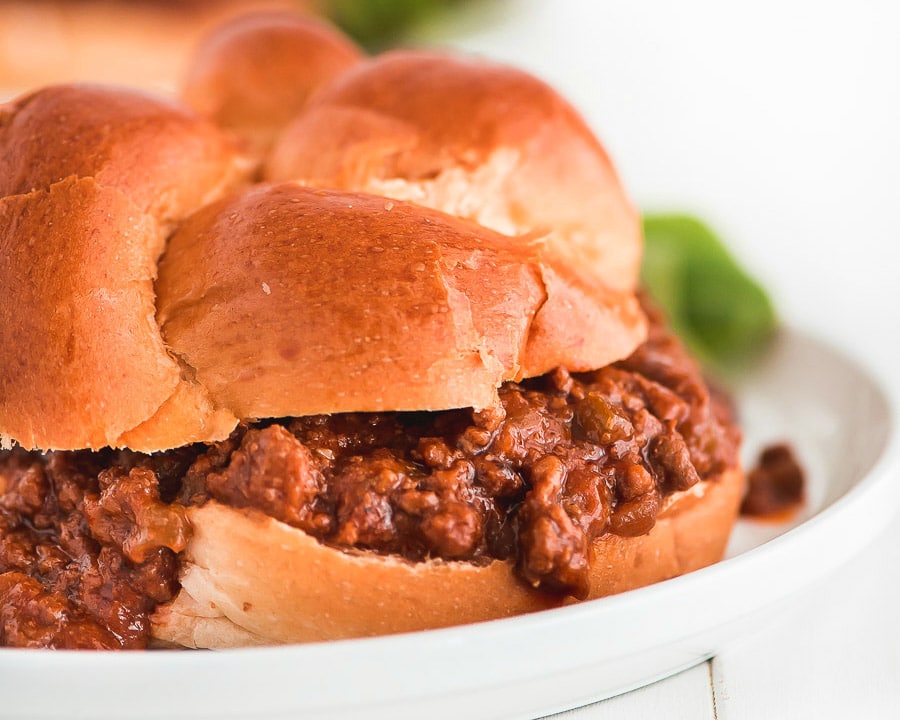 Homemade Sloppy Joes
"Sloppy Joes. Sloppy, Sloppy Joes…" I can't hear or see Sloppy Joes without singing Adam Sandler's song from his SNL skit. The good thing is that these ain't no lunch lady's sandwich. These are amazingly good and so easy to throw together. The name of them is quite fitting though. Very messy. Be sure to have a napkin close by.
We know that you can buy the meat for Sloppy Joes at the store but know that the homemade recipe (which is what we are sharing with you today) is so much better. We think you'll agree, even if it takes a little bit more time.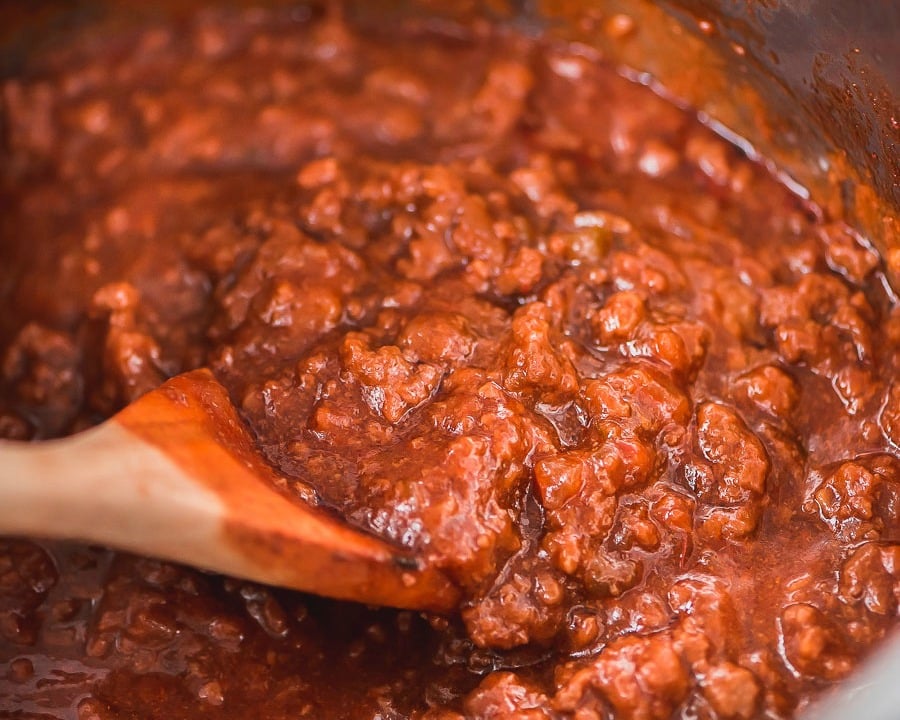 How to make Sloppy Joes:
First, chop up all your veggies and then toss them in a large pot along with the ground round and cook until the meat is browned. Be sure you drain off the fat. I find the easiest way is to dump everything in a mesh strainer. Yes you have to wash another thing but its so much faster than ladling out all the grease.
The next step is the add in everything else to create the sauce. It's made up of tomato sauce, ketchup, barbecue sauce, vinegar, mustard, brown sugar, and chili sauce. Typically, Joes have a sauce made up of mostly ketchup but it was a little too much for my taste. You can use whatever barbecue sauce you want but I think the spicier, the better.
Once everything is mixed together, bring it to a boil, cover, turn to low and let it simmer for about 20 minutes or until the meat is nice and tender. Now you're ready to eat! Slice up your buns and spoon on the savory tender meat sauce.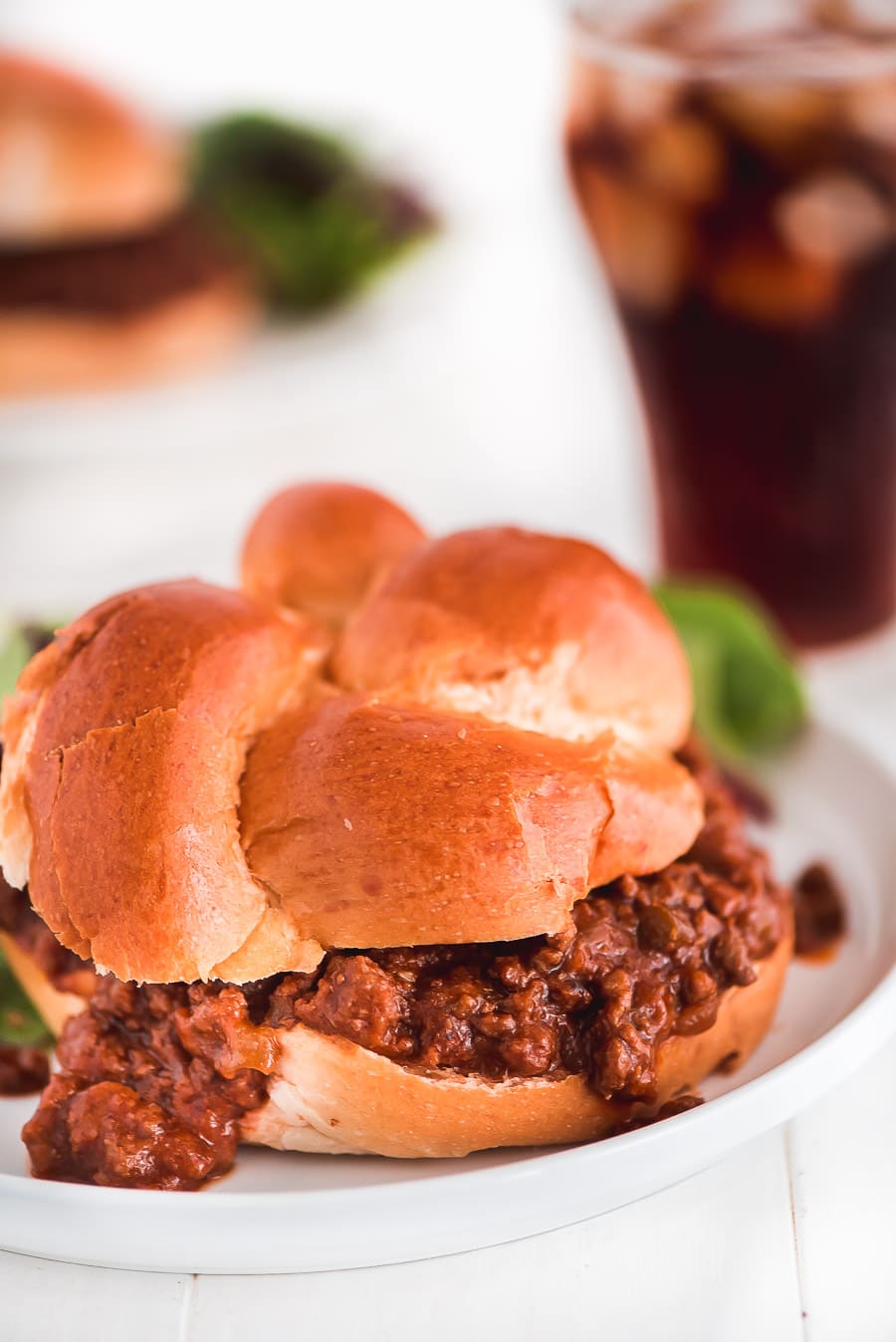 Now, let's talk buns. You want a soft bun because it helps make things a little less sloppy. Regular hamburger buns work great but I wouldn't recommend pretzel buns. The buns pictured in this post are Challah buns. So light and soft and have that beautiful shiny golden crust. Your local grocery store bakery is the place to look.
We hope you love these Sloppy Joes as much as we do. They really are so messy and SO good!
Complete the meal by also making:
For more ground beef dishes, check out: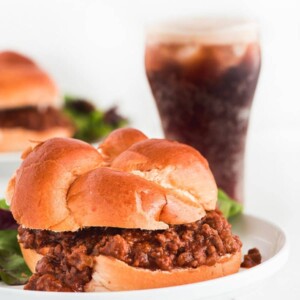 Sloppy Joes recipe
Ingredients
1 1/2

pounds

ground round

3/4

cup

onion, diced

3/4

cup

green bell pepper, diced

2

cloves

garlic, minced

1

teaspoon

seasoned salt

1

8 ounce

can tomato sauce

1/2

cup

ketchup

1/2

cup

barecue sauce

2

teaspoons

apple cider vinegar

2

teaspoons

dijon mustard

2

tablespoons

brown sugar

2

tablespoons

chili sauce

1/4

cup

beef broth or water

8

Buns
Instructions
Place ground beef, onions, pepper, garlic, and seasoned salt in a large pot over medium high heat. Cook and break up meat until it is browned. Drain off fat and add the remaining ingredients.

Bring to a simmer, turn to low, cover, and cook for 20 minutes or until meat is tender and sauce has thickened. Serve on a buns.
Nutrition Facts
Sloppy Joes recipe
Amount Per Serving
Calories 397
Calories from Fat 90
% Daily Value*
Total Fat 10g 15%
Cholesterol 55mg 18%
Sodium 1039mg 43%
Potassium 436mg 12%
Total Carbohydrates 49g 16%
Protein 23g 46%
* Percent Daily Values are based on a 2000 calorie diet.
Making This Recipe?
Share it with us on Instagram using the hashtag #lilluna, so we can see what you're creating in the kitchen!
For more sandwich dinner ideas, check out:
Sloppy Joes
Reviewed by
Cake Lover
on
March 28, 2018
Rating: