Strawberry Poke Cake is made with white cake, soaked with a mixture of white chocolate strawberry sauce, topped with strawberry pie filling and creamy whipped cream.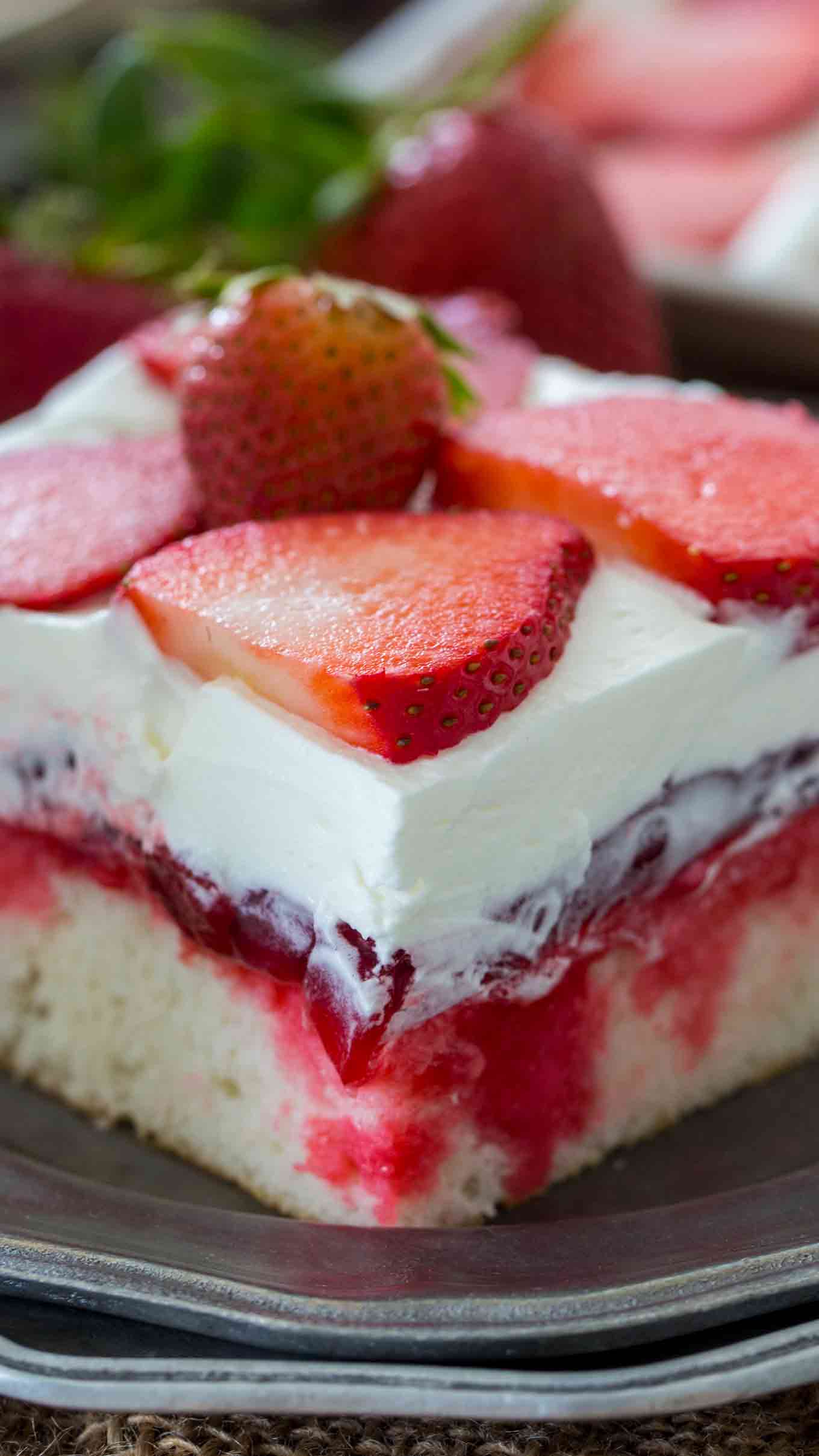 Best Strawberry Poke Cake that I have ever had, hands-down! This cake is basically a dream come true, if you allow me to make a cheesy comparison, I would say that thats what probably angels eat! I mean, this Strawberry Poke Cake is so tender and so fluffy and it melts in your mouth. Its also moist, yes, I said it, its moist! Because it has been filled with the most amazing white chocolate sauce. Topped with a layer of strawberry pie filling and a thick layer of homemade whipped cream, each bite tastes like spring!
Usually, a Strawberry Poke Cake is infused with a strawberry gelatin mixture, well, I took it to a whole new level and I made a white chocolate strawberry sauce, that has been poured all over the cake and got into all the holes. Full of flavor, airy, sweet and bursting with all the delicious and different strawberry textures, this cake is fantastic and also very, very easy to make.
Love Poke Cakes? Chest these recipes:
German Chocolate Poke Cake – a chocolate lover dream come true!
Baileys Poke Cake – boozy and chocolaty, this cake gets amazing reviews!
Carrot Cake Poke Cake – flavorful, tender and topped with a thick cream cheese frosting layer!
Blueberry Zucchini Poke Cake – zucchini, blueberries, olive oil and lots of lemon.
Pumpkin Poke Cake – with a thick layer of cream cheese frosting.
Banana Pudding Poke Cake – bursting with banana flavor and very creamy.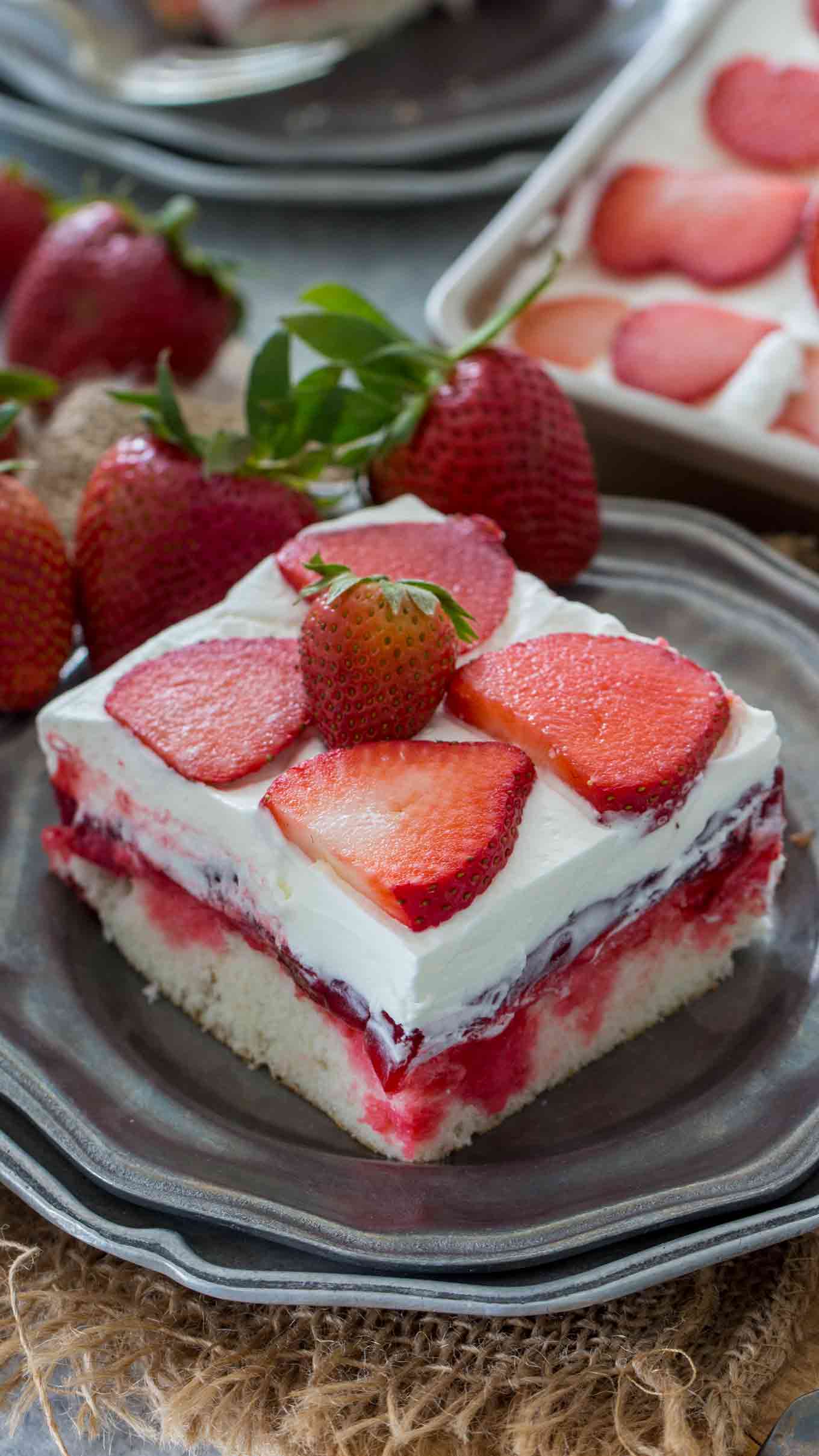 What is a Poke Cake?
A "poke cake" it's a cake that you poke holes into after baking and then fill it with a liquid or filling to infuse extra flavor into every bite and make it very tender.
How do you make a jello poke cake?
Instead of using the condensed milk and white chocolate combo to make the liquid that gets infused into the cake you can make a jello mixture. Mix 1 (3 oz.) JELL-O Strawberry Flavor Gelatin with 1 cup of boiling water until completely dissolved, stir in 1/2 cup of cold water. Pour the mixture over the poked cake and refrigerate immediately for at least 3 hours.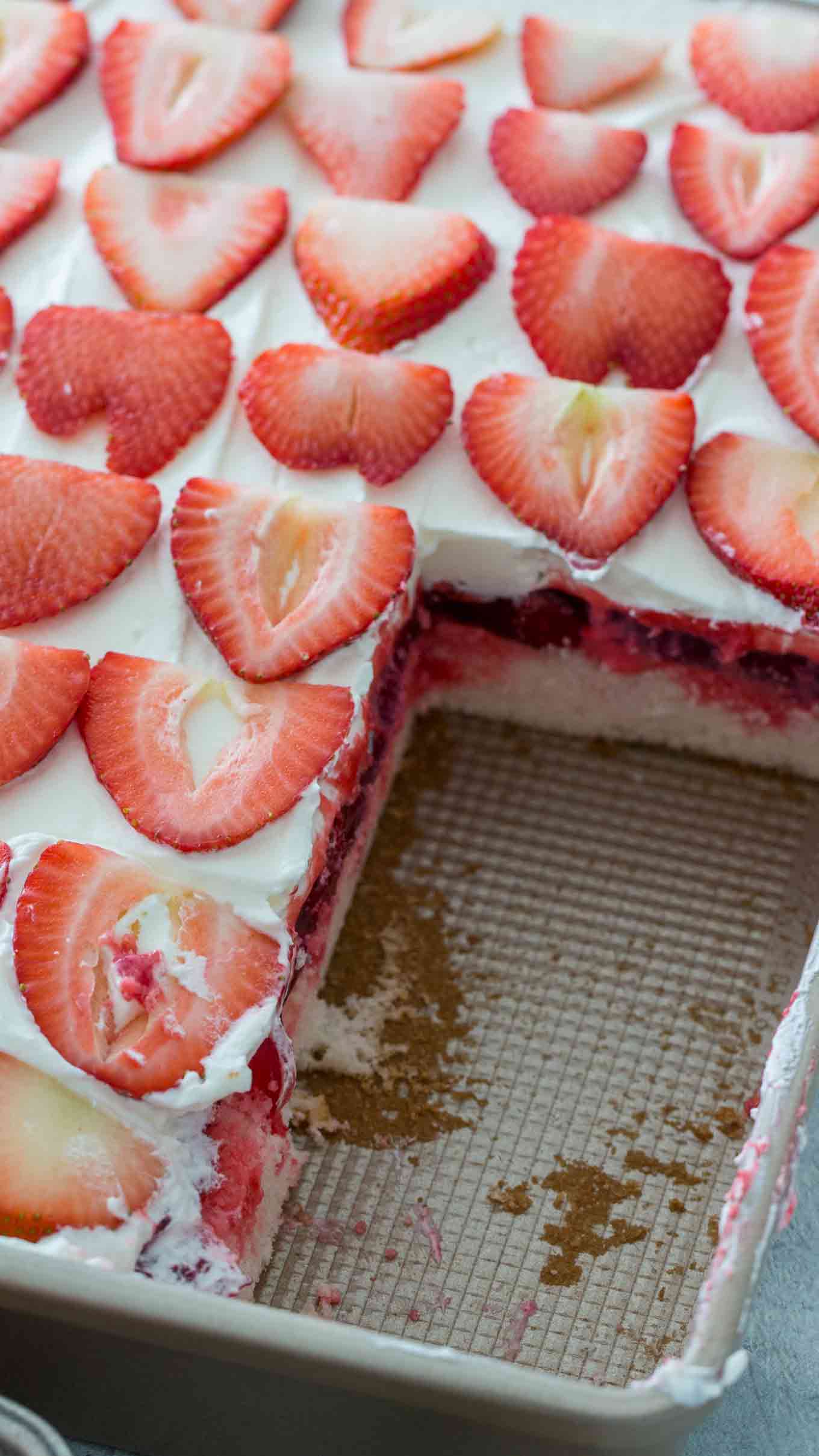 Tips and Tricks to make the best Strawberry Poke Cake Recipe:
Using a cake mix will reduce the prep time. A White Cake mix is best for this recipe.
The strawberry pie filling layer is optional, but it adds a nice flavor and texture to the cake.
To save time you can use store-bought whipped cream aka Cool-Whip instead of making your own.
You can make a Strawberry Jello mixture to fill the poke cake, see instructions above.
Let the cake chill for at least 8 hours in the fridge before serving, this will make the cake extra tender.
Keep the cake refrigerated as the frosting will soften if kept at room temperature for too long.
Clean the knife after each cut, otherwise the slices will be messier, since the frosting may stick to the knife.
Fresh strawberries add a nice texture and flavor to the cake, don't skip them.
Tools/Ingredients I used to make this Strawberry Poke Cake Recipe:
9×13 Cake Pan – I swear by this cake pan, it is non-stick, and of such good quality.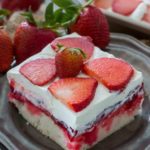 Best Strawberry Poke Cake
Prep Time
30 mins
Cook Time
30 mins
Total Time
1 hr
Course: Dessert
Cuisine: American
Servings: 16 servings
Ingredients
1 box white cake mix plus ingredients to prepare the mix
Ingredients usually called for the cake mix:
3 eggs whites
1 cup water
1/3 cup vegetable oil
Strawberry White Chocolate Mixture:
14 oz sweetened condensed milk
3/4 cups white chocolate chips
1 package 3 oz JELL-O strawberry flavor gelatin
Other ingredients:
2 cans 21 oz each strawberry pie filling
2 cups heavy whipping cream full fat and cold
2 tablespoons sugar
1 teaspoon vanilla extract
10-15 fresh strawberries sliced
Instructions
Prepare White Cake:
Preheat oven to 300F.
Grease and sprinkle with flour a 9-x-13 inch cake pan.
Prepare white cake mix according to box instructions. Pour batter into the prepared pan and bake for about 20-25 minutes, or until a toothpick inserted in the center comes out clean. Let cool for 10 minutes and using the bottom of a wooden spoon, poke holes all over the cake.
Strawberry White Chocolate Mixture:
In a medium, microwave safe bowl, combine white chocolate chips and sweetened condensed milk. Heat in the microwave until hot for about 1 minute, stir and heat 30 seconds or more if needed. Stir until fully combined, smooth and shiny.
Stir in the strawberry gelatin mix.
Pour the strawberry chocolate mixture all over the cake and using a spatula spread it evenly into the holes.
Let the cake cool completely and refrigerate for about one hour.
Other layers:
Top the cake with the strawberry pie filling if using.
Whipped Cream:
In a large bowl, beat heavy cream, sugar, and vanilla extract until stiff peaks form.
Using a spoon, scoop the whipped cream all over the cake and spread it with a spatula.
Garnish:
Garnish the cake with sliced strawberries.
Refrigerate the cake for at least 8 hours or better overnight before serving.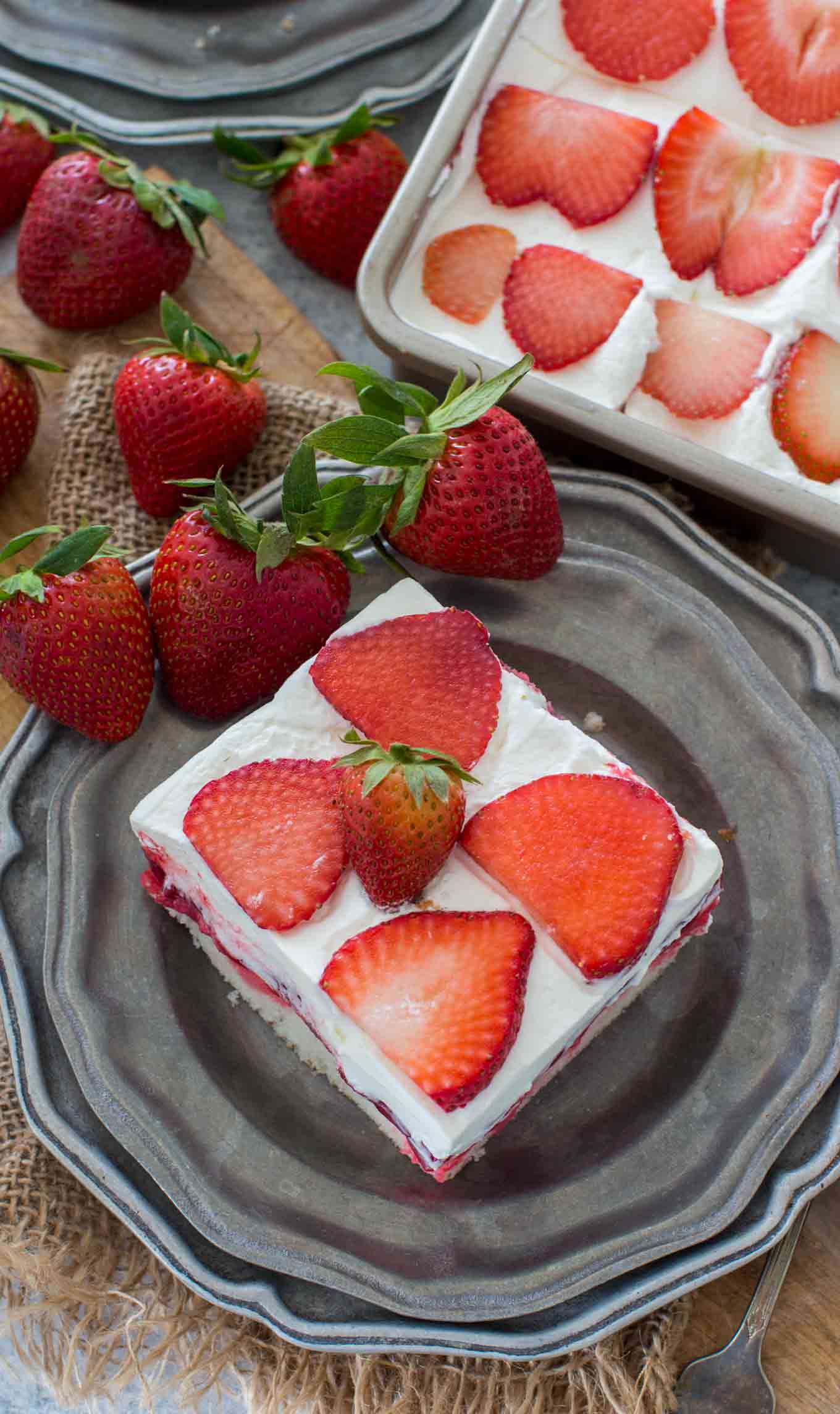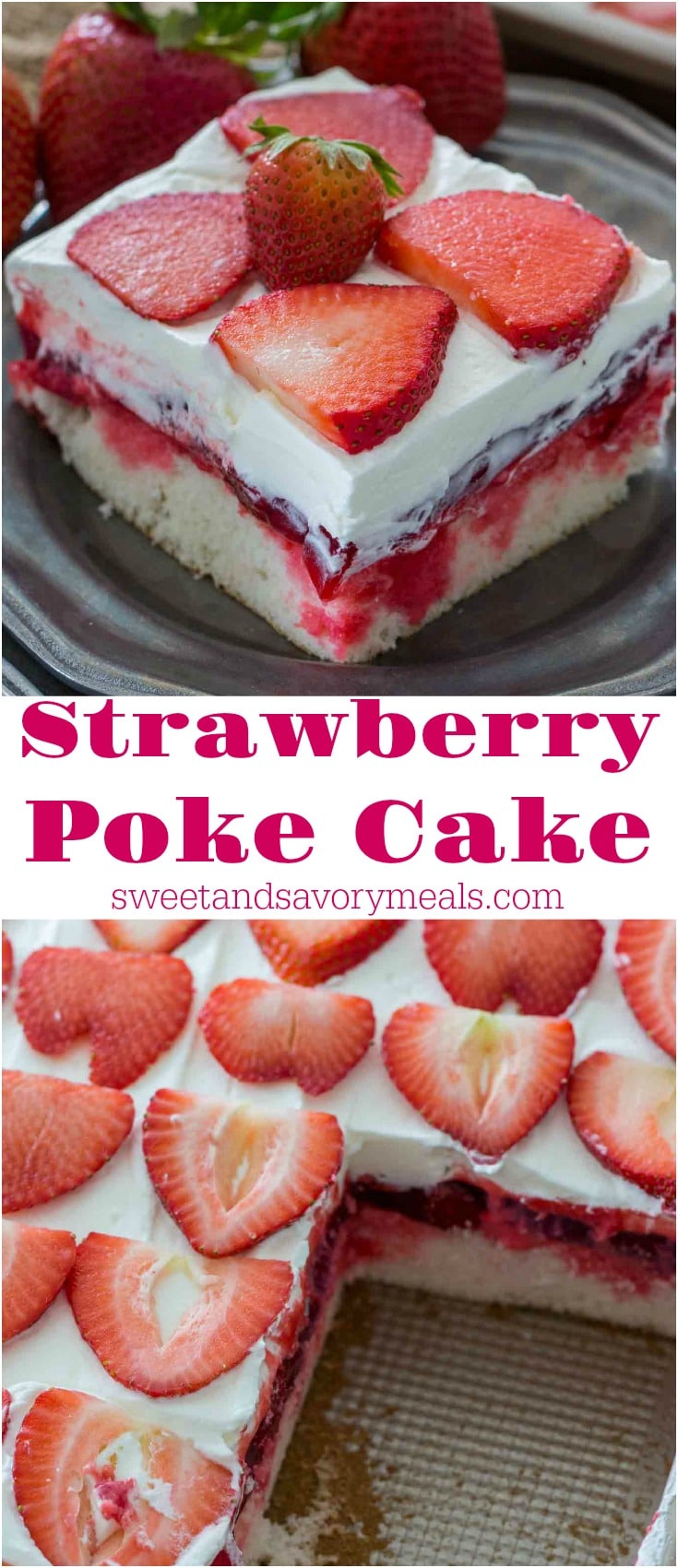 Categories:
Tags:
Prominent words:
best strawberry poke cake
chocolate strawberry sauce topped
filling and creamy whipped cream
jell-o strawberry flavor gelatin
mixture of white chocolate strawberry
pie filling and creamy whipped
poke cake
sauce topped with strawberry pie
strawberry
strawberry pie filling
strawberry pie filling and creamy
strawberry poke
strawberry poke cake
strawberry poke cake recipe
strawberry sauce topped with strawberry
strawberry white chocolate mixture
topped with strawberry pie filling
white chocolate
white chocolate strawberry sauce
white chocolate strawberry sauce topped
Ingredients:
cream
jello
strawberry
sugar
white cake mix
You might also enjoy
Chocolate Baileys Poke Cake
German Chocolate Poke Cake
Black and White Cake with Caramel Buttercream
As Seen In
Cakes & Cheesecakes
Best Strawberry Poke Cake
Reviewed by
Sup
on
April 09, 2018
Rating: