This Coconut Cake is made from scratch, and topped with a scrumptious cream cheese frosting that is so addicting. It also has cream of coconut and toasted coconut on top giving it an incredible flavor making it a dessert to enjoy all year long.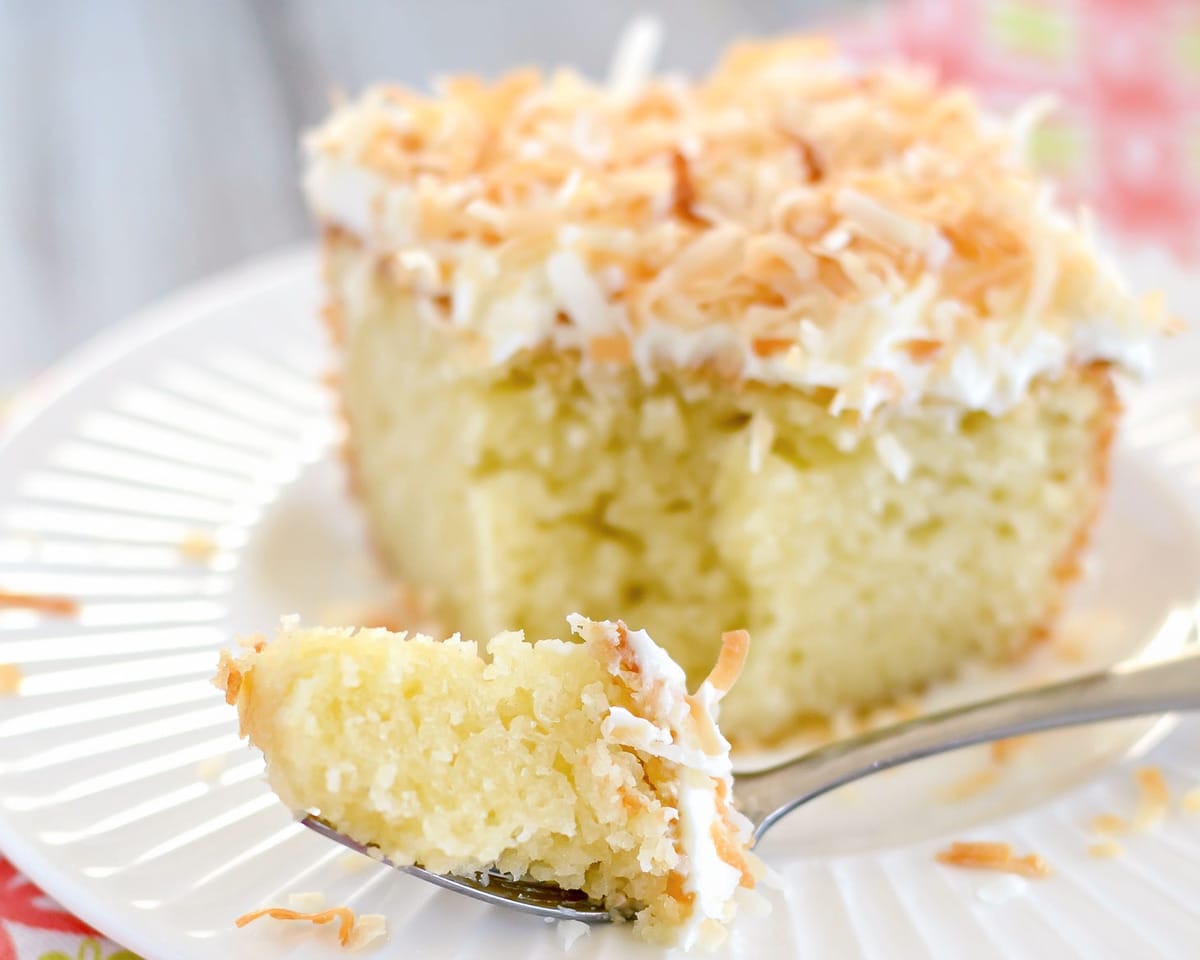 Coconut Cream Cake
If you are looking for a simple, no-fuss coconut cake that is loaded with coconut flavor, you've come to the right place. This cake is easy to make, but tastes simply amazing!
With cream of coconut, a delicious cream cheese coconut frosting topped with toasted coconut, this cake is sure to knock it out of the park with ANY coconut lover. The flavors are so amazing and tasty that it may just be a coconut convert out of anyone.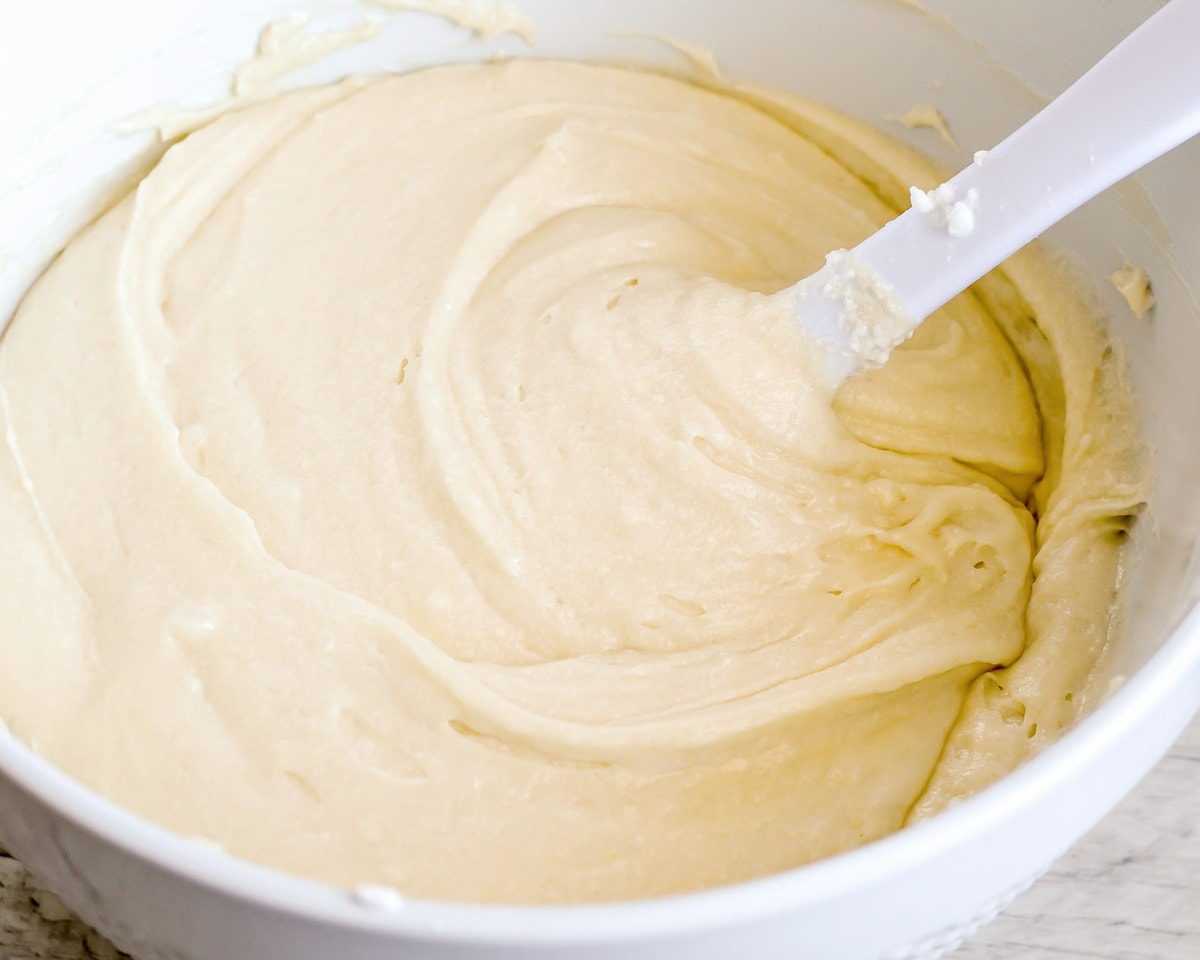 Although this cake is simple, you do need to beat egg whites for this cake recipe. Don't worry, I have a few tips. It works better if the eggs are at room temperature. I usually just place mine in a bowl of warm water for a few minutes. Beat them in a glass or metal bowl for best results. Since you don't want any grease to come in contact with the egg whites, I like to beat them first, then just use the beaters to make the rest of the batter.
Just fold them into your batter using a large spatula. You want to be gentle, but don't stress too much.
After your cake is cooled and frosted, sprinkle it with toasted coconut. Of course, if you prefer, you can just use regular sweetened flaked coconut. It will still be delicious!
How to Toast Coconut
One of the ingredients that adds so much flavor is the toasted coconut on top. It's super easy to make… Just spread your coconut flakes in a cake pan or on a cookie sheet.
Bake at 350 for 6-7 minutes making sure to toss often. You'll see the flake start to brown until they're perfect and ready for any recipe that calls for them. And in case you're wondering, you can make them in a frying pan too. Just be sure to cook on low-medium heat stirring the entire time so it toasts evenly.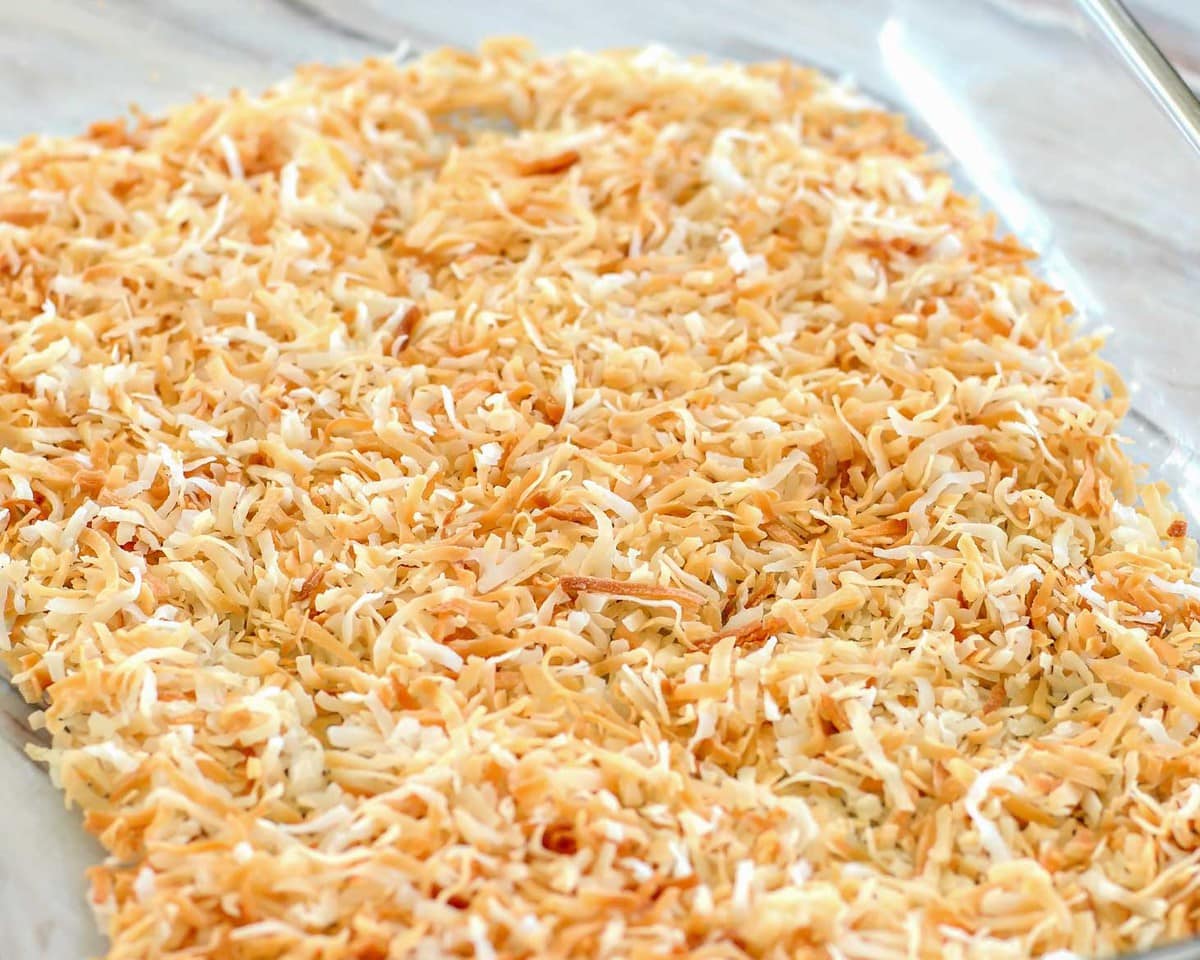 Coconut Cake Frosting
Even though the cake has so much coconut goodness, the cream cheese coconut frosting is what really takes this dessert to the next level. With cream cheese, butter, coconut extract, cream of coconut, powdered sugar and more this coconut cake frosting is so GOOD! Here is what you need to do to make it…
Beat cream cheese and butter till smooth and creamy.
Beat in coconut extract, salt, powdered sugar, and enough cream of coconut to make a spreadable consistency.
Spread frosting over cooled cake and sprinkle with toasted coconut.
This cake tastes great right after you frost it, but it gets even better if you let it sit for a few hours. The flavors blend together and it becomes even more moist and delicious. You can even make it a day ahead. Store it in the fridge, but take it out a couple hours before serving and it will be perfect.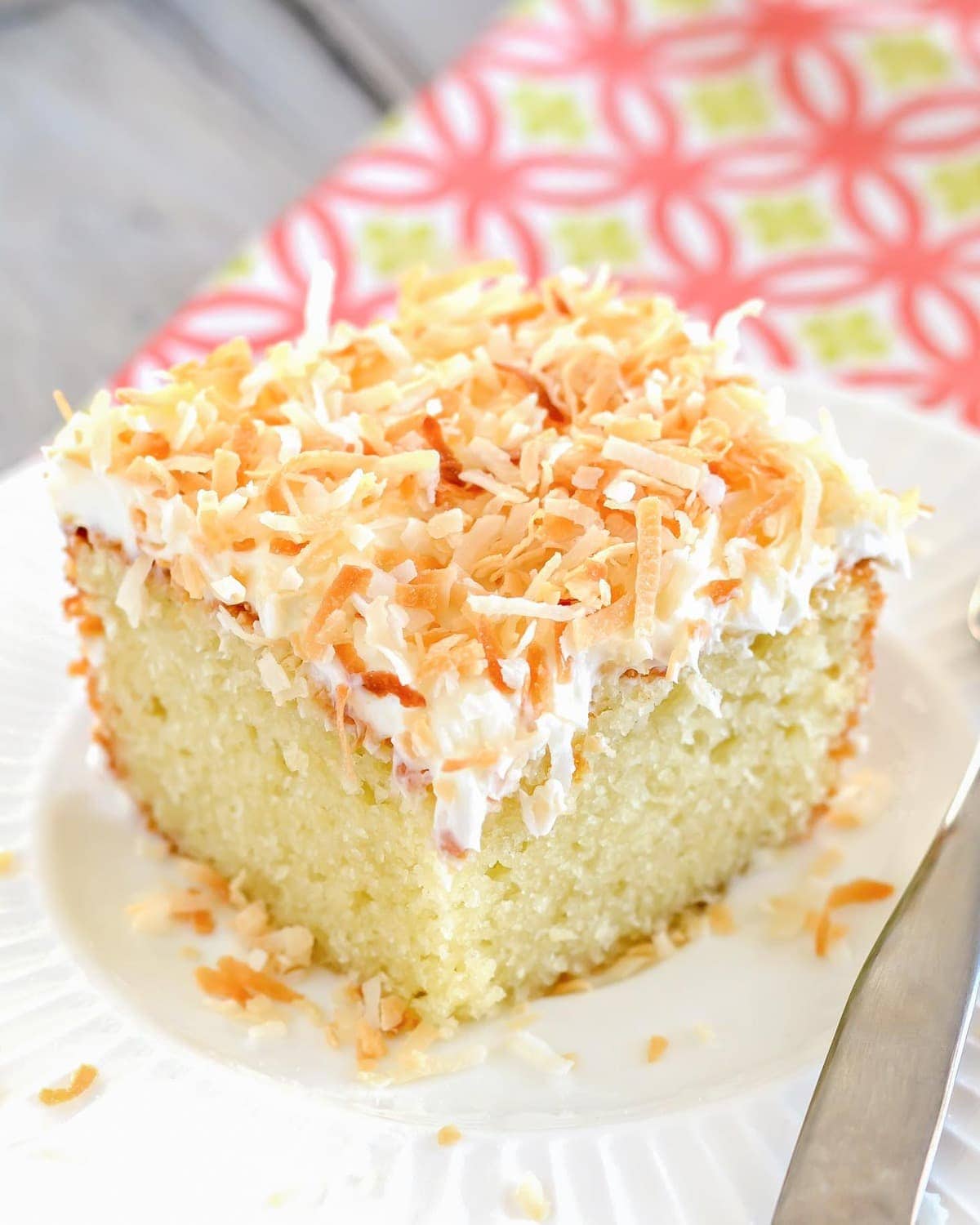 We really hope you enjoy this coconut cake as much as we did!
For even more coconut treats, check out:
Almond Coconut Cheesecake
Cream of Coconut Bundt Cake
Coconut Cream Pie
Strawberry Coconut Tres Leches Trifle
Gooey Coconut Bars
Coconut Oatmeal Cookies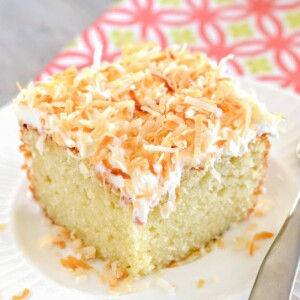 Coconut Cake recipe
Prep Time 15 minutes
Cook Time 40 minutes
Total Time 55 minutes
Servings 15
Calories 561 kcal
Ingredients
2 3/4 cups flour
1 tsp baking powder
1/2 tsp baking soda
1/2 tsp salt
4 room temperature egg whites
1/2 cup butter, softened
1/2 cup coconut oil
1 3/4 cups sugar
1 cup cream of coconut (sweetened, not coconut milk)
4 egg yolks
1 tsp vanilla
1 cup buttermilk
Coconut Cream Cheese Frosting
4 ounces cream cheese, softened
5 Tbsp butter, softened
1 pinch salt
1/2 tsp coconut extract
3 cups powdered sugar
1-2 Tbsp cream of coconut (sweetened)
Instructions
Preheat oven to 350°. Whisk together flour, baking powder, baking soda, and salt in a small bowl. Set aside.
Beat egg whites in a glass bowl till stiff peaks form. Set aside.
In a large mixing bowl, beat butter, coconut oil, and sugar till creamy. Beat in the cream of coconut, egg yolks and vanilla.
Add the dry ingredients and the buttermilk. Beat till just combined.
Gently fold in the stiff egg whites till well incorporated.
Pour batter into a well greased 9x13" cake pan. Bake at 350° for 40-45 minutes or till toothpick inserted in the middle comes out clean. Cool completely.
Coconut Cream Cheese Frosting
Beat cream cheese and butter till smooth and creamy.
Beat in coconut extract, salt, powdered sugar, and enough cream of coconut to make a spreadable consistency.
Spread frosting over cooled cake and sprinkle with toasted coconut.
Recipe Notes
Recipe inspired by Broma Bakery.
Nutrition Facts
Coconut Cake recipe
Amount Per Serving
Calories 561 Calories from Fat 225
% Daily Value*
Total Fat 25g 38%
Saturated Fat 18g 90%
Cholesterol 88mg 29%
Sodium 265mg 11%
Potassium 95mg 3%
Total Carbohydrates 80g 27%
Dietary Fiber 1g 4%
Sugars 61g
Protein 4g 8%
Vitamin A 10.1%
Calcium 5.3%
Iron 7%
* Percent Daily Values are based on a 2000 calorie diet.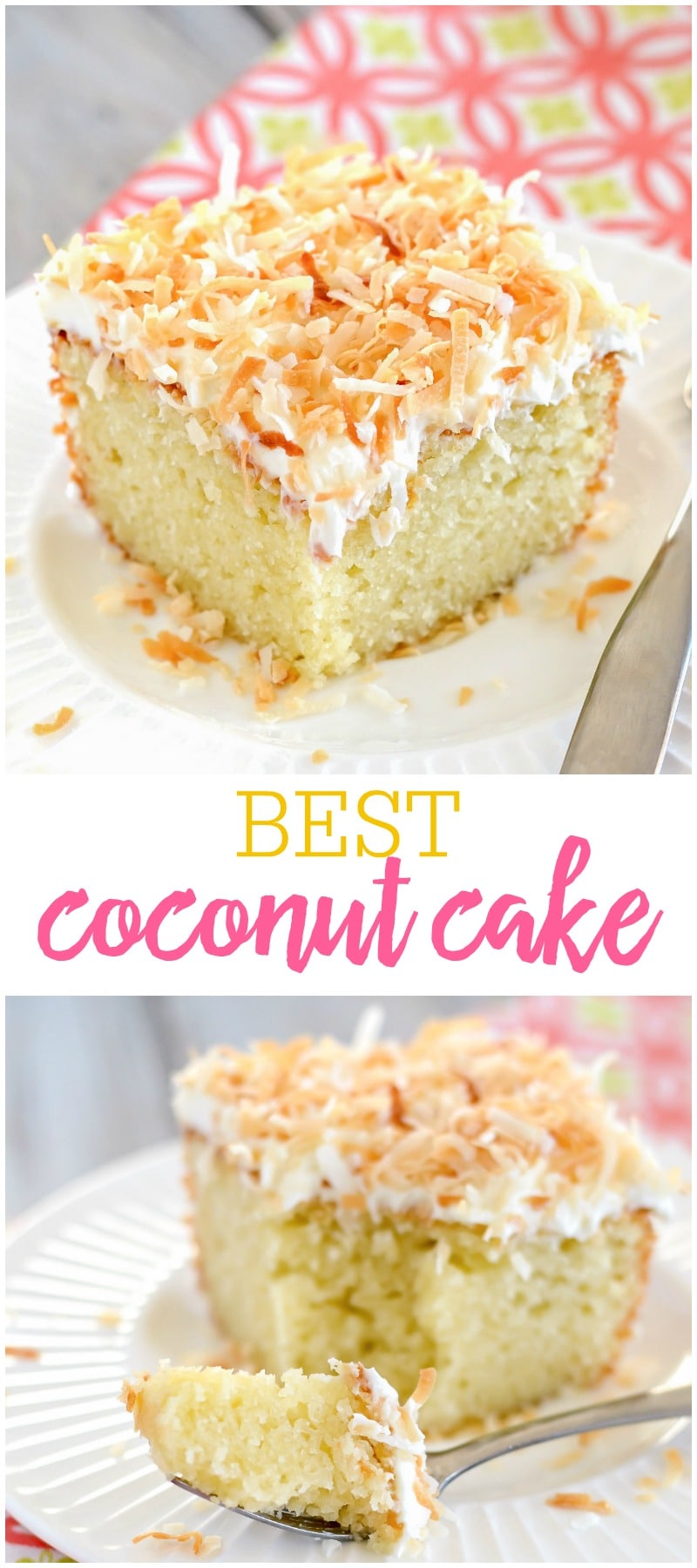 Coconut Cake
Reviewed by
Cake Lover
on
April 18, 2018
Rating: