Cookie Dough Pops are like cake pops, only much easier to make (and in this blogger's opinion, much tastier, too!). I'll show you how to make this safe-to-eat edible cookie dough with no eggs and with the option to heat treat your flour (recommended if you intend to serve these to others) for a fun and unique snack!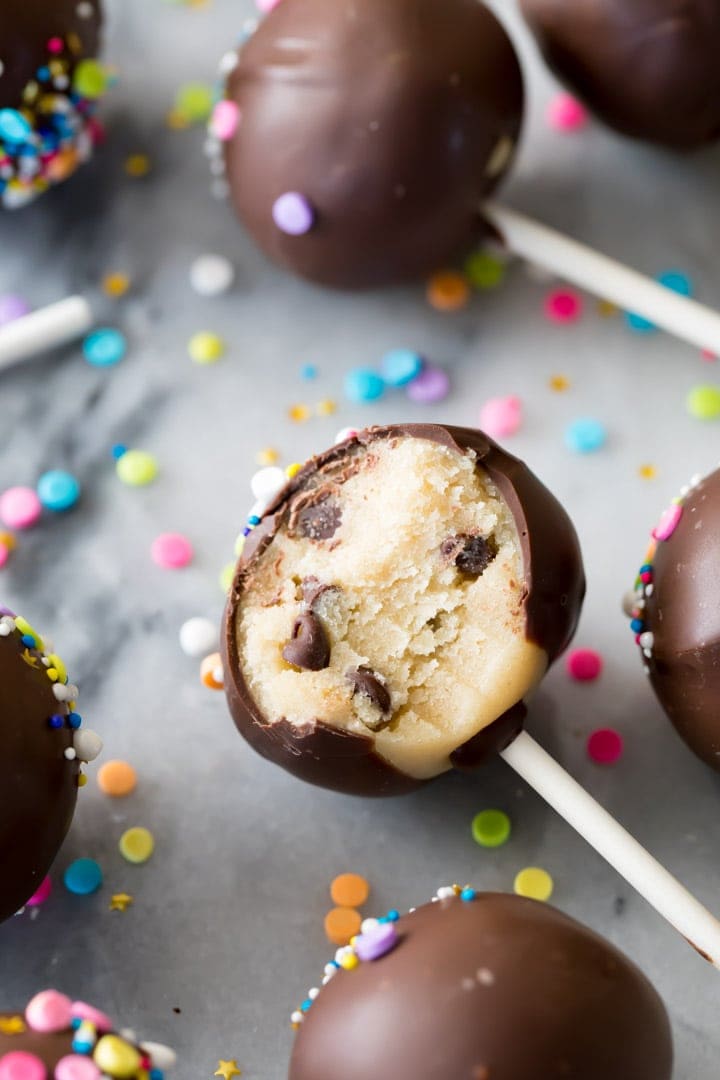 Today is Sugar Spun Run's 3rd(un)Birthday*!
It's hard to believe how far this website has come in the past three years, and I have every single one of you who is reading this today to thank for it.
So, sincerely, from the very bottom of my heart, THANK YOU. Thanks to you baking, photographing, writing, and videoing for Sugar Spun Run has become my full time job (!!!), and I am so, so grateful.
Today I'm sharing these cookie dough pops as a token of my gratitude, and I think they're a great choice for celebrating three years of cookie dough and sprinkles.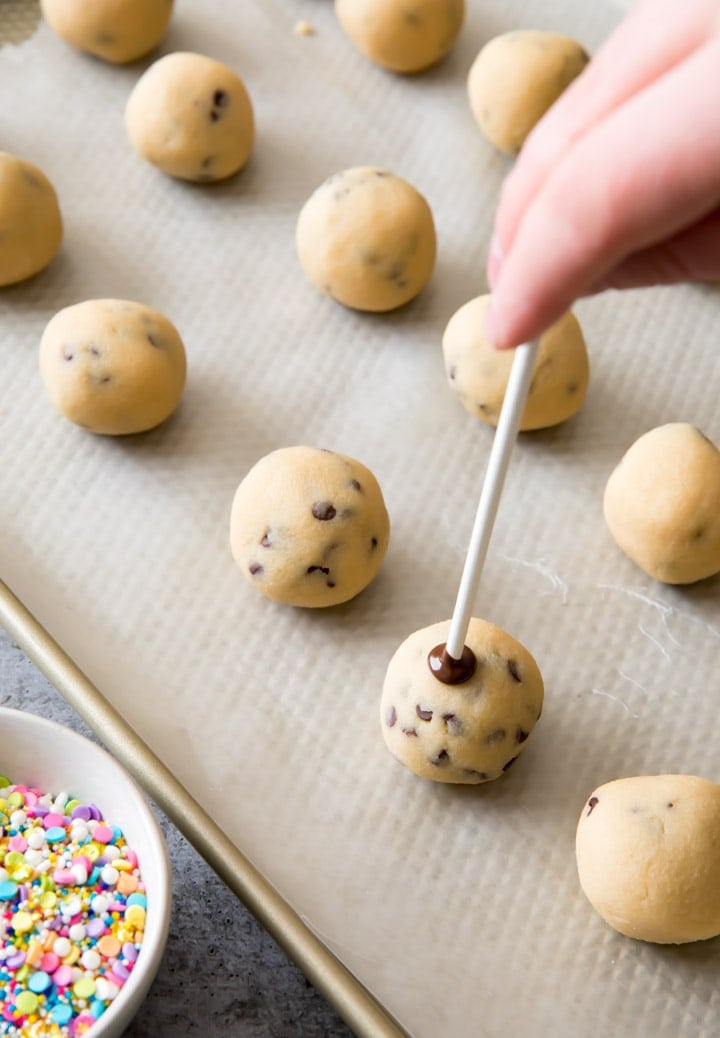 Cookie Dough Pops are similar to cake pops in their appearance, but they're quite simple to make. The first thing you'll want to do is prepare your cookie dough, roll it into balls, and then chill it.
Chilling the dough is important so that the dough doesn't melt when you dip it into your chocolate, but you don't want the cookie dough to be too cold, or it can cause the chocolate to crack as it sets (I discovered this issue when I made my Oreo balls!).
You'll need some cake pop sticks (affiliate)for dipping, and to help the cookie dough adhere to it you should dip each stick just about half an inch into your melted chocolate before spearing your cookie dough.
Finally, dip your cookie dough into your melted chocolate and immediately add sprinkles (if using).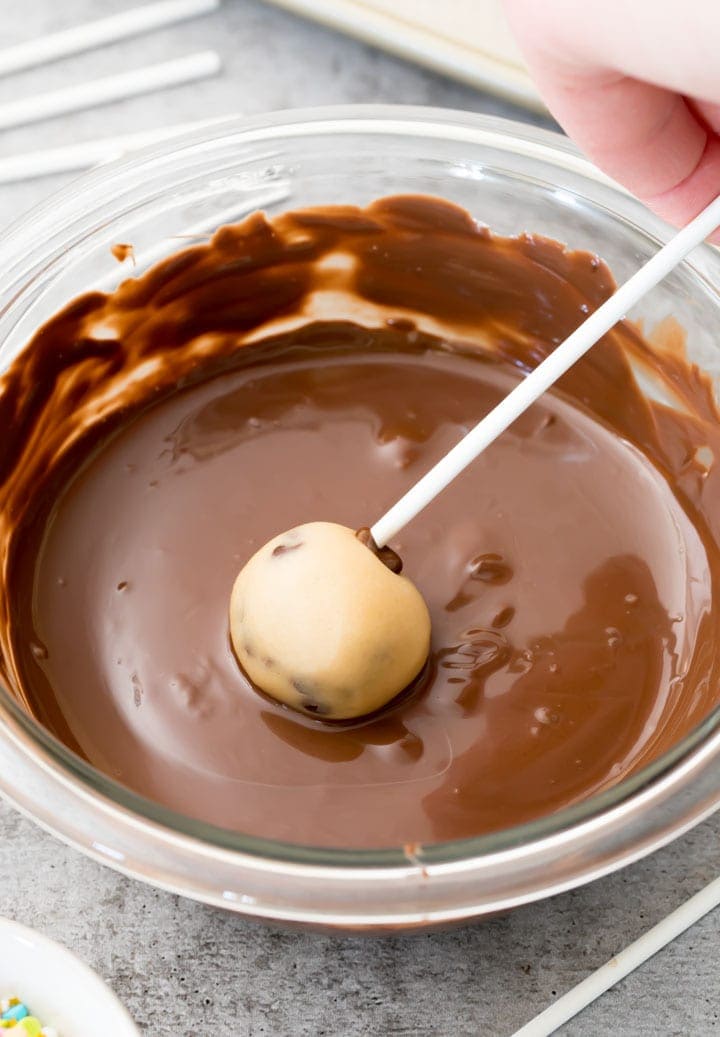 I recommend using melting wafers (you can use regular chocolate or white chocolate!) for this recipe because the chocolate coats smoothly and solidifies quickly, but you still will need a place to set your cookie dough pops while the chocolate hardens.
Ideally you shouldn't lay them down on wax paper or a cooling rack because they'll end up with uneven sides or unattractive marks in the chocolate, so I recommend using a small box or piece of styrofoam and using a knife to make small holes over the surface and then standing your cake pops up in the prepared holes while the chocolate sets.
Do make sure that whatever you are using will actually support the cookie dough pops once you've added the heavy cookie dough to the end of the sticks!
The first time I did this, my shoebox refused to hold the pops and they all fell on top of each other, which was so frustrating, to say the least!!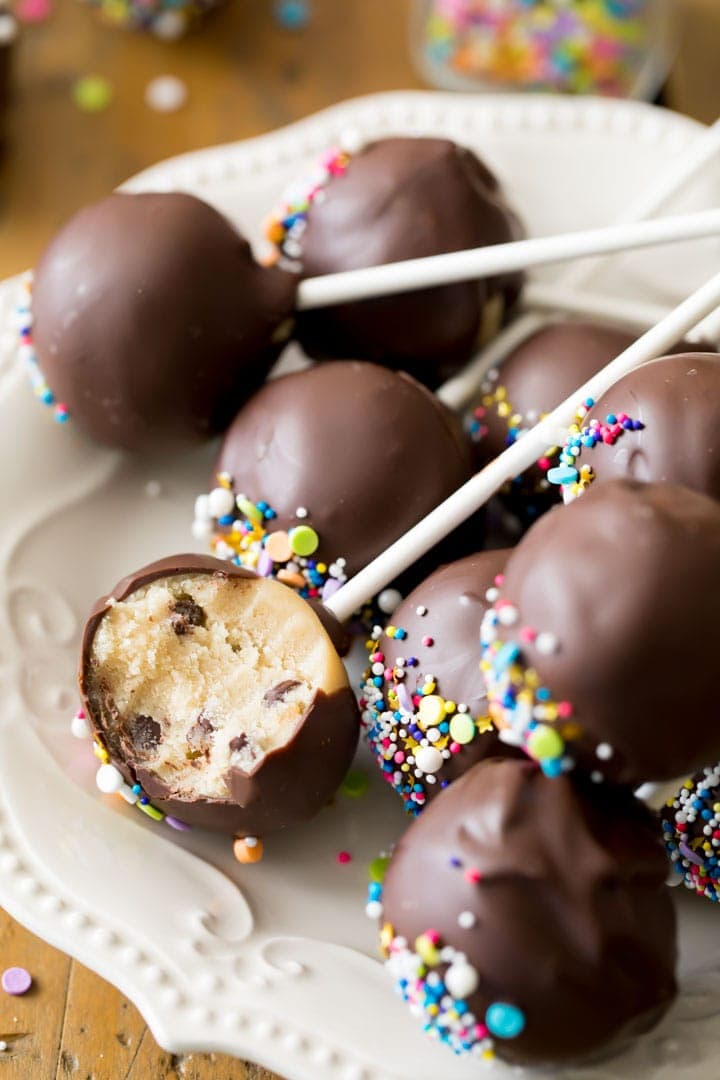 Once more very important thing to note: while these cookie dough pops are made egg free, there have been E. coli outbreaks linked to consuming raw flour. Because of this, I recommend you heat treat your flour, and instructions for doing so can be found in my edible cookie dough post and more information can be found here.
Enjoy!
*You can check out last year's UnBirthday post to read more about why today is not quite a birthday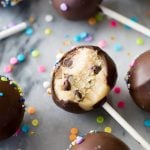 Cookie Dough Pops
Prep Time 45 minutes
Chilling Time 15 minutes
Total Time 45 minutes
Servings 22 Cookie Dough Pops
Calories 190 kcal
Ingredients
1 3/4 cup all-purpose flour** (215g)
1 cup unsalted butter softened to room temperature (226g)
1 1/2 cup brown sugar tightly packed (250g)
1/4 cup sugar (50g)
1 teaspoon vanilla extract
1/2 teaspoon salt
1/2 cup mini chocolate chips (85g)
10 oz dark chocolate melting wafers (285g)
Sprinkles optional
Instructions
In a large bowl using an electric mixer, beat together softened butter and sugars. Beat well until creamy.
Add vanilla extract and salt, stir well.
Gradually add cooled, sifted flour mixture, stirring until completely combined.
Stir in mini chocolate chips.
Scoop cookie dough into 1 1/2 Tablespoon-sized balls and roll between your palms until smooth.
Place on a wax paper lined cookie sheet and chill in the refrigerator for 20 minutes.
While the dough chills, prepare a box or piece of styrafoam by making a tiny hole in your surface, check to be sure that a cake pop stick fits and will be supported once you add your cookie dough.
Once cookie dough balls have chilled, prepare melting wafers in a small bowl according to package instructions.
Dip one end of your cake pop stick about 1/2" into the melted dark chocolate, and then gently insert about halfway into a cookie dough ball.
Hold the stick and dip cookie dough into your bowl of melted dark chocolate. Drain off excess chocolate and then immediately add sprinkles. Place the stick into your prepared box or styrofoam to allow the chocolate to harden before storing or serving.
Enjoy!
Recipe Notes
**Raw flour has been linked to E-Coli. In order to protect yourself you may wish to heat treat your flour before using. You can follow my instructions here in my edible cookie dough post if you would like to heatproof your flour.
Cookie dough pops will keep up to a week in an airtight container in the refrigerator.
Nutrition Facts
Cookie Dough Pops
Amount Per Serving (1 cookie dough pop)
Calories 190
* Percent Daily Values are based on a 2000 calorie diet.
This post contains affiliate links, which means that if you purchase anything through these links I will get a small commission at no extra cost to you. Please view the disclosure policy for more information.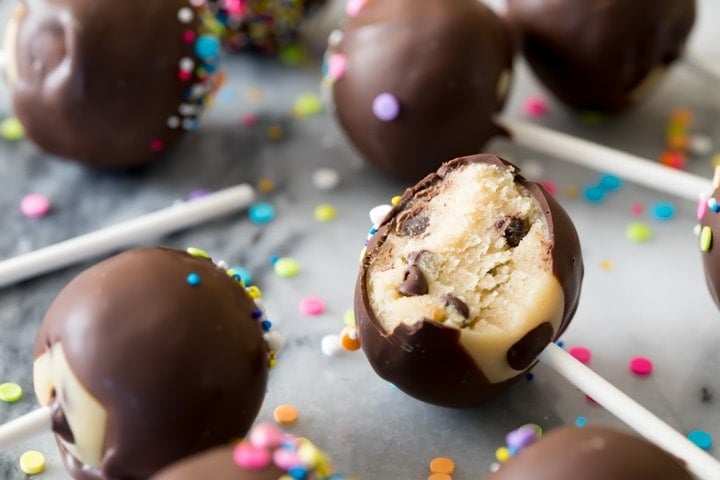 ­
Cookie Dough Pops
Reviewed by
Cake Lover
on
April 13, 2018
Rating: