Instant Pot Chicken Tikka Masala is creamy, flavorful and the chicken is incredibly tender. Very easy made in the Instant Pot with the rice at the same time.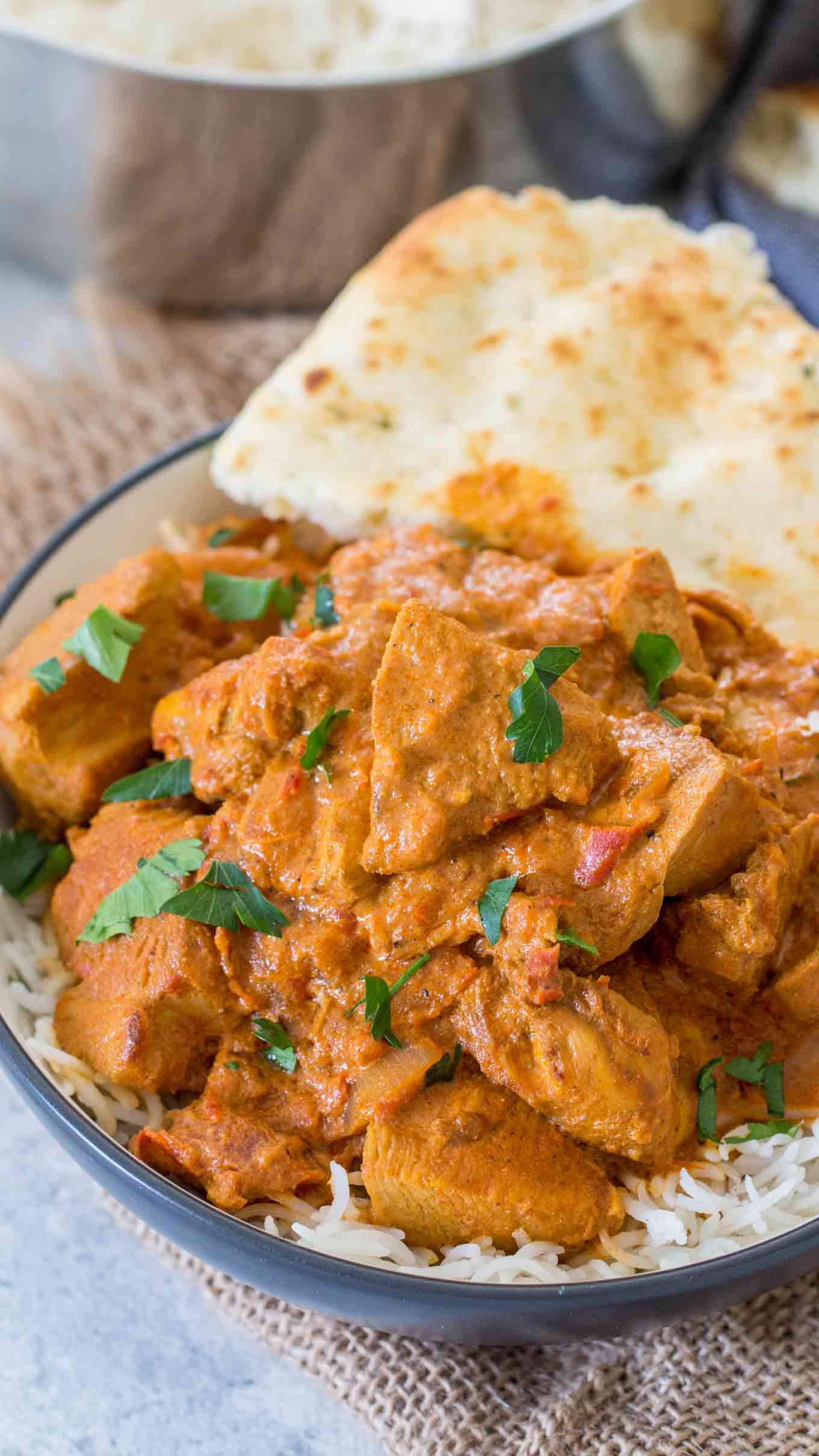 Instant Pot Chicken Tikka Masala is the easiest way to make your favorite Indian dish at home. I was hooked on chicken tikka masala 10 years ago when I moved to NYC and my then fiancé took me out to an Indian restaurant. The delicious buttery and tender chicken, full with aromatic spices in a creamy tomato sauce is still a favorite. I love making it at home and serve it with buttery rice and garlic naan, its such an indulgence. Making Instant Pot Chicken Tikka Masala is the quickest and easiest way to enjoy it at home. The chicken turns up tender and flavorful and the best part is that you make the rice at the same time, pot-in-pot method. If you have all the spices on hand, this becomes such an easy and rewarding recipe, the rice is so flaky and perfect and make sure you use that naan to soak all the creamy goodness. If you don't have a pressure cooker, you can try this Slow Cooker Chicken Tikka Masala recipe.
Instant Pot Chicken Tikka Masala Spices:
Ground Cumin – is used in Mexican, Middle Eastern and Indian dishes, a little goes a long way as it has a beautiful, bold flavor.
Ground Turmeric – is great in recipes, but you can actually use it to fight colds as it has powerful anti-inflammatory effects and is a very strong antioxidant.
Ground Coriander – always great to have on hand as it is wildly used is recipes from many cuisines.
Garam Masala – is a blend of ground spices commonly used in India, Pakistan, and some other South Asian cuisines. I personally used it exclusively when I cook indian dishes, so a small jar will last you a long time.
Curry Powder – again, this is also a blend of more spices, I don't use it a lot, so a small jar lasts us a long time.
Ground Ginger – can be used in a variety of recipes, I also use it as a stomach pain remedy, ginger has so many health benefits, that I usually make a lemon, ginger water to drink in the morning.
What is a 10 Minutes Natural Pressure Release?
A Natural Pressure Release means that the pressure is released gradually. For a Natural Pressure Release, you click on Keep Warm, and wait 10 minutes, after which you open the valve and let any leftover pressure to release. Another option is to Turn Off/Unplug the pressure cooker, wait 10 minutes and after that open the valve. A natural release is usually used when cooking soups, meat in a large amount of sauce, pasta or steel cut oats. This method prevents for any foam from the dish to shoot out through the valve, which can happen during a Quick Pressure Release.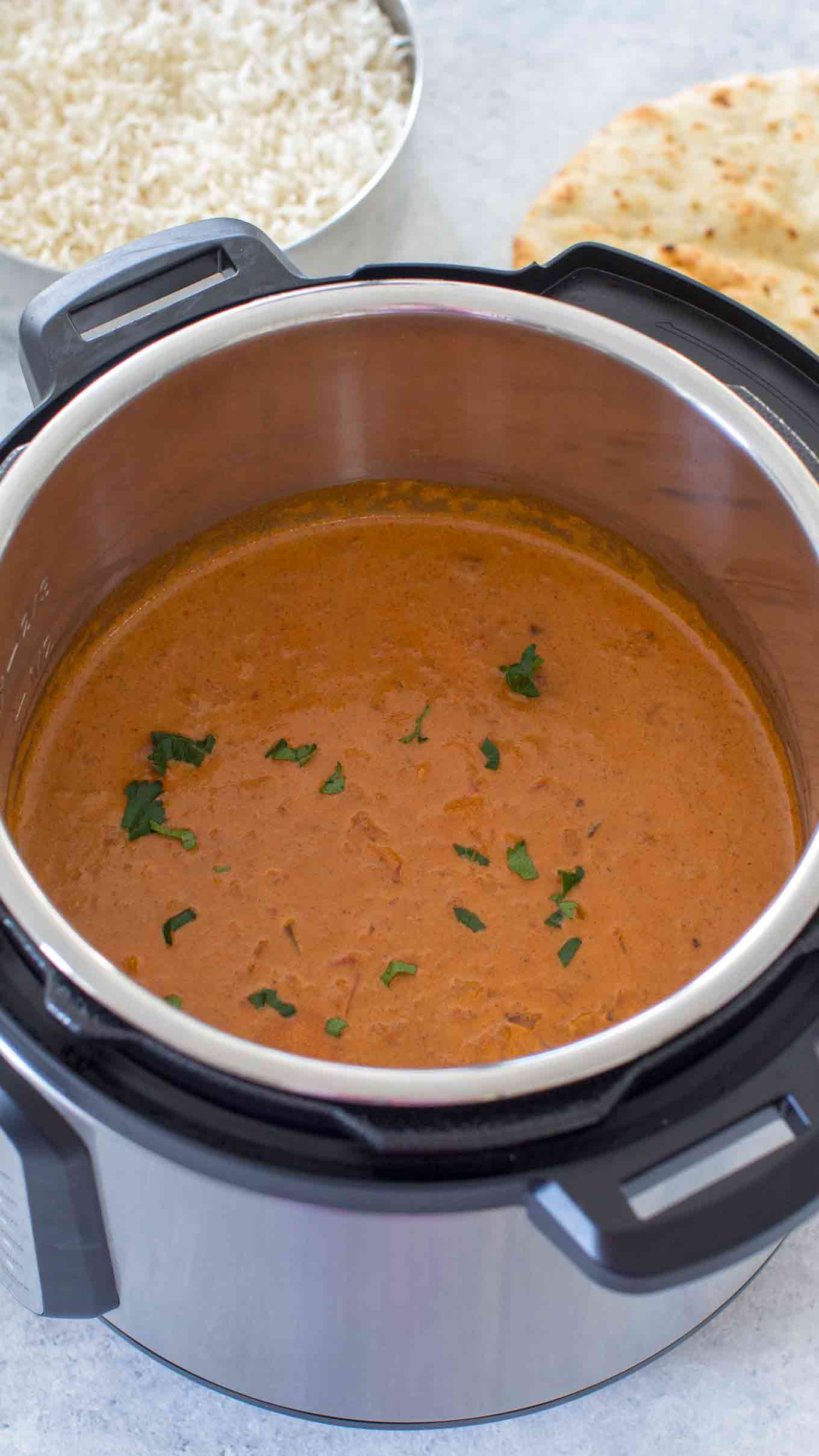 Tools/ingredients that I used to make the Instant Pot Chicken Tikka Masala Recipe:
Instant Pot – I use it all the time, I have the 6 quarts one. It makes weeknight meals so much easier.
Garlic Powder – I always try to use organic seasoning and spices, I like having garlic powder on hand for seasoning purposes and also slow cooker recipes.
Onion Powder – perfect to have on hand for seasoning and to create different rubs.
Tomato Paste – I always keep Organic Tomato Paste on hand, it adds a lot of flavor and taste to any tomato dish.
Looking for more easy Instant Pot Meals? Check these out:
Instant Pot Orange Chicken – my most popular Instant Pot recipe that even 2 year olds love!
Instant Pot General Tso – another amazing take on a classic Chinese recipe.
I nstant Pot Mongolian Chicken – a quick and delicious family meal.
Instant Pot Mongolian Beef – made healthier with less sugar, oil and not deep fried.
Instant Pot Sweet and Sour Chicken – made with juice pineapple and sweet bell pepper.
Instant Pot Honey Lemon Chicken – heathy and very flavorful.
Instant Pot Pineapple Chicken – another delicious dump and cook recipe.
Instant Pot Garlic Sesame Chicken – another tasty dump and cook recipe.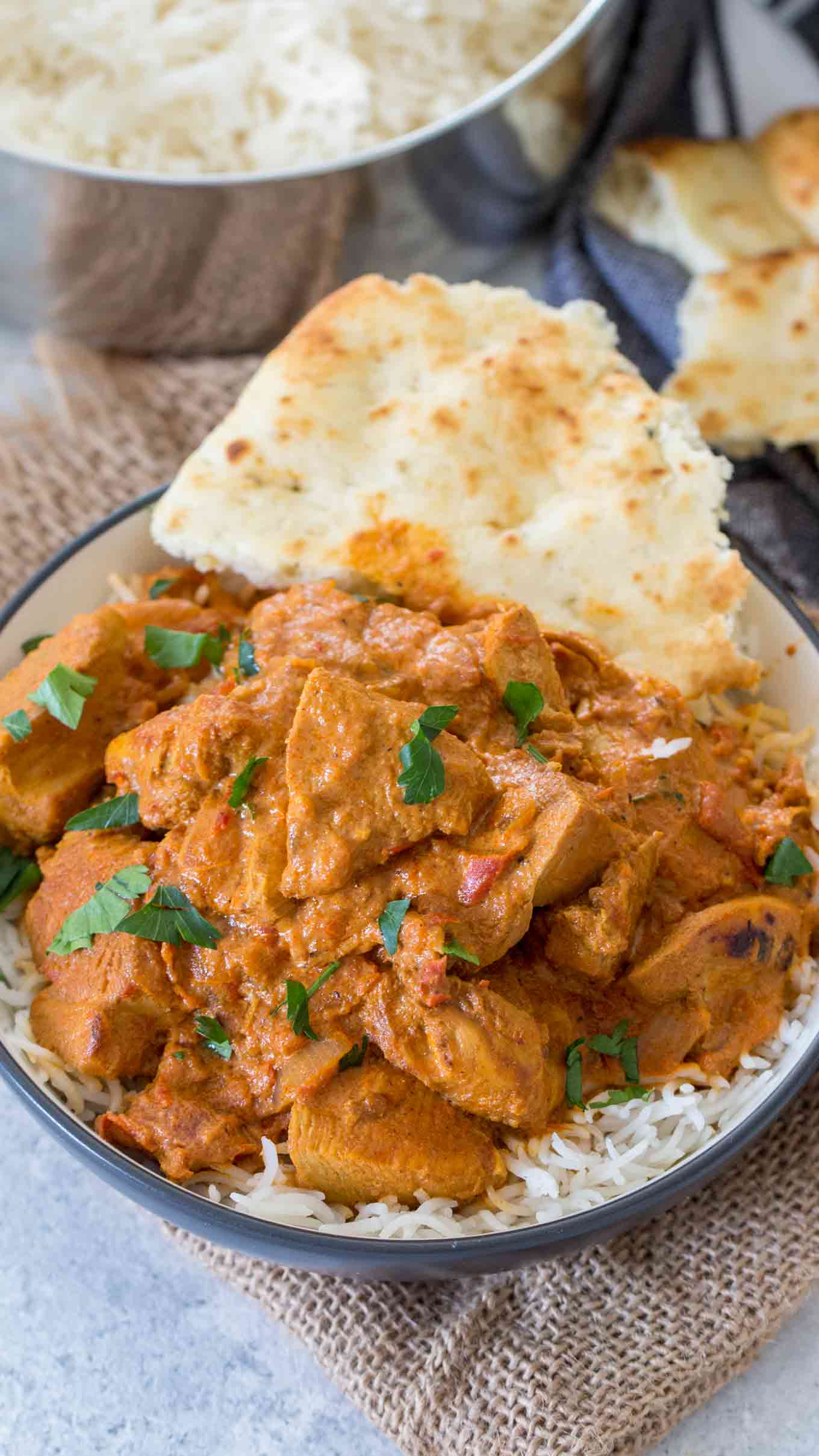 5 from 6 votes
Instant Pot Chicken Tikka Masala
Prep Time
30 mins
Cook Time
30 mins
Total Time
1 hr
Course: Main Course
Cuisine: Indian
Servings: 6 servings
Ingredients
2.5-3 pounds skinless boneless chicken breasts cubed into 2 inch pieces
1/2 cup full fat plain greek yogurt
2 tablespoons canola oil
1 large onion diced
1 tablespoon garlic minced
1 tablespoon freshly grated ginger
2 tablespoons tomato paste
1 28 oz can diced tomatoes
3/4 cups chicken broth
1 cup heavy cream
Spices:
1 teaspoon garlic powder
1 teaspoon onion powder
1 teaspoon ground turmeric
2 teaspoons garam masala
2 teaspoons red curry powder
1 teaspoon ground coriander
1 teaspoon ground cumin
2 teaspoons paprika
1 tablespoon kosher salt
Rice:
16 oz white basmati rice
2 cups water
2 tablespoons unsalted butter
¼ teaspoon kosher salt
Garnish:
Fresh cilantro chopped
Instructions
Add all the Spices to a medium bowl and whisk together with a fork.
Add chicken pieces to a large bowl, mix with the Spices and the yogurt. Cover with plastic wrap and marinate in the fridge for 30 minutes or up to 24 hours.
When ready to cook, turn on the Instant Pot and select Sauté, once hot add the oil.
On the side, rinse rice, and set it aside.
Add the chicken and cook 1 minute without stirring. Stir and cook for a few minutes until browned. If needed do this in batches. Using a wooden spoon, make sure you scrape well the bottom of the bowl, to get anything that stuck to it, so it doesn't burn.
Add the diced onion to the pot, cook for 1 minute, stirring occasionally.
Add the garlic and ginger, stir to combine.
Add the tomato paste and stir to combine.
Add the diced tomatoes and the chicken broth. Stir gently to fully combine.
Rice:
Using the Pot in Pot method, take an Instant Pot safe bowl, this is the one I use, and add the butter to the bottom of the pot. Add the rinsed rice, salt and the two cups of water. Stir to combine.
Add a long legged trivet into the pot on top of the chicken. Add the pot with the rice onto the trivet.
Close the lid. Make sure the valve points to Sealing. Cook on High Pressure for 4 minutes.
Once the Instant Pot beeps, let the pressure release naturally for 10 minutes. Manually release the remaining pressure.
Open the lid, remove the pot with the rice, cover with foil and set aside. Before serving, fluff the rice with a fork.
Select Saute on your Instant Pot, stir the chicken tikka masala gently and cook for about 15-20 minutes, until the sauce reduces and it thickens. Stir occasionally to avoid burning or sticking to the bottom of the pan.
Add the cream, add 1/2 cup first, stir to combine. Taste and adjust for salt, if you want it creamier, add the remaining of the cream and stir to combine. I like adding one cup to mine.
Serve the chicken tikka masala over rice, with naan and garnish with parsley.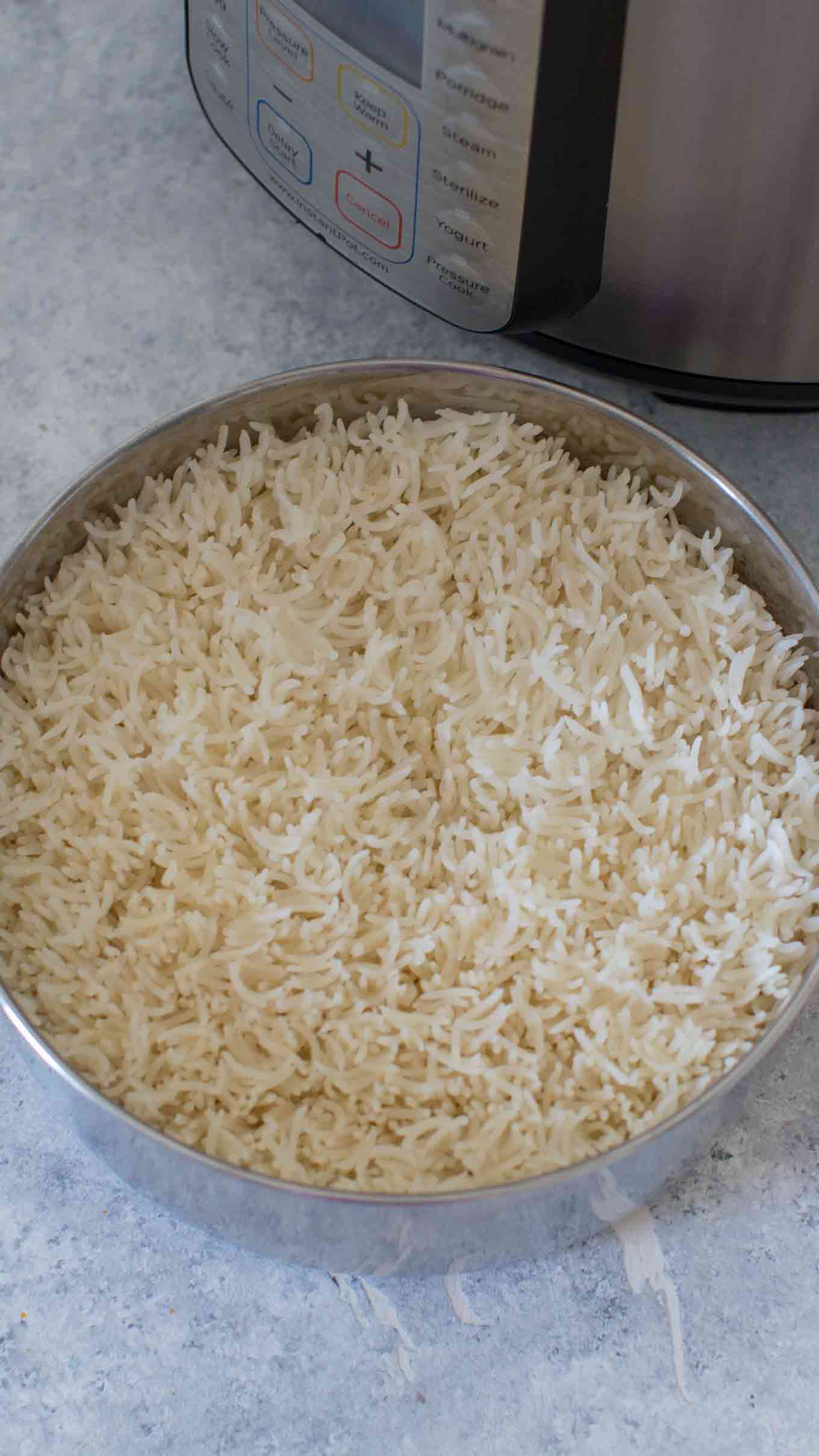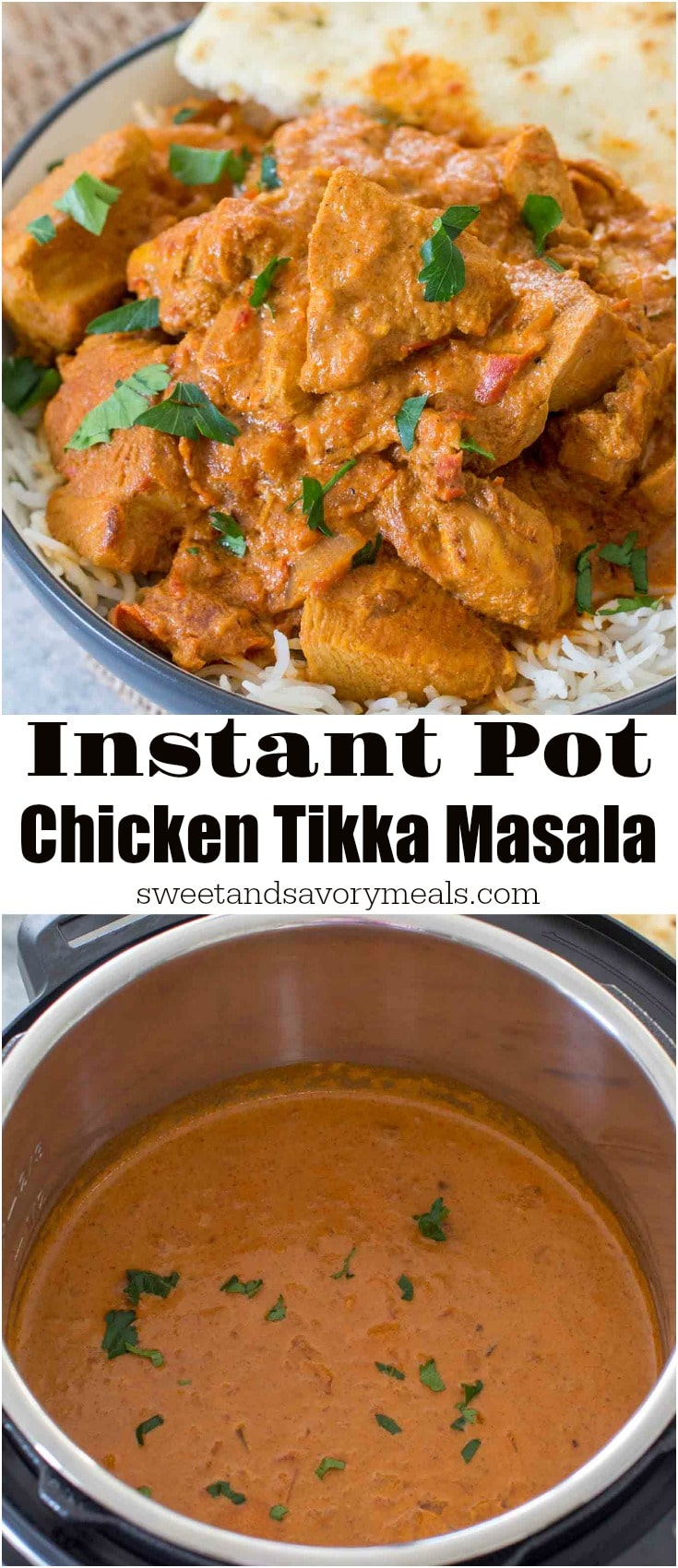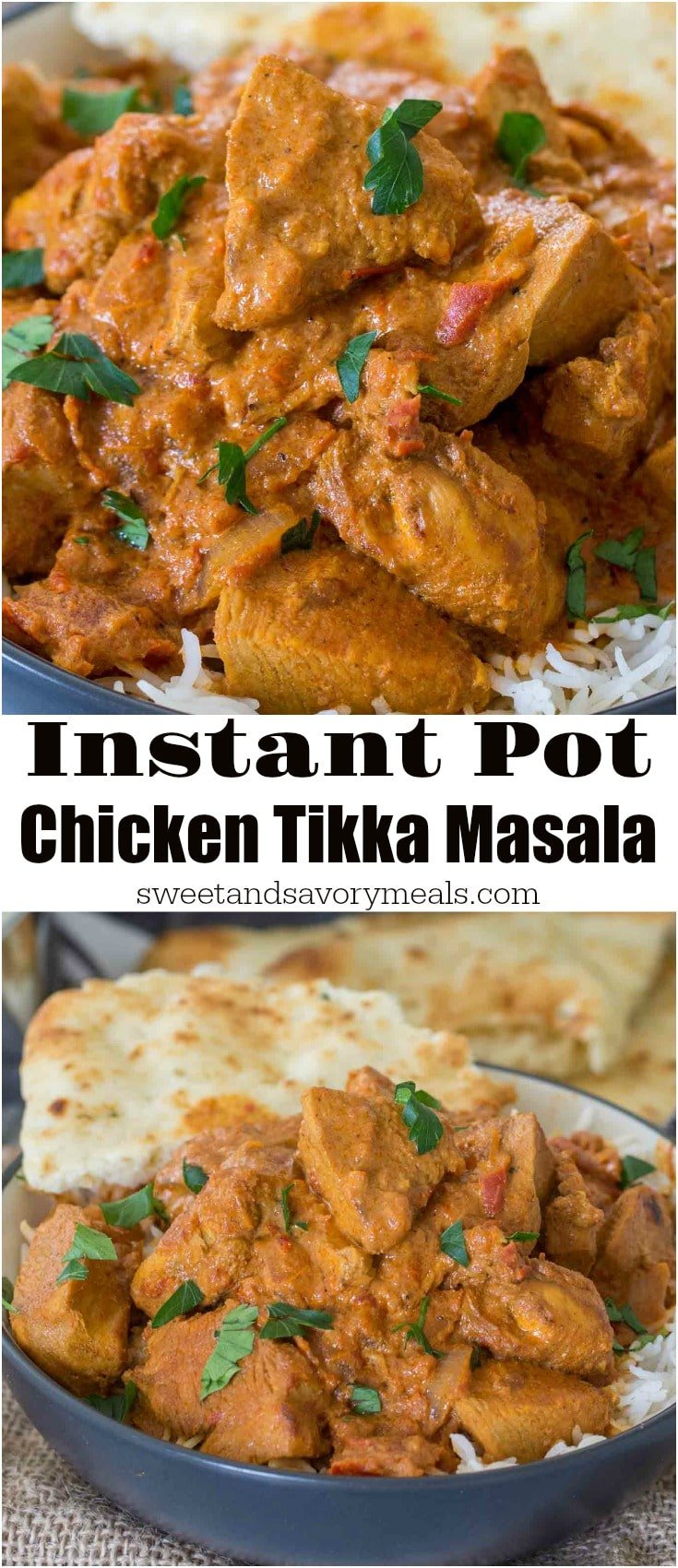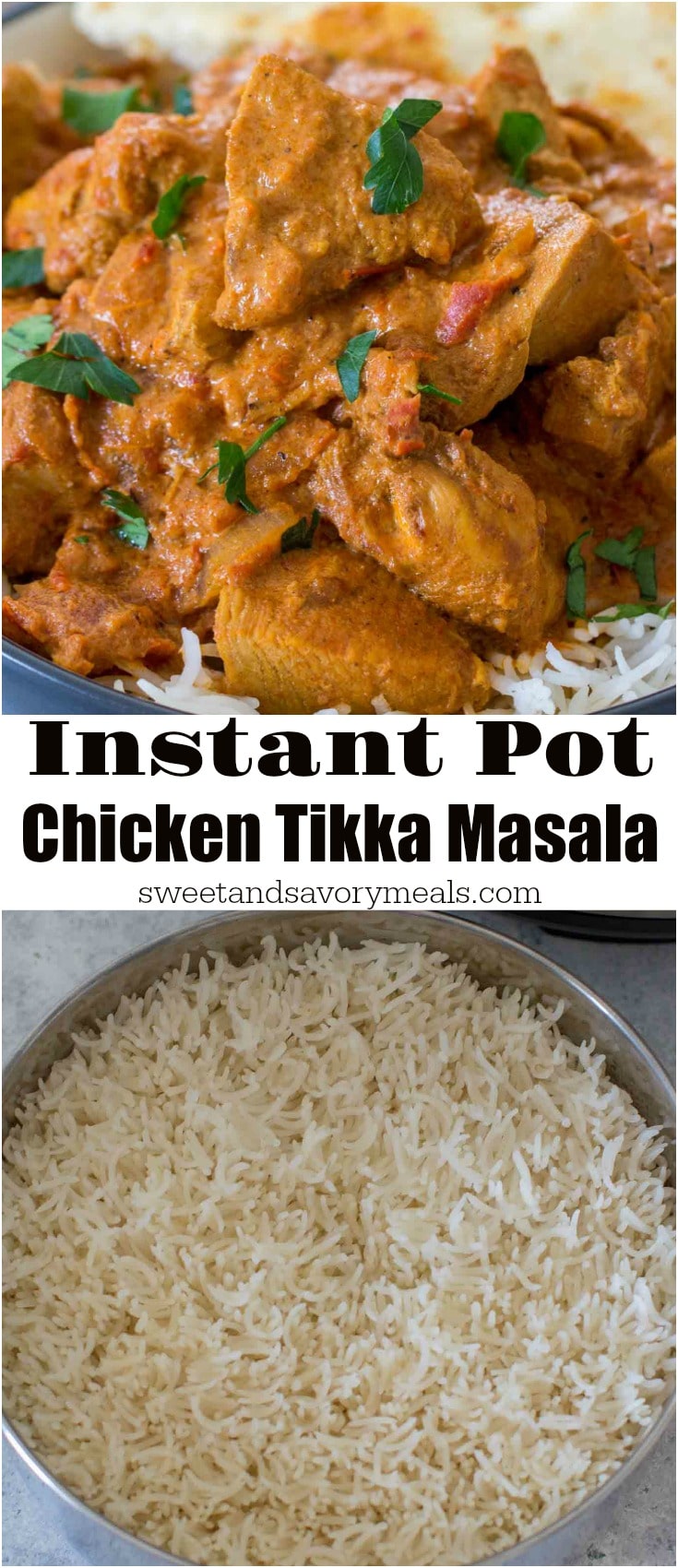 Categories:
Chicken Recipes
Slow Cooker & Pressure Cooker
Tags:
chicken
Instant pot
Instant Pot recipe
pressure cooker
Prominent words:
chicken
chicken tikka
chicken tikka masala
chicken tikka masala recipe
creamy flavorful and the chicken
instant
instant pot
instant pot chicken
instant pot chicken tikka
instant pot chicken tikka masala
instant pot with the rice
natural pressure release
pot
pot chicken
pot chicken tikka
pot chicken tikka masala
pot with the rice
rice at the same time
stir to combine
tikka masala
Ingredients:
chicken
cream
garam masala
You might also enjoy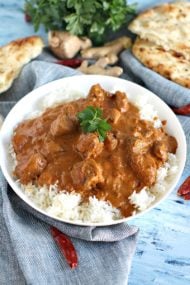 Slow Cooker Chicken Tikka Masala
Instant Pot Philly Cheesesteak Pasta
Instant Pot Mongolian Chicken
As Seen In
Cakes & Cheesecakes
Instant Pot Chicken Tikka Masala
Reviewed by
Sup
on
April 08, 2018
Rating: