This sour cream chocolate cake is moist, fudgy, completely delicious and so easy to make. It's the perfect old-fashioned chocolate cake recipe that everyone will love and enjoy at every party! Serve it alone or with ice cream and you're sure to get rave reviews.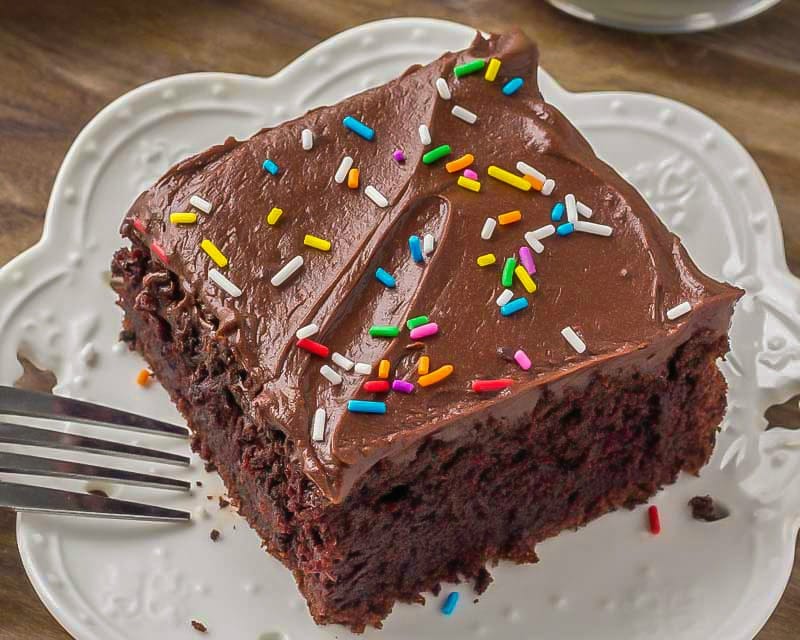 Chocolate Sour Cream Cake
If you're looking for an easy chocolate cake that's super moist and fudgy – then this sour cream chocolate cake is for you. It isn't much harder than using a box mix, and it turns out perfect every time. Plus, can you really go wrong with chocolate cake and chocolate frosting?
For the longest time, I was a little unsure about sour cream chocolate cake. I don't really like sour cream, so I was worried that it would make the cake taste funny. But you actually don't taste the sour cream at all. Instead the sour cream makes it super moist and fudgy with the softest cake crumb.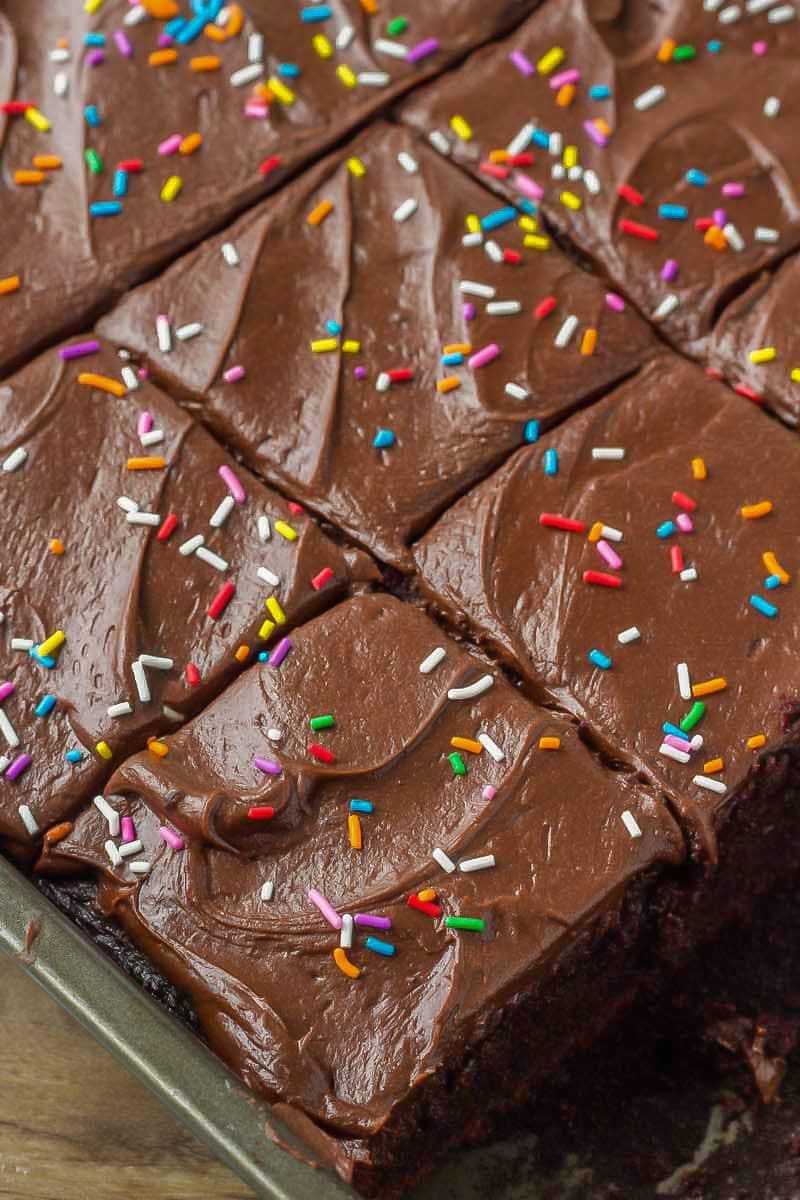 MY OTHER RECIPES
How to Make Sour Cream Chocolate Cake
This recipe uses simple, everyday ingredients that you probably already have in your pantry, including: butter, cocoa, water, sugar, eggs, vanilla, flour, baking soda, salt and sour cream. Here are the easy instructions:
First we add the butter, cocoa and water to a sauce pan to melt everything together and dissolve the cocoa powder. Then remove it from the heat and cool slightly.
Mix in the sugar, eggs and vanilla extract – followed by the flour, baking soda and salt. Last but not least, mix in the sour cream. Bake for 35 minutes.
Let cake cool and make frosting and top with sprinkles.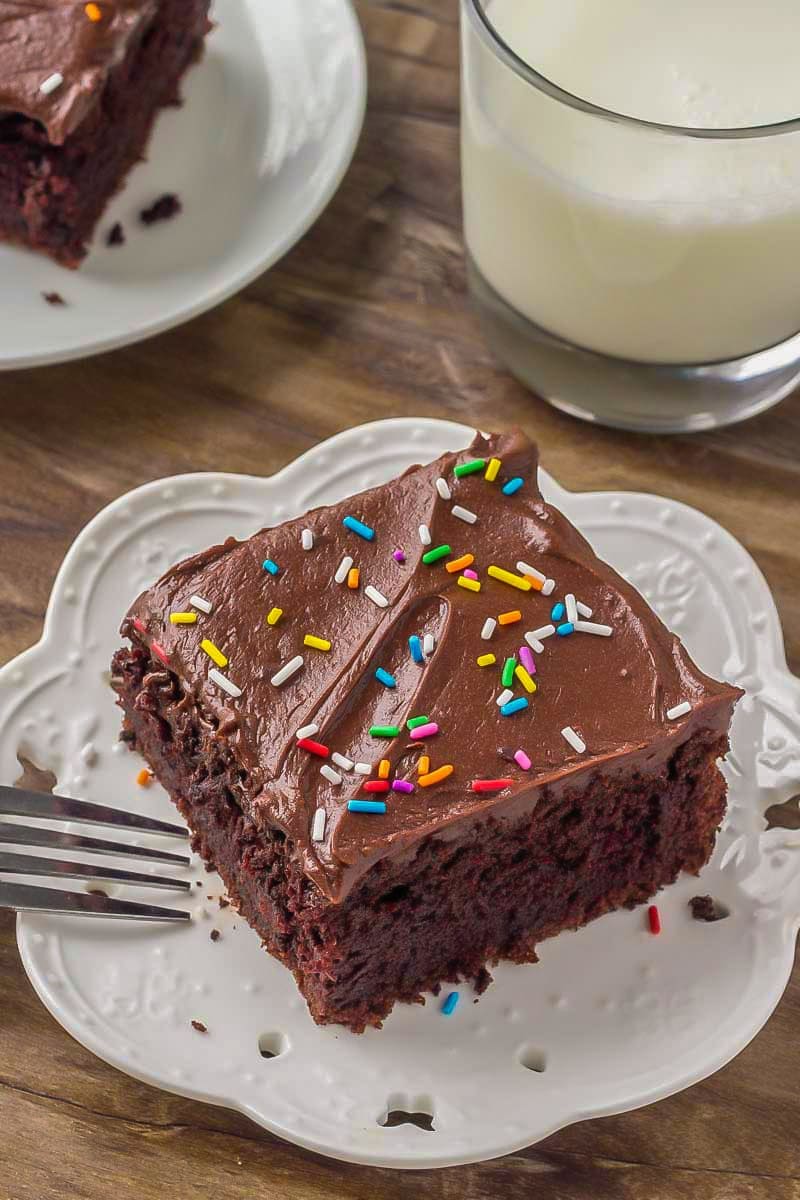 Feel free to frost the cake with whatever frosting you prefer. I've included one of my absolute favorite chocolate frosting recipes. It's a simple recipe and there's enough for a thin layer of creamy, chocolate frosting goodness. You could also top each slice with a scoop of ice cream and a drizzle of chocolate sauce if you prefer, or even just a light sprinkle of powdered sugar instead.
You'll love this sour cream chocolate cake because of its moist texture and delicious chocolate flavor. It's not too sweet or too rich, but still filled with chocolate. So if you're looking for an easy chocolate cake recipe – this one is definitely for you!
For more great chocolate cake recipes, check out:
Double Chocolate Layer Cake
Flourless Chocolate Cake
Best Chocolate Sheet Cake
Chocolate Zucchini Sheet Cake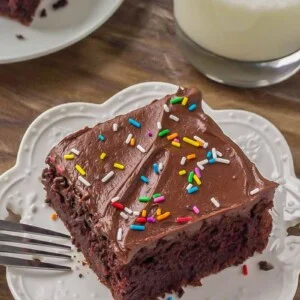 Sour Cream Chocolate Cake
Prep Time 30 minutes
Cook Time 35 minutes
Total 1 hour 30 minutes
Total Time 1 hour 5 minutes
Servings 15 slices
Calories 356 kcal
Ingredients
Sour Cream Chocolate Cake
3/4 cup unsalted butter
2/3 cup cocoa powder
3/4 cup water
1 3/4 cups white sugar
1 tsp vanilla extract
2 large eggs
1 3/4 cups all-purpose flour
1 1/4 tsp baking soda
1/4 tsp salt
3/4 cup sour cream
Chocolate Frosting
6 tablespoons unsalted butter
1/4 cup cocoa powder
1 1/2 cups powdered sugar
2-3 tbsp milk
Instructions
Chocolate Sour Cream Cake
Preheat the oven to 350F degrees. Lightly grease and flour a 9x13 inch baking pan.
Add the butter, cocoa powder and water to a medium saucepan over low-medium heat.
Melt everything together while gently whisking until the cocoa powder is dissolved and the butter is melted. Remove from the heat.
Pour into a large mixing bowl and allow to cool slightly.
Mix in the sugar, followed by the eggs and vanilla extract.
With the mixer on low beat in the flour, baking soda and salt. Then mix in the sour cream.
Pour into the prepared pan and bake for about 35 minutes until an inserted toothpick comes out clean. (I usually start checking around 30 minutes just in case).
Chocolate Frosting
Melt together the butter and cocoa powder in a small saucepan over medium heat.
Remove from the heat and pour the mixture into a mixing bowl to cool slightly.
Beat in the powdered sugar about 1/2 cup at a time, alternating with a tablespoon of the milk/cream until the desired consistency and sweetness is reached.
Frost the cooled cake, and optionally decorate with sprinkles.
Nutrition Facts
Sour Cream Chocolate Cake
Amount Per Serving
Calories 356 Calories from Fat 153
% Daily Value*
Total Fat 17g 26%
Saturated Fat 10g 50%
Cholesterol 67mg 22%
Sodium 166mg 7%
Potassium 123mg 4%
Total Carbohydrates 49g 16%
Dietary Fiber 2g 8%
Sugars 35g
Protein 3g 6%
Vitamin A 10.6%
Vitamin C 0.1%
Calcium 2.9%
Iron 8.6%
* Percent Daily Values are based on a 2000 calorie diet.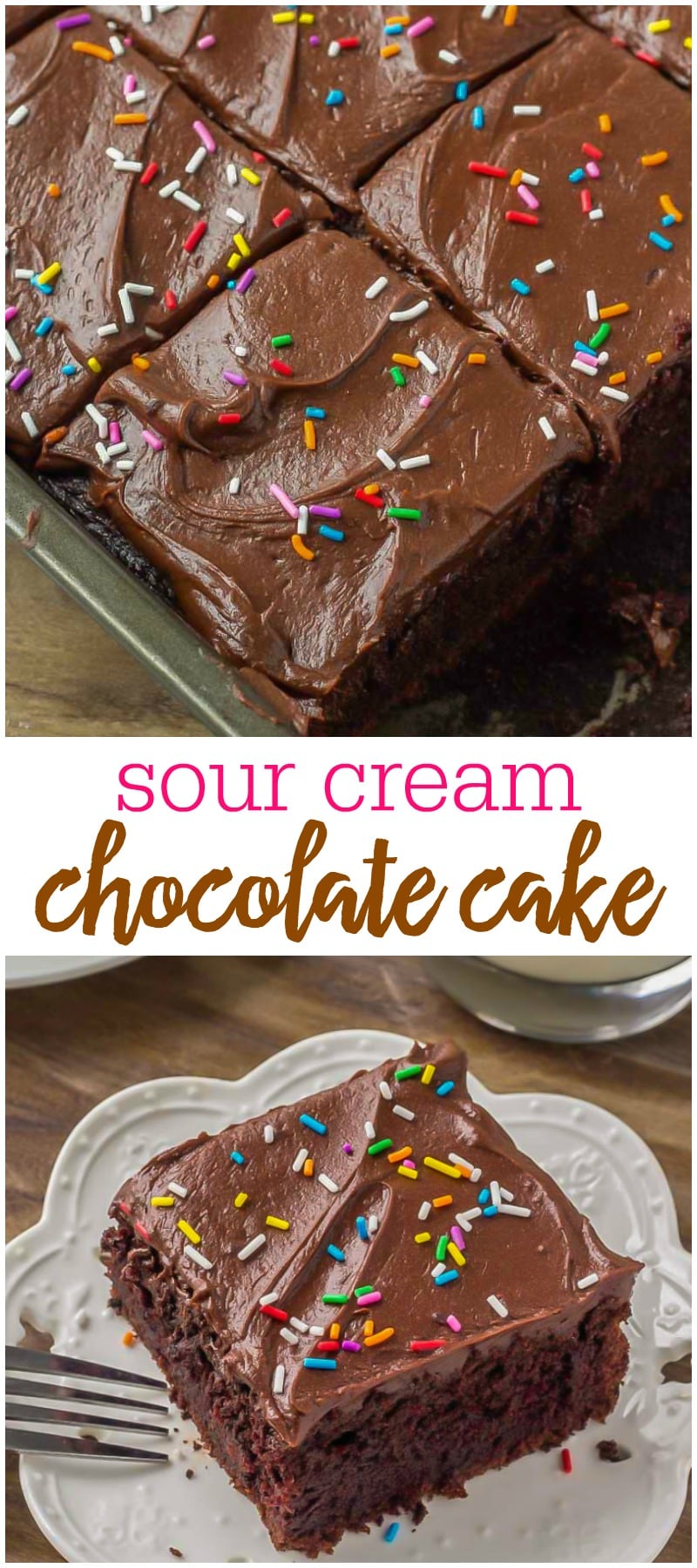 Moist Sour Cream Chocolate Cake
Reviewed by
Sup
on
April 23, 2018
Rating: