Sausage Pesto Tortellini Casserole made with 6 Ingredients only, is full of flavor, hearty and perfect for delicious and quick weeknight dinners.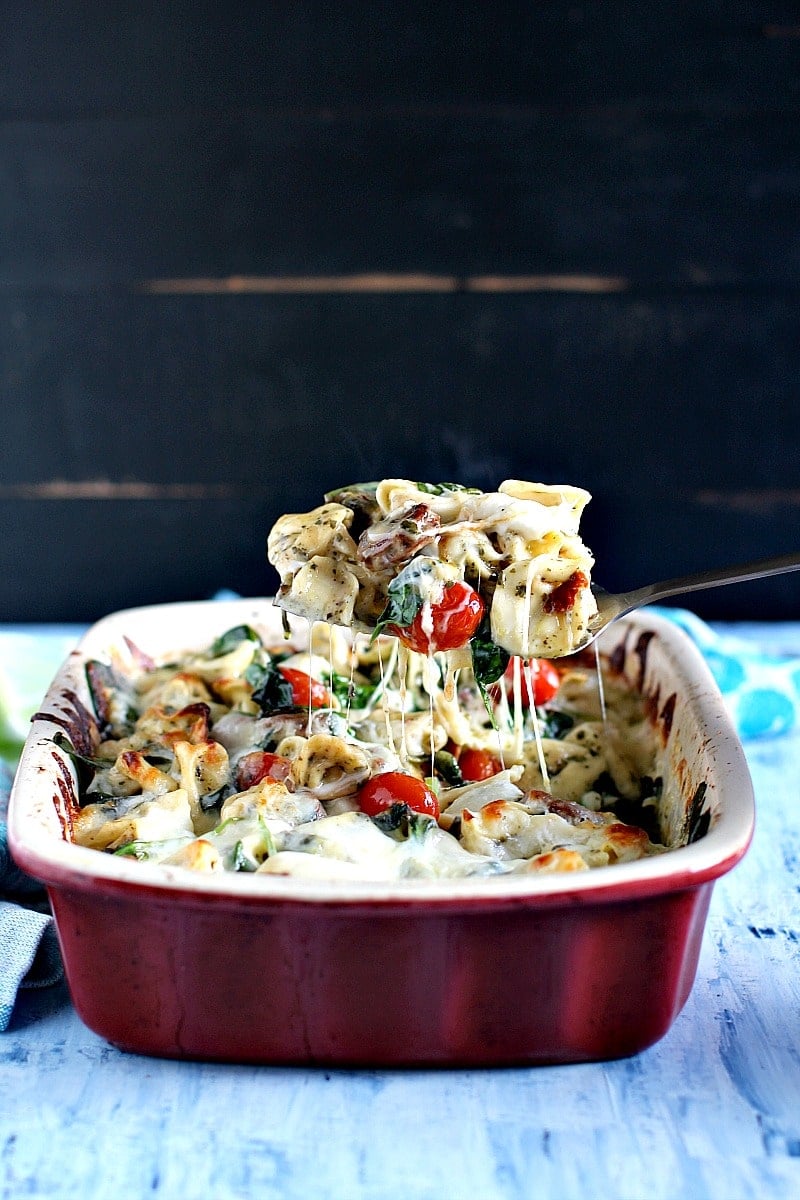 Sausage Pesto Tortellini Casserole is such and incredible, delicious and easy to make meal. Made with bright and wholesome ingredients, this dish comes together super quickly and lets you enjoy more time with your family. We are a busy family, with both of us working full-time, but we still love to cook lots of homemade dinners to show our son how fun homemade dinners can be. This Sausage Pesto Tortellini Casserole is loaded with fresh spinach, sweet Italian chicken sausage, grape tomatoes, pesto and cheese. This will become your go to meal during crazy weeknights, and it looks so good that you can even make it for date nights and friends!
Tips and Tricks for the perfect Sausage Pesto Tortellini Casserole:
Start with fresh and quality pasta, I love using BUITONI three cheese tortellini, they are fresh, cheesy and delicious and it helps me create a dinnertime experience that everyone will enjoy.
Since this is a quick meal, I am not spending the time to make my own pesto, so if you don't have any homemade pesto on hand I highly recommend using BUITONI Pesto, it tastes super fresh, and I like that it lets me be creative in the kitchen, by taking this off my to do list.
This recipe is really versatile, so you can totally use your favorite type of sausage, since I was going for an Italian theme, I added Sweet Chicken Sausage, but if you want to add some heat, add some spicy sausage and some red pepper flakes, it's really about the ingredients and taste you love.
Adding fresh ingredients like grape tomatoes and spinach will brighten up your dish and add some juiciness and sweetness that will balance the cheese.
Cheese! Use quality cheese, to save time I buy shredded cheese, but make sure it's creamy and fresh.
Don't overcook the tortellini! Cook it 1 or 2 minutes less than the recommended time as you will also have to bake it.
If you want to add more flavor you can add some minced garlic, fresh black pepper and top your casserole with fresh basil.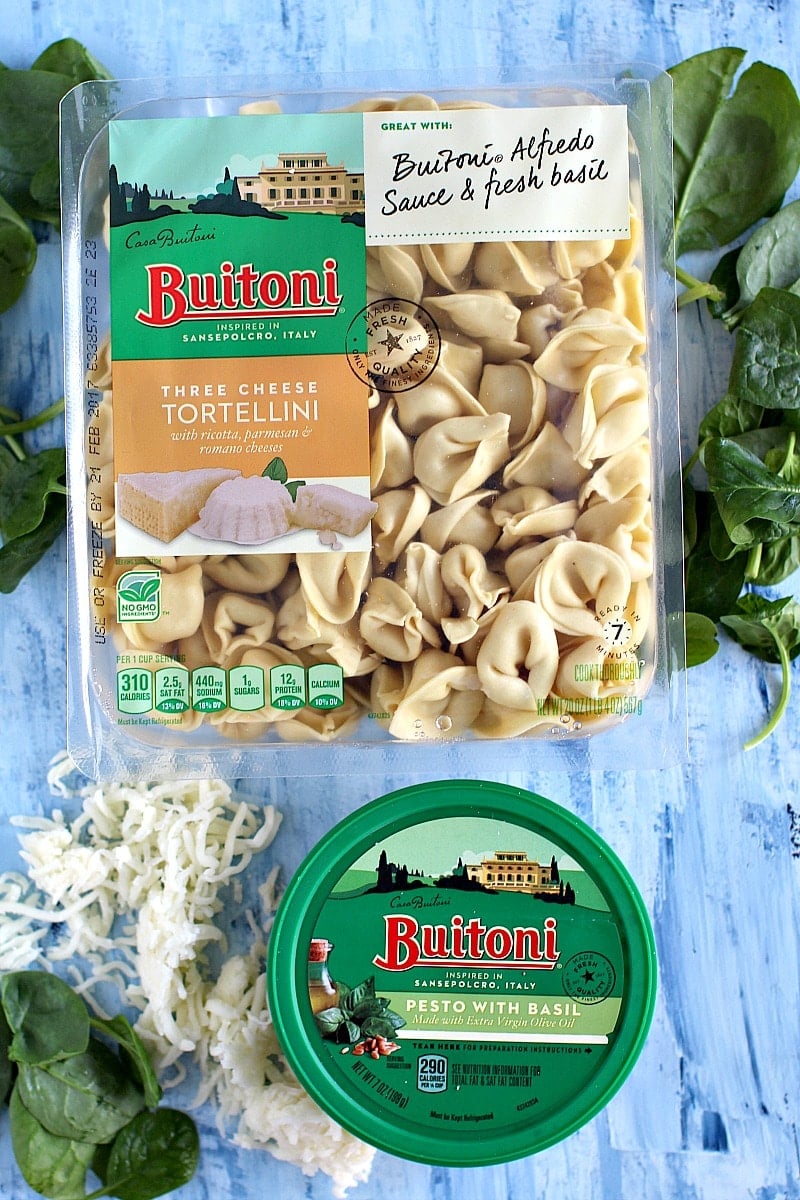 We have been serving this dish on many busy nights and its a great way to make the children eat some spinach. Also, it's a great way to get them to help with dinner, my son loves to measure the cheese, to fold in the spinach and to steal some tomatoes. I love meals that bring families together!
Love Casseroles? Check these out:
Hasbrown Chicken Jalapeño Casserole – creamy and delicious, like a giant jalapeño popper.
Mushroom Cheeseburger Casserole – gluten free and so hearty.
Chocolate French Toast Casserole – who said that casseroles are for dinner only? Check this one out to be blow away with deliciousness!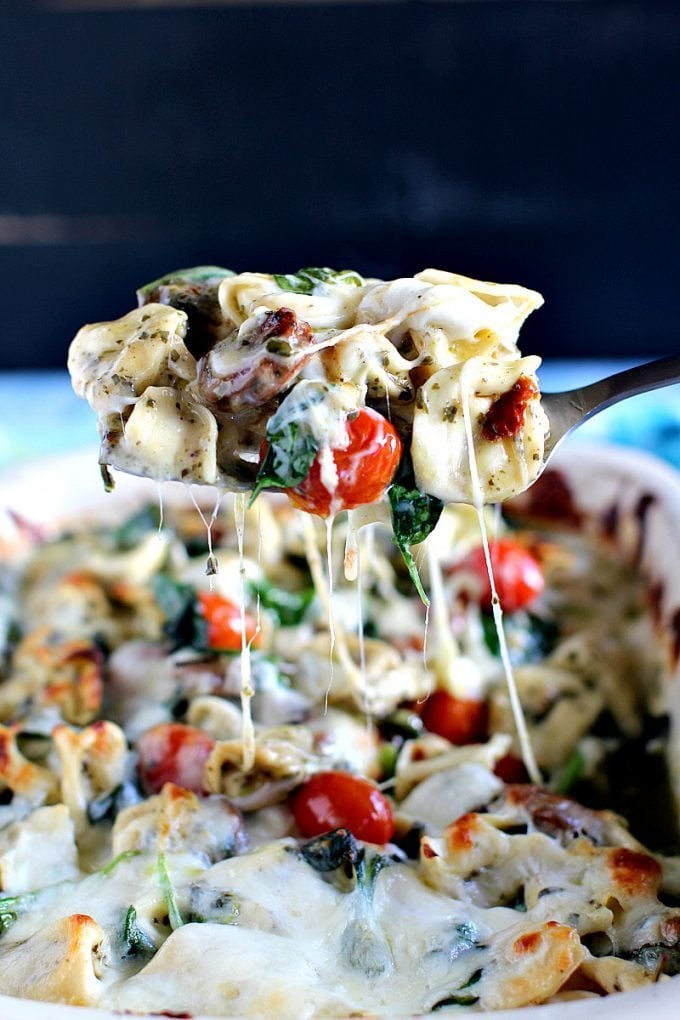 5.0 from 1 reviews
Sausage Pesto Tortellini Casserole
Print
Prep time
10 mins
Cook time
20 mins
Total time
30 mins
6 Ingredients only, Sausage Pesto Tortellini Casserole made with fresh ingredients is perfect for delicious and quick weeknight dinners.
Author: Katalina Kastravet
Recipe type: Dinner
Cuisine: American
Serves: 6-8 serv
Ingredients
1 package/ 1 lb BUITONI Three Cheese Tortellini
1 package BUITONI Pesto
3 sweet chicken sausages
3 cups fresh spinach
1 cup grape tomatoes
20 oz mozzarella cheese, shredded
3 tablespoons olive oil
Instructions
Preheat oven to 400F.
Add water to a large pot over medium-high heat, once the water starts to boil, cook the tortellini by following the recommended time on the package, usually 5-7 minutes. Cook 1-2 minutes less the recommended time. Drain and return the tortellini to the pot. Add the pesto and stir gently until combined.
In the meantime, place a large skillet over medium heat, and add two tablespoons of olive oil.
Slice the sausages and add it to the hot skillet, cook for 2-3 minutes, stirring often, until the sausages start to brown. Remove skillet from heat and set aside.
Add the browned sausages, tomatoes, spinach and cheese to the pot with tortellini, stir well, but gently not to crush the tomatoes or the tortellini. Save a little cheese, about 1 cup to top the casserole.
Add a little olive oil to a 9 inch casserole dish, about 1 tablespoon, and add the tortellini mixture to the casserole, top with the remaining cheese and bake for 20-25 minutes, until the top layer starts to look golden - light brown.
Serve immediately.
3.5.3208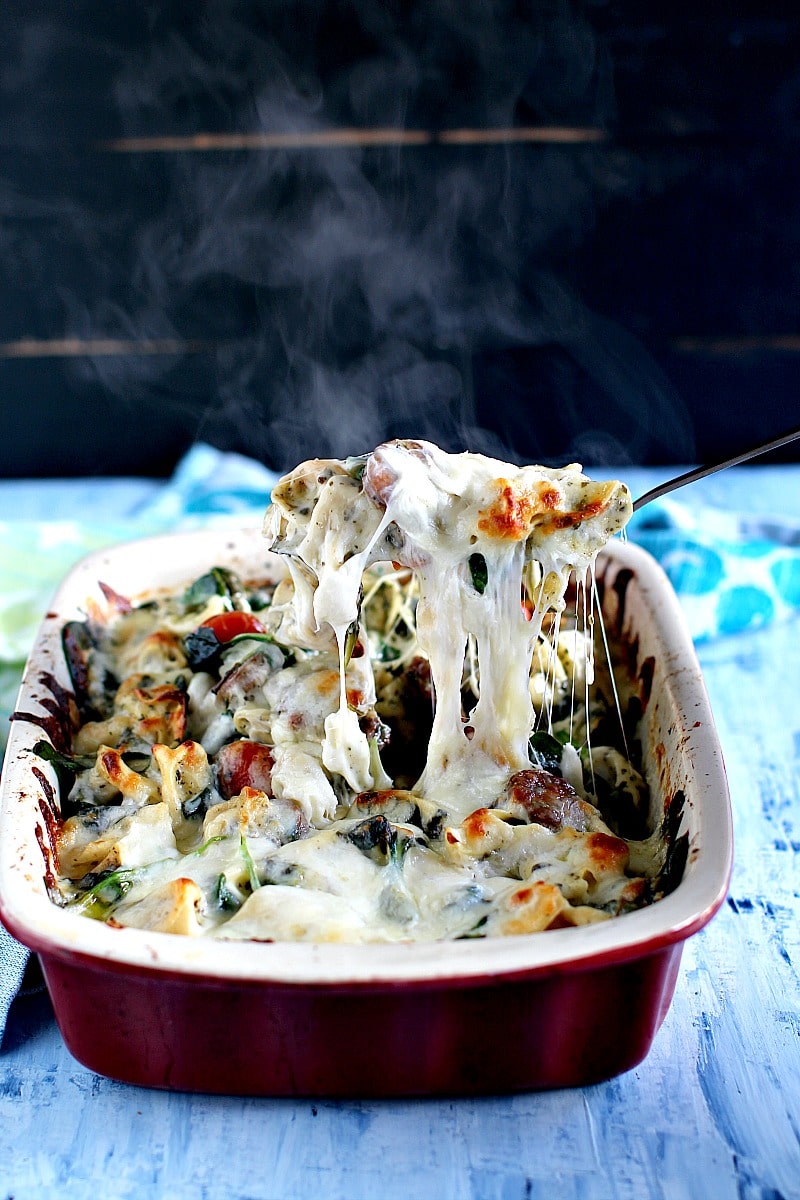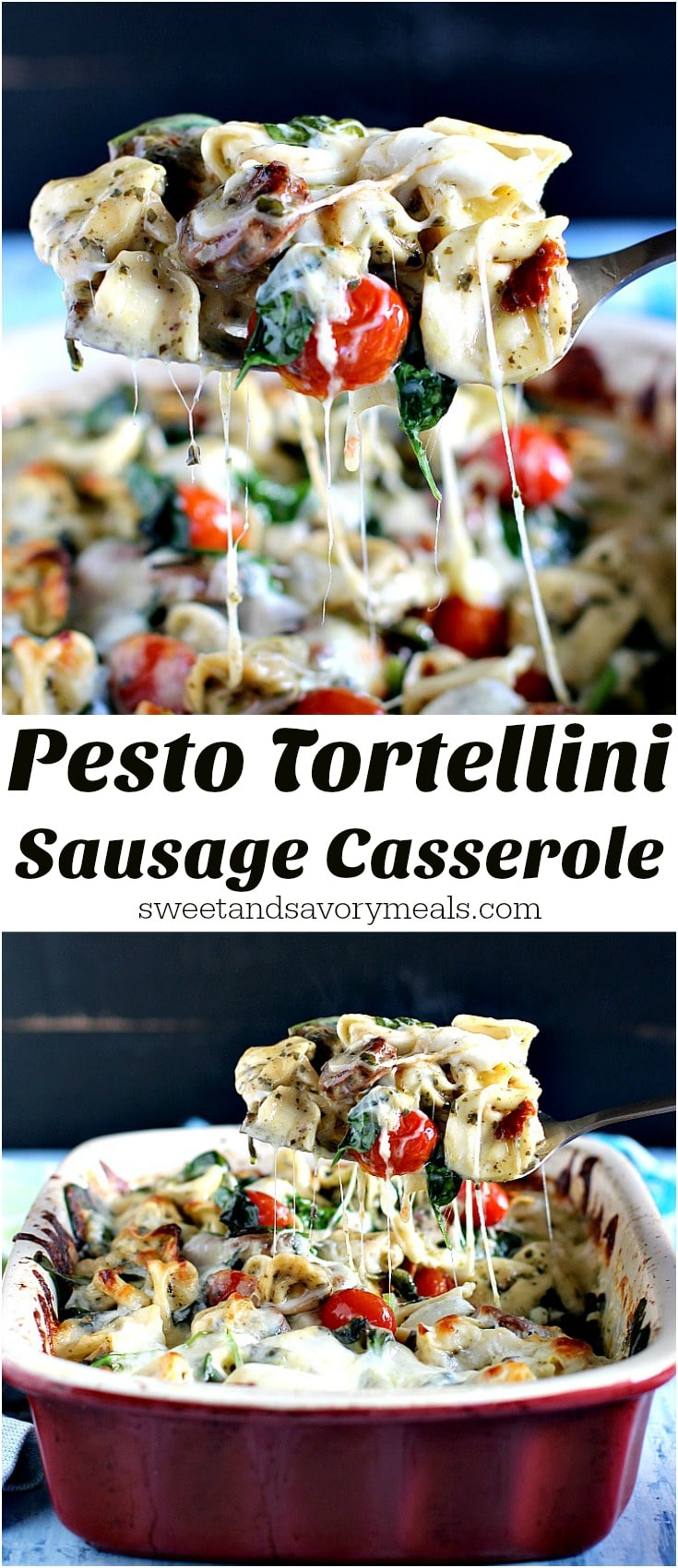 Categories:
Chicken Recipes
Pasta Dishes
Tags:
casserole
chicken
chicken sausage
easy dinner
quick dinner
tortellini
tortellini casserole
Prominent words:
casserole
cheese
delicious and quick
delicious and quick weeknight
delicious and quick weeknight dinners
grape tomatoes
olive oil
perfect for delicious
perfect for delicious and quick
pesto
pesto tortellini
pesto tortellini casserole
quick weeknight dinners
recommended time
sausage
sausage pesto
sausage pesto tortellini
sausage pesto tortellini casserole
tortellini
tortellini casserole
You might also enjoy
Hashbrown Chicken Jalapeño Casserole
Creamy Slow Cooker Tortellini Soup
Pesto Chicken Kabobs – 30 Minutes
As Seen In
Cakes & Cheesecakes
Sausage Pesto Tortellini Casserole
Reviewed by
Sup
on
April 05, 2018
Rating: