I decided to jazz up my favorite ever Sugar Cookie Recipe by adding some fun rainbow colors! This technique could not be easier and the buttercream is the perfect compliment to these delicious Sugar Cookies!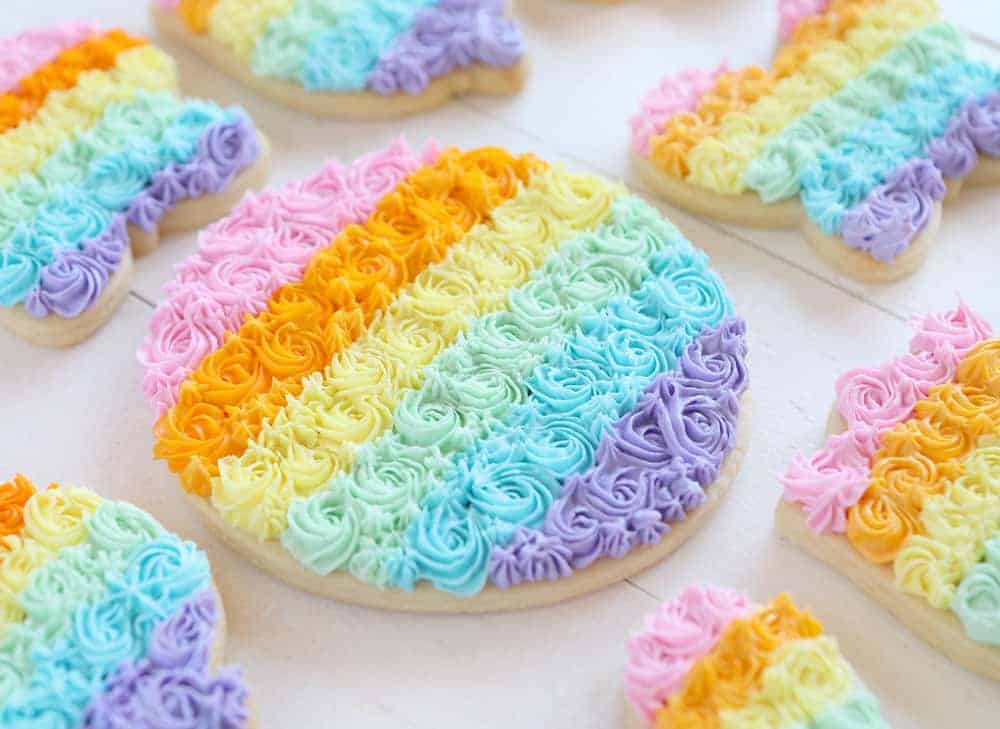 Sugar Cookies
This recipe could not be easier! There is no chilling required (Note: this recipe below is different than the video) which means you can make the dough, cut out the shapes, bake, and decorate! No more waiting hours and hours until your dough is ready. If you happen to want to make the dough ahead of time you sure can, nothing changes in the recipe.
This sugar cookie recipe is only 7 easy ingredients that you probably already have in your pantry!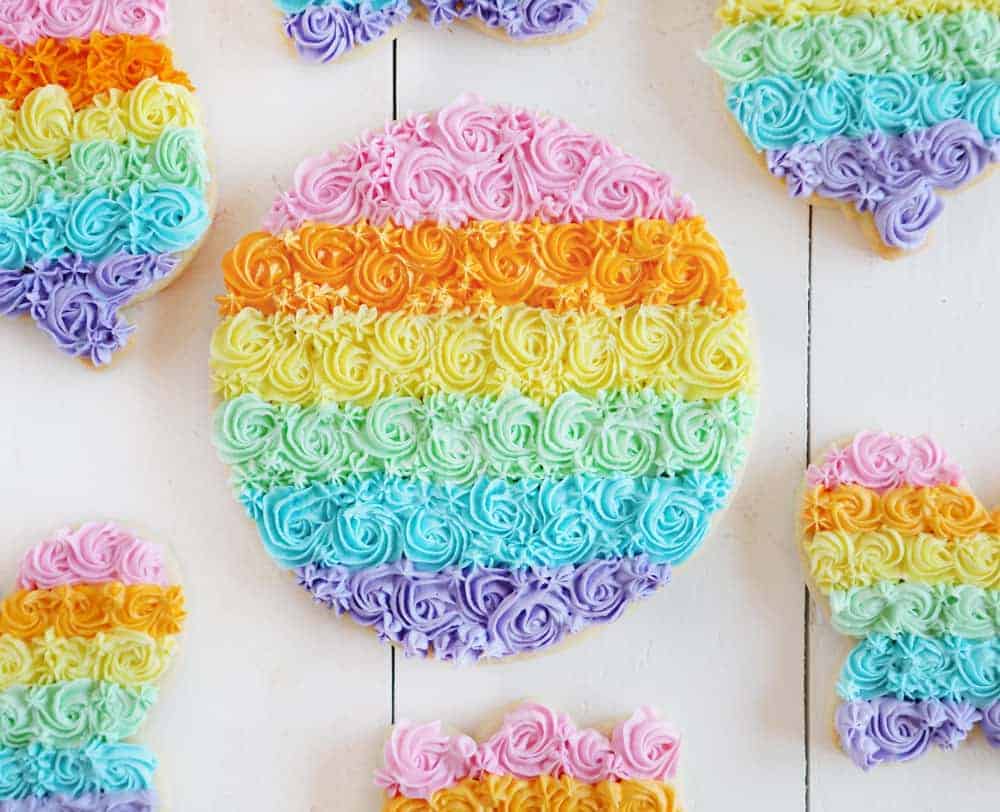 Buttercream Frosting
I chose my Decorators Buttercream for this recipe because I really wanted a delicious frosting that would pipe beautifully and then harden slightly. (AKA crusting buttercream) I also love how beautifully this buttercream frosting accepts color. You can get the perfect shade with most any type of food coloring! (I used McCormick food color)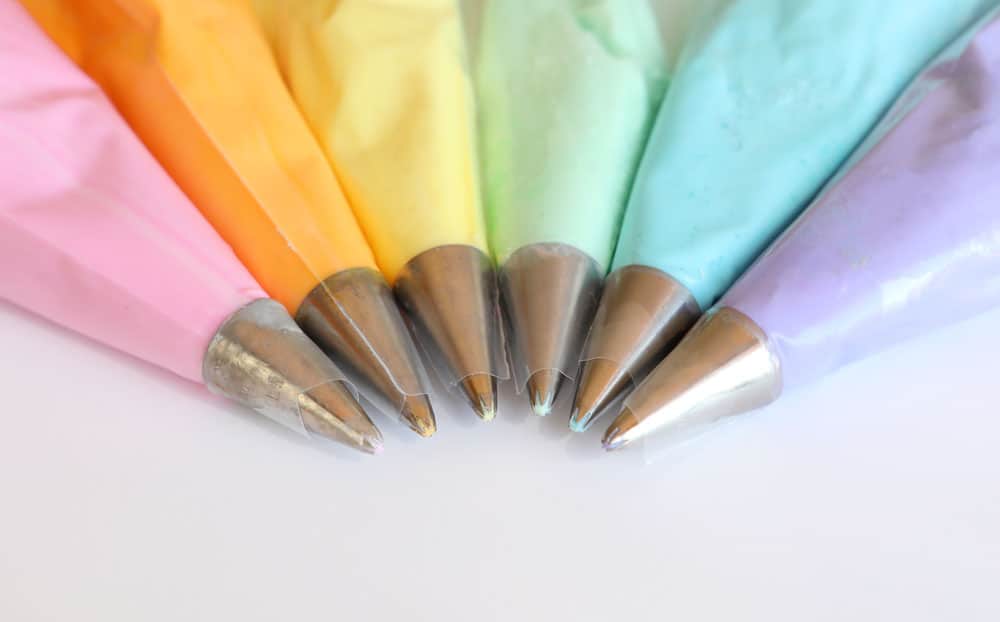 Rainbow Frosting
I made up one batch of the buttercream frosting recipe and then divided it into 6 bowls.
I tinted one pink, light orange, light yellow, light green, light blue, and light purple. Then I placed the frosting into a pastry bag fitted with a tip. You can also use a tip or even a tip, any small star tip should work. You just want to be able to make a basic mini rosette when piping.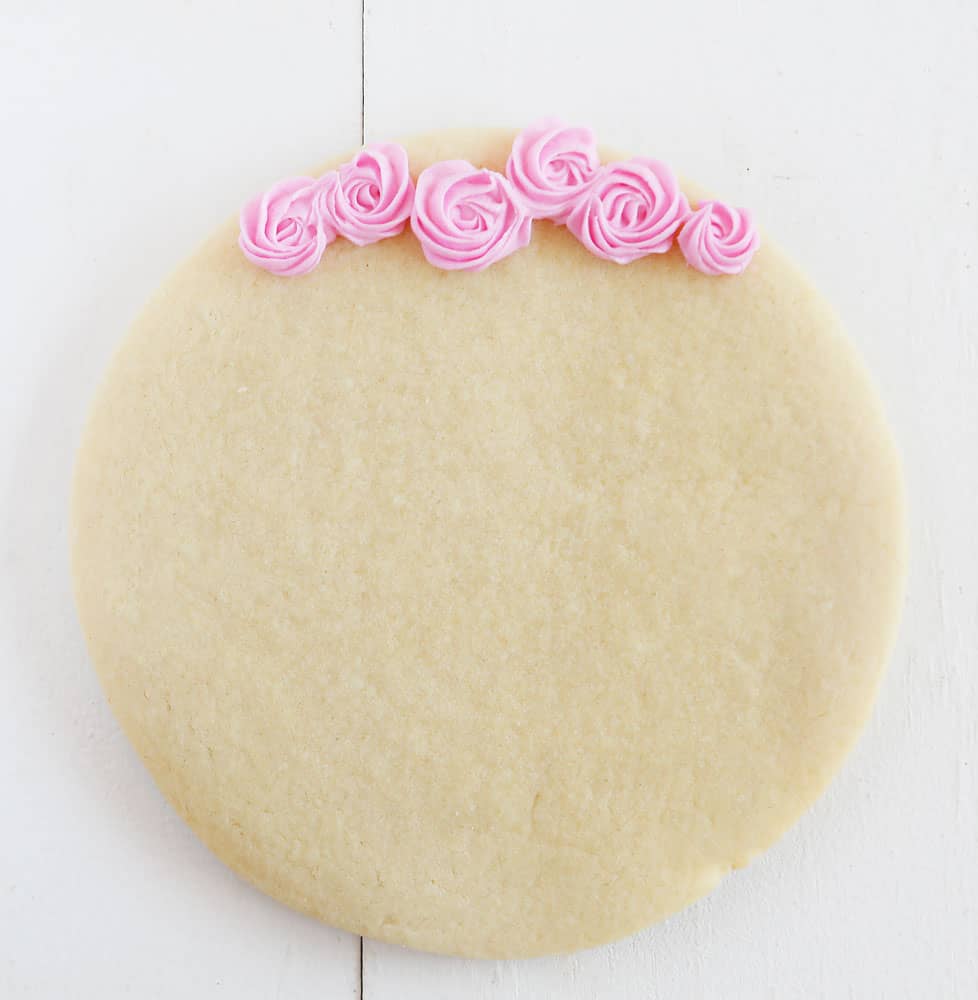 If you happen to have food coloring markers I highly recommend drawing guidelines on your cookie. (Mine dried up so I had to eyeball it) Start by piping your first color, pink. I fill the entire row with as many rosettes as I can, making some bigger than others. Another tip that I found helps with the overall design is to switch directions of your rosettes. Go clockwise, then counter-clockwise. Repeat.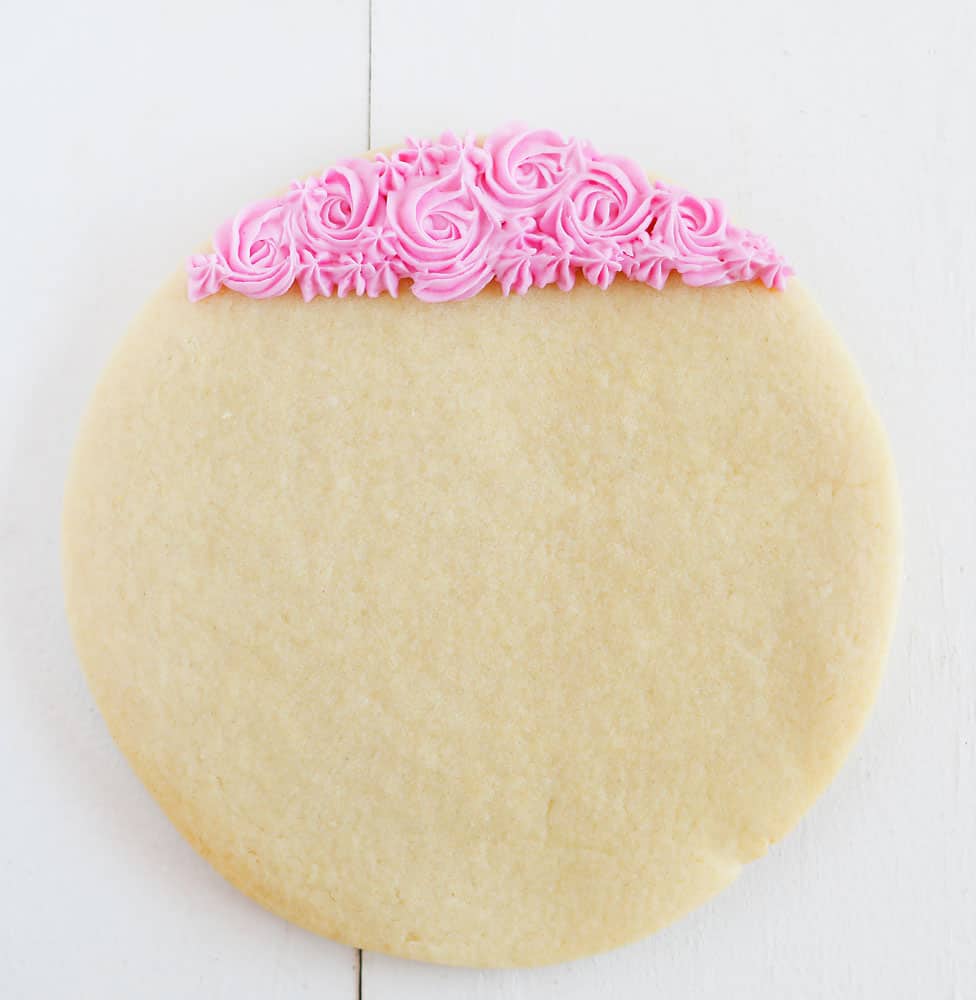 Next go in and make little stars with the very same tip. In any empty spots place the tip, apply pressure, and release quickly. The same rule applies as with the rosettes, feel free to make different sizes. You will want to step back and look for any dark spots then fill in with another star. You can pipe stars on top of each other if needed as well as overlapping the rosettes.
Repeat with the remaining colors.
Have fun and use different shapes of cookies! I used tulips and butterflies above in a fun spring theme which would also be perfect for Mother's Day!
PLEASE NOTE : I used this sugar cookie recipe in the video. But I have found that the sugar cookie recipe I listed below is easiest and just as tasty!! So be sure to follow the writen recipe, not the video.
5 from 4 votes
Sugar Cookies with Rainbow Buttercream
Prep Time
30 mins
Cook Time
10 mins
Total Time
40 mins
Servings: 24
Ingredients
Sugar Cookies
1 c (226g) unsalted butter
1 c (200g) granulated white sugar
1 egg, room temperature room temperature
1 tsp. McCormick Pure Vanilla Extract
1/2 tsp. McCormick Almond Extract
2 tsp. baking powder
3 c (360g) all-purpose flour
Buttercream
1 c (2 sticks or 227g) unsalted butter, room temperature
1/2 c (115g) shortening
2 tsp. fresh lemon juice or 1/2 tsp lemon extract, pure vanilla extract, or almond extract
6 c (just over a pound) confectioners' sugar
1/4 c (60g) whole milk*
2 tsp. meringue powder**
1/2 tsp. table salt
Instructions
Sugar Cookies
Preheat oven to 350° F.
Add butter to the bowl of your stand mixer and cream on medium-high for 1-2 minutes, or until butter is smooth and lighter in color.
With the mixer on low, slowly add the sugar and then the egg.
Scrape the bowl with the mixer off.
Turn mixer back on low and add in extracts.
Allow all ingredients to combine fully.
Add the baking powder and then the flour, 1/2 cup at a time, until fully incorporated.
Remove bowl from mixer and drop dough onto a floured countertop. Roll out into a flat disc, about 1/2 inch thick.
Cut cookies into 2-inch, 1 1/2-inch, and 1-inch cookies and bake at 350 for 6-9 minutes.
Let cool on the cookie sheet until firm enough to transfer to a cooling rack.
Buttercream
In a stand mixer with the paddle attachment, cream shortening and butter on medium-high until fully combined and fluffy, about 3 minutes.
Slowly add sugar, one cup at a time. Add meringue powder. (The mixture will appear dry.)
With the mixer on low speed, add lemon juice (or extracts) and salt.
Add in milk. Turn the mixer up to medium-high (or high) and beat until light and fluffy (approximately 5 to 8 minutes).
*You may need to add more milk to reach your desired consistency. Start with the 1/4 cup and if the buttercream is still too dry, add more milk 1 tablespoon at a time until you reach the desired consistency. Make sure the mixer is on low speed when adding in milk and give it at least 30 seconds between each addition.
**You can omit meringue power if you prefer. To achieve the perfect piping consistency, you may need to add more confectioner's sugar
Cupcake Frosting {Cupcake Decorating Ideas}
Loaded Cheese Fries
Sugar Cookies with Rainbow Buttercream
Reviewed by
Sup
on
April 06, 2018
Rating: