Feed me more! Get my FREE e-cookbook: Recipes With Chocolate
Learn how to make a graham cracker crust with just a few ingredients! This simple crust recipe is the perfect base for cheesecakes pies, and tarts. It's so easy to make!
click here to pin this recipe
This post contains affiliate links to products and/or ingredients that I use to create this recipe. Thank you for helping to support What The Fork Food Blog so I can continue to bring you great recipes and baking tips ♥
Today we are learning a simple, staple recipe that everyone needs in their recipe box – how to make graham cracker crust! This crust is essential because it's a base recipe that can lead to so many delicious desserts.
Simple Ingredients, Delicious Results
The beauty of a graham cracker crust is that it calls for just a few, simple ingredients. Graham crackers, granulated sugar, and butter. You can add a little pinch of salt too, if you like. That's it, just three or four ingredients!
This graham cracker crust can be made with gluten free graham crackers or regular graham crackers. That's the beauty of this recipe, it's so simple to adapt to meet different dietary needs.
How to Make a Dairy Free Graham Cracker Crust
For any of you who need a lactose free or dairy free pie crust recipe, you can use this recipe! It's really easy to adapt to a dairy free diet – simply swap out the butter for dairy free or vegan butter or you could even use melted coconut oil.
If you need lactose free but not necessarily dairy free, use ghee! It's still dairy (so not safe for dairy allergies) but it still has that really, buttery taste that we all love in a good graham cracker crust. I use Organic Valley Ghee because I can easily find it at my grocery store.
Also, be sure to check the labels on your graham crackers. I use Kinnikinnick S'Moreable Graham Crackers, which are also dairy free. Schar Honeygrams are dairy free, too.
To Bake or Not to Bake
If you're making a no-bake cheesecake or pudding pie, you'll still want to bake this crust for a few minutes before adding your filling. It will help the crust set up and stay together when you slice and serve it.
If you're really anti-baking, you can skip that step. Just know that your crust might be a bit more crumbly.
I also like to bake it for a little bit before adding cheesecake filling that will be baked again. It really just helps it and will greatly reduce the risk of filling leaking through the crust and making it soggy.
Fillings for a Graham Cracker Crust
So you made a graham cracker crust, now what? What should you fill it with? Make a chocolate pudding pie by filling the crust with chocolate pudding and topping it with whipped cream.
My favorite version of a chocolate pudding pie is by making it with my Baileys Chocolate Pudding (use more milk in place of the Baileys if you prefer) and topping it with my White Chocolate Ganache Whipped Cream. It's insanely good!
You can also make a double-batch of my no-bake salted caramel cheesecake filling to make a full-sized dessert instead of individual cheesecakes. I'm sharing a classic no-bake cheesecake filling next week so be sure you're getting my email updates so you don't miss it! Enjoy!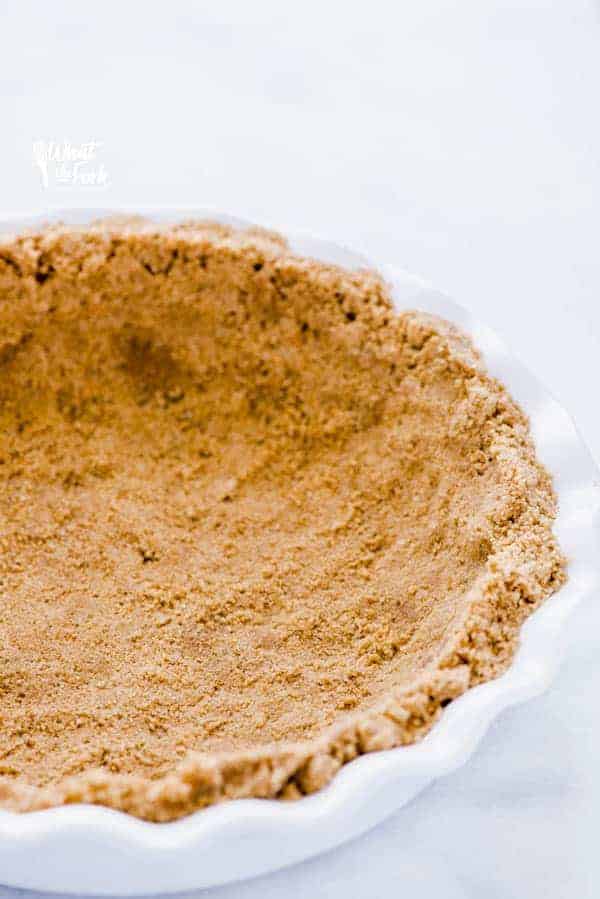 Be sure to follow me on instagram and hashtag or tag – I love seeing what you make!
If you love this easy recipe for how to make a graham cracker crust, follow me on social media so you never miss a post:
| facebook | twitter | google+ | | instagram | youtube |
sign up for my free newsletter subscription for new recipes and exclusive giveaways + my free ecookbook – recipes with chocolate
How to Make a Graham Cracker Crust
Prep Time 5 Cook Time 10 Total Time 15
Learn how to make a graham cracker crust with just a few ingredients! This simple crust recipe is the perfect base for cheesecakes pies, and tarts. It's so easy to make!
Print
Print
Ingredients
1 1/2 cups gluten free graham cracker crumbs (see notes)
1/4 cup granulated sugar
5 tablespoons butter, melted
pinch of salt (optional)
Directions
Preheat oven to 325 degrees.
Add the graham cracker crumbs, granulated sugar, butter, and a pinch of salt to a large bowl. Mix together until all of the crumbs are moistened. **If you are making your own graham cracker crumbs with a food processor, feel free mix the crumbs, sugar, butter, and salt together with the food processor.**
Firmly press the crumbs into a 9 inch pie dish or 9 inch spring-form pan. Bake at 325 degrees for 10 minutes.
Cool before adding the filling.
Recipe Notes
I make my own graham cracker crumbs by processing gluten free graham crackers in my food processor. It only takes a minute!
If you don't need gluten free, just use regular graham crackers!
­
How to Make a Graham Cracker Crust
Reviewed by
Sup
on
May 06, 2018
Rating: