This is the most delicious and moist Lemon Bundt Cake recipe! It is covered in a sweet lemon glaze and is topped off with an amazing cream cheese frosting with lemon zest making it irresistible.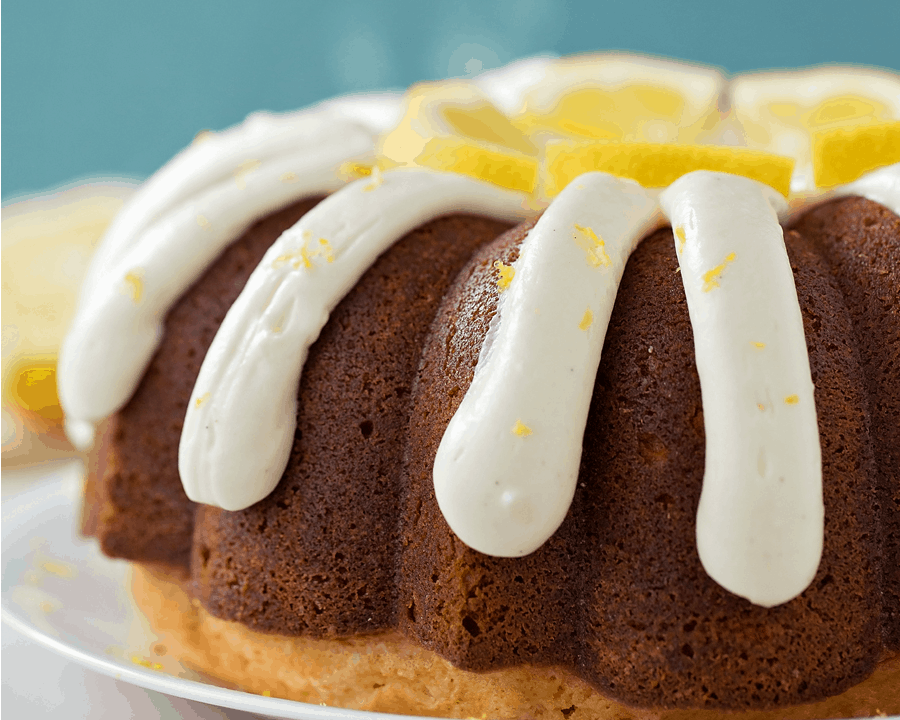 Lemon Bundt Pound Cake
Bundt cakes have always been a favorite of mine. They look beautiful and require almost no decorating skills. I've been making all sorts of bundt cakes this spring and couldn't help but make a lemon version. It's bright, zesty and has a perfect tender crumb. You can top it with cream cheese frosting, a dusting of powdered sugar or a simple glaze. Our kids seemed pretty excited about having a bundt cake with frosting on it so we went that route and we had no regrets!
The one special piece of equipment you'll need aside from a mixer (hand or stand) is a bundt pan. I highly recommend using a standard size one. It's so versatile!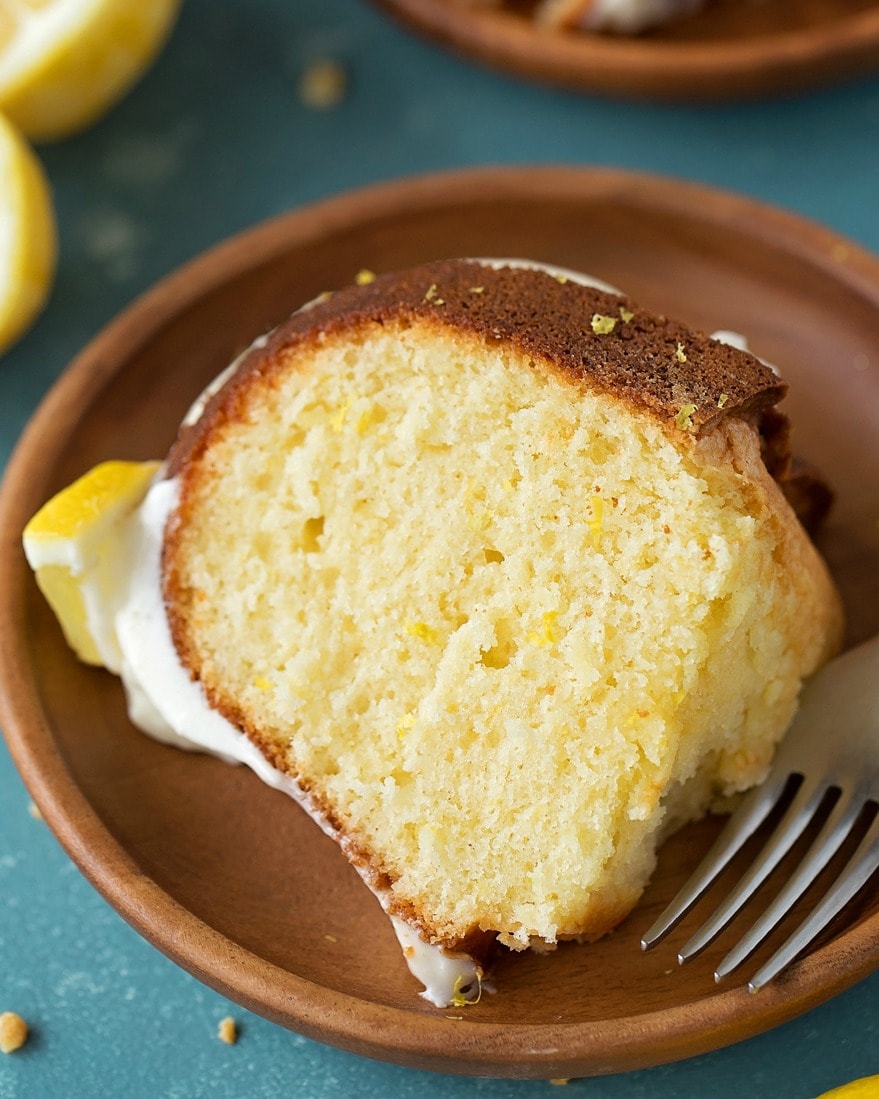 Lemon Glaze for Bundt Cake
While the lemon bundt cake is cooling you'll make a simple syrup. That sounds intimidating right? It's not! Just mix equal parts sugar and lemon juice and pop it into the microwave. Once it's warm, whisk it together and let it dissolve making it a syrupy glaze. Take a toothpick and poke holes all over the "crust" of the cake. This will allow the syrup to seep down into the cake. Brush or pour it over and let it soak in.
MY OTHER RECIPES
This glaze makes the bread even more sweet and filled with lemon flavor.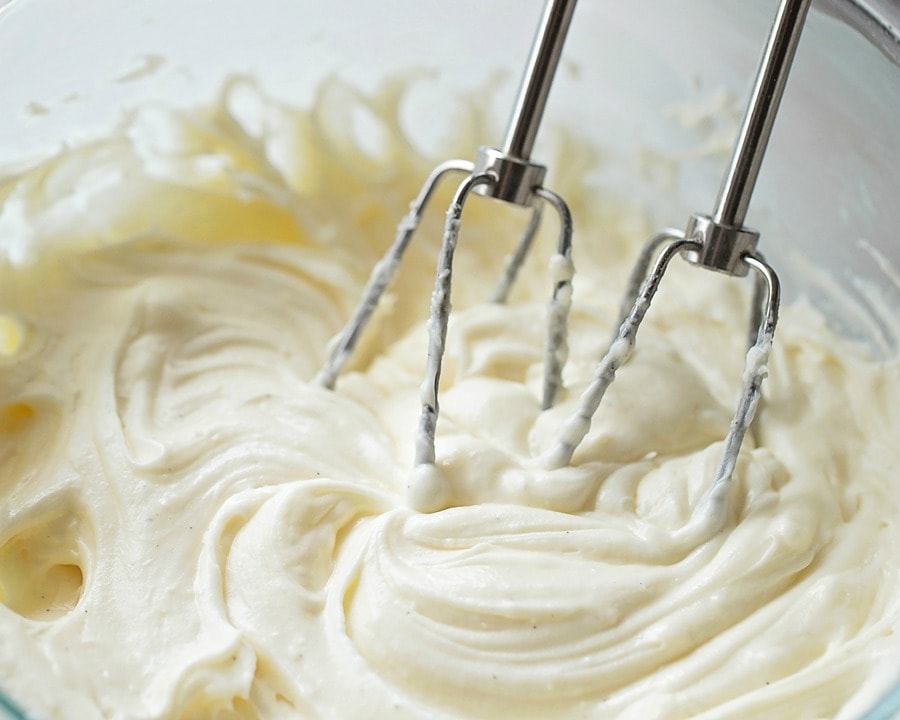 Then mix up the frosting. Just make sure the cream cheese AND the butter are both softened. Cold ingredients will result in a clumpy frosting. If it's on the softer side you can always refrigerate it for 15-20 minutes. Use a large zip lock bag or a large pastry bag and pipe it over the cooled cake. You don't have to do any fancy design. Trust me, I am NOT a cake decorator! Simple stripes were about all I could handle!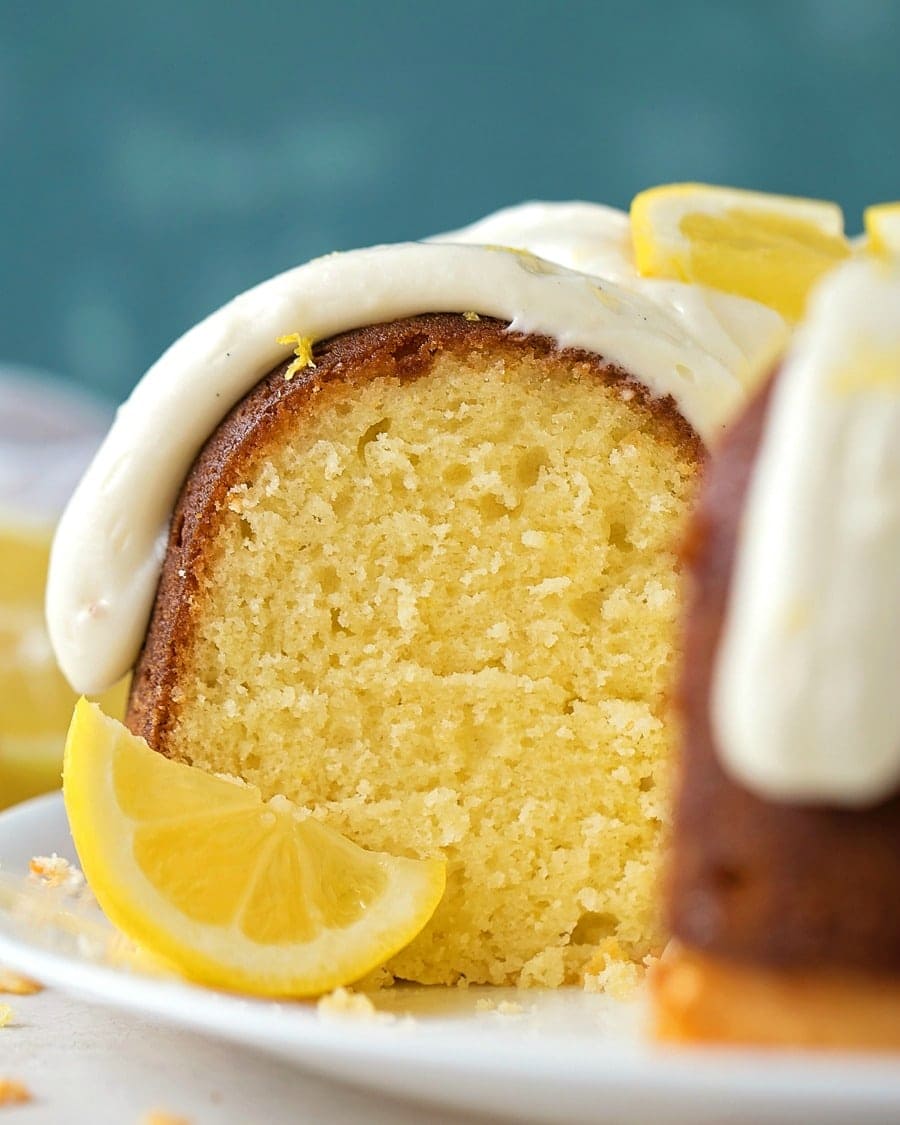 Our Favorite Lemon Bundt Pound Cake
We love this bundt pound cake so much! The cake itself is delicious on it's own, but filled with a lemon glaze and topped off with cream cheese frosting makes this cake even more irresistible! Slice this bundt cake up and serve it for any spring or summer occasion. It will be the star of the party!
For even more lemon desserts, be sure to check out:
Lemon Sheet Cake
Easy Lemon Cheesecake
Lemon Bars
Lemon Poppy Seed Muffins
Lemon Cupcakes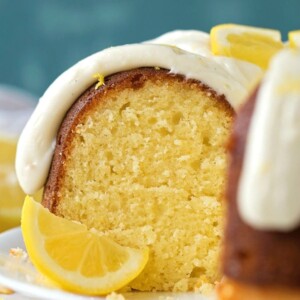 Lemon Bundt Cake recipe
Prep Time 20 minutes
Cook Time 50 minutes
Total Time 1 hour 10 minutes
Servings 10
Calories 758 kcal
Ingredients
1 cup unsalted butter
2 cup granulated sugar
1 tsp salt
zest of three lemons
1 tsp vanilla extract
4 eggs
3 cup all-purpose flour
1 cup full-fat sour cream
For the glaze:
1/4 cup granulated sugar
1/4 cup lemon juice
For the frosting:
8 ounces cream cheese, softened
1/4 cups unsalted butter, softened
1 tsp. vanilla extract
pinch salt
2 cups powdered sugar
Instructions
Preheat oven to 350 degrees. Spray a standard size bundt pan with baking spray, set aside.
In the bowl of a stand mixer, beat butter, salt, lemon zest and vanilla extract until pale, about 3 minutes on medium speed.
With mixing speed on low, add eggs one at a time until incorporated.
With mixing speed on low, alternate adding the flour and sour cream, doing 1/3 of each at a time. Once all of the ingredients have been added, beat batter for 10 seconds then stop.
Spread batter evenly into the prepared bundt pan. Place in the oven and bake for 45-55 minutes. The top will look slightly moist but should be set (not gooey or jiggly). Remove from the oven and allow to cool in the pan for 20 minutes before inverting onto a wire rack to cool completely.
Meanwhile, in a small microwave-safe bowl, combine the sugar and lemon juice. Microwave on half power for 20 seconds. Stir to dissolve sugar. Repeat if necessary but do not let the liquid simmer.
Using a toothpick, poke holes all over the crust of the bundt cake. Pour or brush the glaze over the cake, allow it to soak in.
In the bowl of a stand mixer or a large mixing bowl with a hand mixer, beat the cream cheese and butter until smooth. Add the vanilla, salt and powdered sugar, mix until a thick frosting forms.
Pipe over the cooled cake as desired.
Nutrition Facts
Lemon Bundt Cake recipe
Amount Per Serving
Calories 758 Calories from Fat 333
% Daily Value*
Total Fat 37g 57%
Saturated Fat 22g 110%
Cholesterol 163mg 54%
Sodium 353mg 15%
Potassium 139mg 4%
Total Carbohydrates 99g 33%
Dietary Fiber 1g 4%
Sugars 70g
Protein 8g 16%
Vitamin A 25%
Vitamin C 3.1%
Calcium 7%
Iron 12.2%
* Percent Daily Values are based on a 2000 calorie diet.
Lemon Bundt Cake
Reviewed by
Sup
on
May 02, 2018
Rating: