These fudgy Brownies are a rich and indulgent dessert that you can make from scratch in less than 10 minutes! They combine dark chocolate and coffee in an irresistibly delicious way and has a moist, intensely chocolatey interior with just the right amount of mocha flavor.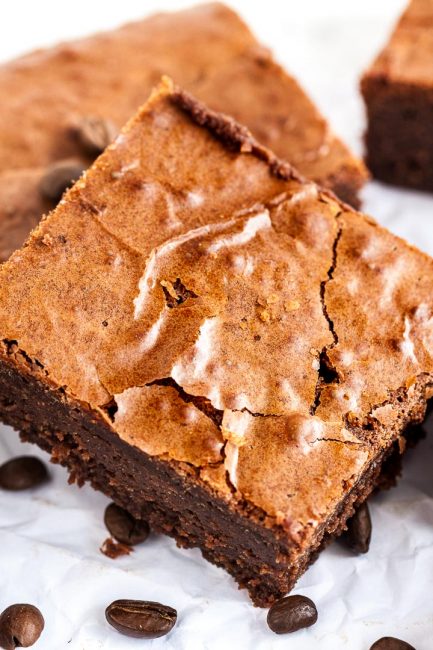 Mocha Brownies
These rich and flavorful Brownies are infused with Espresso for an adult version of the beloved treat. They are delicious even without frosting and can be whipped up easily in one bowl which makes them the perfect dessert for days when you have a craving for chocolate.
Making brownies from scratch is so easy even if you aren't totally kitchen confident. Your favorite dark chocolate is melted on the stove with the butter and then transformed into a thick and rich batter that bakes up into the most delicious mocha-flavored brownies and you have just one bowl to clean.
If you're addicted to coffee you definitely have to give this caffeine-loaded twist on traditional chocolate brownies a try! This brownie recipe is a coffee lover's dream!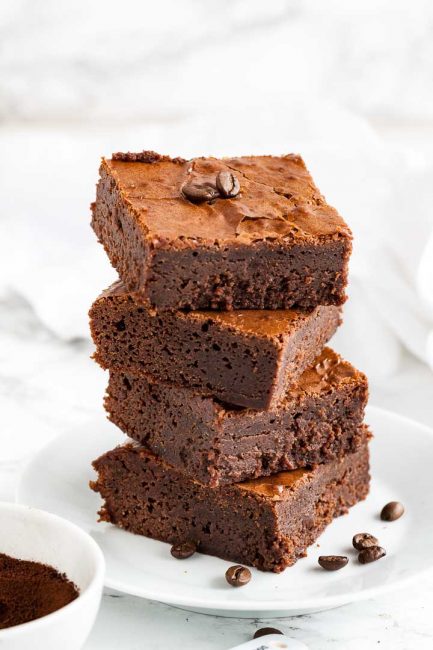 Tips and Tricks for making this Brownie Recipe
These brownies get most of their flavor from the chocolate so I recommend using a high-quality dark chocolate and not chocolate chips.
I prefer Dutch-process cocoa powder for baking because it dissolves easily and is darker in color. If you don't have it on hand you can also use unsweetened cocoa powder.
I always line my brownie pan with parchment paper. This not only makes clean up easier but it also lets you lift the brownies from the pan easily.
You can upgrade this recipe with mix-ins, swirls, and frosting for special occasions.
Don't overbeat the batter once the flour is added. Just beat until all the flour is incorporated and no flour pockets remain.
All ovens are different so I recommend to always check with a wooden skewer or toothpick for doneness.
Don't over-bake the brownies! I love gooey, fudgy brownies so I always underbake mine but please don't let them bake until they are dry. You want the skewer to have a few moist crumbs attached.
Let the brownies cool in the pan to room temperature then transfer the pan to the fridge for one hour or overnight to make cutting them into perfect squares easier.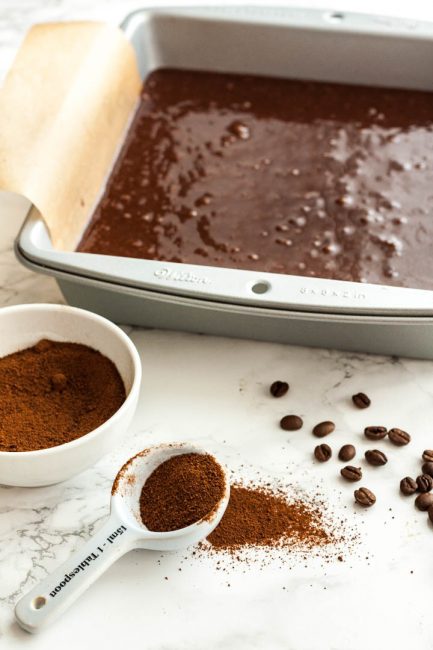 A few fun ideas for mix-ins and upgrades
Add a few chocolate covered espresso beans to the batter
Swirl caramel sauce into the batter before baking
Stir in some chocolate chunks before baking
Top them with your favorite chocolate frosting or this Chocolate Coffee Buttercream
How to make fudgy brownies
This recipe makes dense, fudgy brownies because it's made with melted chocolate instead of cocoa powder and it uses a relatively small amount of flour and no baking powder or soda.
To get the best fudgy brownies with a moist interior it is also important to not over bake them. A few minutes too long in the oven and you'll have to say bye-bye to that indulgent rich texture and to-die-for fudginess. So follow the baking time in the recipe and start checking them 5 min before the time is up with a skewer.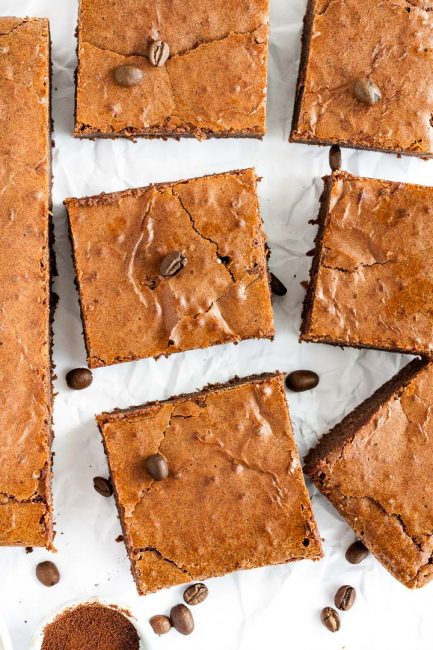 Mocha Brownies
Prep Time
10 mins
Cook Time
30 mins
Total Time
40 mins
Servings: 9 people
Ingredients
8 oz dark chocolate coarsely chopped
1/2 c (113g) unsalted butter
3/4 c (170g) granulated sugar
3 large eggs room temperature
1 tsp. vanilla extract
1 tbsp. instant espresso powder
4 tbsp. hot water
3/4 c (96g) all-purpose flour
2 tbsp. Dutch-process cocoa powder sifted
1/2 tsp. kosher salt
Instructions
Preheat oven to 350°F. Grease a 9-inch square baking pan and line it with parchment paper long enough to allow the ends to extend over the pan.
In a metal mixing bowl set over a pot of boiling water melt chocolate and butter, stirring until smooth. Remove from the heat and let cool for 5 minutes.
Add the sugar to the chocolate mixture and whisk until well incorporated. Add eggs, one at a time then whisk in the vanilla extract. Dissolve instant espresso powder in 4 Tbsp hot water and add to the mixture.
Add the flour, dutch-process cocoa powder, and salt and gently fold them in with a rubber spatula until just combined.
Spread the batter into the pan and bake for 30-35 minutes or until a toothpick inserted in the center comes out with moist, fudgy crumbs attached. Don't over bake the brownies!
Let the brownies cool in the pan on a wire rack to room temperature.
If you like this Brownie recipe you need to check out my other recipes at platedcravings.com where I share easy comfort food such as desserts, cakes, appetizers, dinners, and more. I'm happy to be a contributor on iambaker and add recipes to Amanda's already great collection. If you are a chocolate lover just like me, I hope you try this Chocolate Mousse Cake recipe as well!
Brownie Batter Frosting
Mocha Brownies
Reviewed by
Sup
on
May 02, 2018
Rating: